​'No compromise possible: Catalonia demands self-determination vote'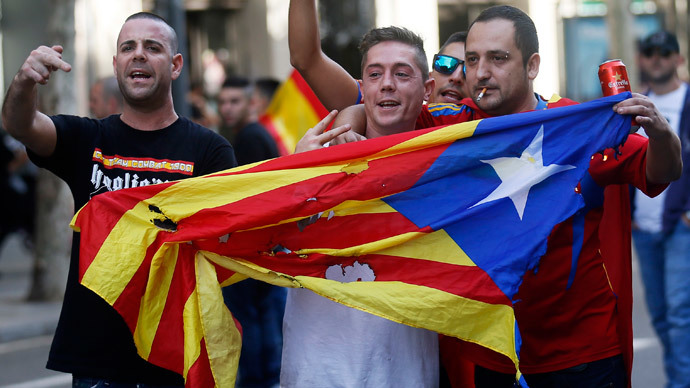 Catalans see no possible compromise except a proper vote for self-determination, and are willing to decide their political future without Madrid, Elisenda Paluzie, Dean of the Faculty of Economics and Business at the University of Barcelona, told RT.
While Britain rolled the dice to let Scotland vote on its independence, Spain is not keen on letting Catalonia decide its own future.
According to Elisenda Paluzie, "Spain has never recognized Catalonia as a nation," and it neither wants to let the region decide, nor to "recognize us as a nation." Madrid fears a majority would vote in favor of Catalan independence, she told RT.
"Polls in Catalonia show stronger support for independence than in Scotland," Paluzie said.
Catalonia "is not by far the richest area in Spain," the autonomous region is the fourth by GDP per capita. However, she went on, "it is a rich territory and could be by itself perfectly well by collecting its own taxes and having its own policies in the context of level markets and openness."
READ MORE:Catalan govt cancels plans for independence referendum
Paluzie believes the impact of an independent Catalonia on Madrid depends on whether this independence is agreed and negotiated. If the governments of both sides do everything in a proper way then the costs are going to be lower for both partners in the negotiation, she said.
She is sure that if there is a confrontation the costs are going to be higher, especially for Spain and for Madrid. "In the short-term it is true that Spain is going to lose …a nation such as Catalonia that is a strong and dynamic area."
However, she thinks that in the mid-term and long-term Spain wouldn't have problems recovering and adapting its economy to its own needs.
Despite the fact the Prime Minister of Spain Mariano Rajoy, welcomed the referendum's cancellation and announced that the government is ready for dialogue with Catalonia; Paluzie argues no compromise is possible unless there is a proper self-determination vote.
"We are not willing to compromise on anything less than deciding by ourselves our political future," she told RT.
The statements, views and opinions expressed in this column are solely those of the author and do not necessarily represent those of RT.
You can share this story on social media: