Russian wife of a Crimean Tatar hero
"Do you want to talk to the Russian widow of our Crimean Tatar hero? You'll hear the opinion of a Russian who knows our people, though her view is different," a Crimean Tatar family offers.
"Different view" means a positive assessment of Crimea becoming part of Russia.
Our hostess goes out to the staircase landing and rings the bell of the opposite flat.
A friendly smiling lady opens the door.
Her flat is a small one. There are a lot of books, and the walls are decorated with family pictures and embroidery.
"I took up embroidery after my son died, and then my husband," Lyudmila Nikitina keeps smiling a little even when she's talking about hard times.
She has very good posture, holds her chin up, articulates her thoughts clearly, in a genuine and simple manner, and her every word is filled with kindness. Her outfit is tasteful, complete with a string of beads. Her hair is carefully arranged.
It's as if this woman is the embodiment of the mysterious and unexplained Russian soul, one of the features of it being that after ten minutes of conversation we feel as if we've known each other all our lives.
"I am incredibly happy that Crimea reunited with Russia," Lyudmila looks at her Crimean Tatar friends and neighbors softly. They have talked about it time and time again. Her friends see the reunification as another new page in the tragic history of their people, and none of them voted in the referendum. "I was one of the first people to come to vote in the referendum (on the status of Crimea held on March 16, 2014 – RT). I voted in the elections, too (first local elections in Crimea as part of Russia held on September 14 – RT). I went there early in the morning and even had to queue. But in Crimea I'm like a hostage."
Lyudmila pauses, looks at her friends and smiles at them. Everyone in this room understands the gravity of "we're hostages" spoken by a Russian in Crimea. This cliché expression would appear from time to time on Ukrainian TV before Crimea became a part of Russia. Now it's migrating to the Russian TV, only with a meaning that the locals are wary of Crimean Tatars. But here, in this flat where we're having tea, where the young and elderly alike come to visit, not a single person is wary of Crimean Tatars.
Lyudmila is a different kind of hostage.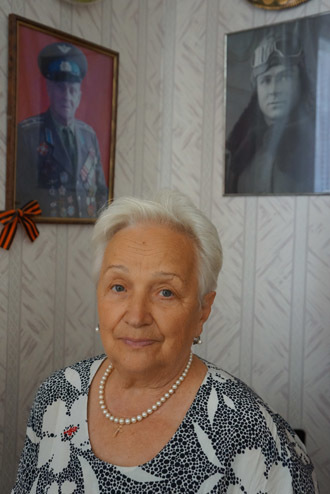 Had she known what it would feel like to be married to a Crimean Tatar? Well, she may have guessed. Being his wife meant she would spend her whole life as if there was nothing special about her husband's biography. On the one hand, he was a hero. On the other hand, his people had been deported from Crimea. But then, in the Soviet Union the whole issue was taboo to discuss.
"My husband loved me so much it felt like paradise. When he retired, every day I went to work he would tell me, 'Remember that I love you,' I am a hostage to that paradise which is now gone," she says.
She throws a glance at her husband's photo, shakes her head and goes on.
"I never wanted to go to Crimea. We spent our whole life in Kiev. I have left all my friends and all my memories there. Going back was my husband's decision. He was offered a flat in the first apartment block built for Crimean Tatars in Crimea. He asked me my opinion, but what else would I say when I knew he had been dreaming to go back home?"
Her late husband is the hero of the Crimean Tatars, Colonel Emir Usein Chalbash. A pilot in World War II, he started off in a Moscow regiment to later serve at Smolensk, Kursk and Orel. With his 360 sorties, he was experienced enough to train budding aviators. After the war, he became a test pilot for supersonic jets. He had plenty of decorations and medals, but though his commanders asked the supreme military authorities to give him the title of Hero of the Soviet Union three times, their requests were turned down.
"Emir's front experience did not last long. Zhukov (a legendary Soviet marshal, who was in charge of Moscow's defense during WWII – RT) moved him from the frontline outside Moscow to the rear. Now, Emir's commander was Vasily, Stalin's son. So when Zhukov asked him: How come do you have a Crimean Tatar pilot flying over the Kremlin? He said that if Emir was not allowed to fly, they would not be allowed to keep their posts." So Emir went back to the frontline.
On April 18, 1944, when Chalbash was still fighting in the war, his family alongside other Crimean Tatars was deported from their native village of Shuma. The Tatars were accused of collaborating with the Nazis during the occupation of Crimea.
But while he was in a position of power, Vasily Stalin would always stand up for his pilots.
Chalbash's plane was the first to fly over Red Square on Victory Day in June 1945. The very next day, he was invited to a reception in the Kremlin.
"I still keep Emir's invitation card. I even got it laminated," says Lyudmila as she shows the faded paper with the number 179 on it.
That was the most famous reception in the Kremlin, where Stalin gave a toast to the "Russian people" and their role in the victory. But ever since the 1917 Revolution, it had been illegal to make any reference to Russian ethnicity and the "Russian people." Did Emir hear the speech? He didn't. Stalin spoke in the larger hall, while the pilots were seated in the smaller one.
In 1945, after the war was over, Emir was able to bring his mother and his four siblings back from exile. In many ways he owed this to Vasily Stalin, who put in a word for him, his military decorations and participation in the Victory Day parade.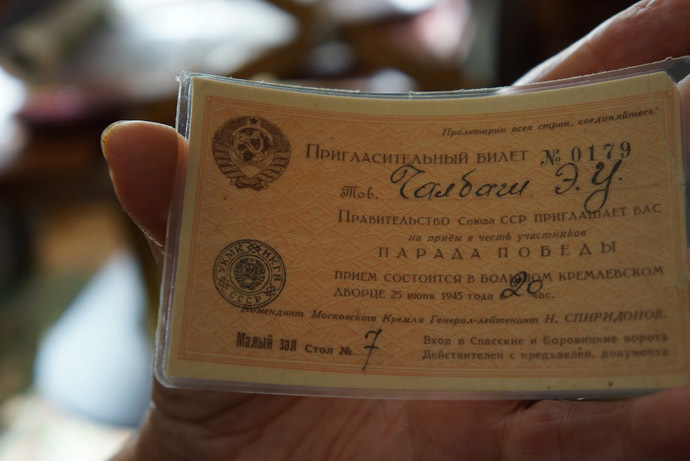 The Crimean Tatars were the only ethnicity that the Soviet government chose not to rehabilitate. They were banned from living in the Crimea until late 1980s. So Chalbash brought his family to Kherson, a Ukrainian city not far from Crimea.
"Yes, it was hard to get by. But, you know, every family was affected. That was a difficult time, and few people managed to get through it all smoothly," Lyudmila observes.
She shows her family photos: "This is my grandmother, she's very young here. She was in charge of an orphanage in Putivl (a city in the north-west of Ukraine, in Sumy Region - RT). She knew how to fish and hunt. Her neighbors reported on her, and Nazis shot her dead. Every family history has its own dark pages. The people of our generation knew how to keep the memory alive, but they wouldn't let the sorrow swallow their life whole."
In 1993, Lyudmila and her husband made a trip to his home village, and found his family house. It was inhabited by Russians who had been relocated there from central Russian districts after the war.
"We had a talk, and learned that their lives had been tough as well. They treated us to their home-made compote. My husband looked at the place which used to be his home for 25 years. And it was only ten years later that we moved into this apartment." They had lived together in the new building not far from Emir Usein's home village for two years only. In 2005, Lyudmila's husband died at the age of 88.
Every Crimean Tatar dreams of returning to their homeland but only a few have managed to do that. Most of them try to build their own house but only a few succeed. Emir Usein Chalbash was happy to have lived in his homeland, even thought it was just two years.
Following her husband's death, Lyudmila put a lot of effort to arrange for a plaque to be placed over the entrance, saying that a Crimean Tatar Hero had lived in this building.
"If not for Lyudmila, this plaque would've never been hung here. This woman is capable of moving mountains", says Sonya, a neighbor.
Lyudmila put together her husband's writings, and published his book in Moscow under the title, Soviet Ace Pilots against the Luftwaffe.
She is really frustrated that the publishers edited the text against her husband's will, despite her requests not to do so.
"I was among the first ones to get a Russian passport. I was a commissar's daughter (a political activist in the Soviet Army – RT). My father joined the Party (Communist Party – RT) in 1924, on the day of Lenin's death. He fought in WWII. His division was encircled, and only 18 people survived. He managed to take his divisional flag out of encirclement. He was crawling through bogs to reach other Soviet units. He was breathing through a tube while getting across a river. But he survived, and found his fellows-in-arms. You would know that encirclement survivors would normally get imprisoned at that time. But my father was just demoted from Colonel to Major, and was sent back to the fight," Lyudmila explains.
In these few phrases, this Russian woman tells us more than just her father's story. She highlighted some milestones of Russian 19th century history. In the USSR, there was only one party, the Communist one. The generation of young people who had joined the party on the day of Lenin's death, died in the 1930s political purges, or were killed in WWII. Commissars who had been captured by Nazis were executed immediately. Those who managed to get out of the encirclement were imprisoned or placed in the penal units in their home country. During WWII, Stalin reintroduced the old military features and accessories that had been abolished by the Bolshevik Revolution, such as titles, guards' regiments, banners, and epaulettes.
There's nothing about this woman or her home that would give her away as a Commissar's daughter. But when we touched upon the Soviet skeletons in her closet an issue came up in our talk, whether the accusation of the Crimean Tatars was indeed fully groundless, or there could've been some grounds for it.
"Remember, there was a program on TV where they showed photos of sailors in their navy caps out in the sea, and they said that the sailors were shot dead by Crimean Tatars."
Her neighbors shake their heads in reproach. "Lyudmila dear that was refuted so many times. That was a picture from the defense of Sevastopol. Tatars had nothing to do with it."
Clearly, this issue had already been brought up time and again. It is also obvious that television can plant the seed of doubt even in someone who'd lived all their life side by side with a Crimean Tatar. So what can you expect from those who've never met them personally but who watch TV?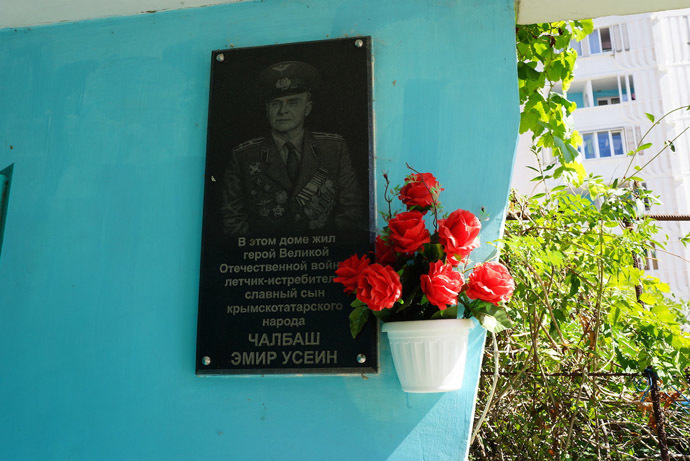 Sonya the neighbor recalls her first years upon her return: "There was one nice guy who used to take care of me. He kept warning me against those horrible Crimean Tatars. And then one day he found out who I was, and was dreadfully ashamed of himself. They used to spread rumors in the USSR, and air scary programs in Ukraine; nowadays they use historical propaganda, but essentially these are all the same things."
"Would you like some apples?" Crimeans know how to change a hopeless subject. So we all go to the kitchen to taste the Crimean apples, pears, and grapes.
Nowadays, the commissar's daughter and pilot's widow spends all her free time embroidering, like many Russian widows in the old times had done. There's an embroidery hoop sitting on her desk, and an embroidered icon, hanging in the "icon corner" of her kitchen.
"Human spirit is fragile. Mine cracked first when my son died. He was also a pilot. He was rescuing people from the Chernobyl nuclear plant disaster site (April 1986 – RT). But he got exposed to a lethal radiation dose later on, when they were making the radiation toxicity map. And that killed him," Lyudmila explains. Her daughter and granddaughter stayed back in Kiev. She goes to visit them every now and then. She saved her Ukrainian passport for these trips, and so did most of the Crimean citizens.
"So this is what my life is all about now. I embroider, and I contemplate my memories. I do feel drawn to Putivl, the city of my childhood, where my grandmother is buried. There's a convent there, and sometimes I think of becoming a nun," Lyudmila comments.
In the olden times, many widows did just that. Putivl is closer than it seems. In the 16th century, the path of the Crimean Tatars advancing to Moscow would often lie through this city. According to the warfare customs of those times, they would burn down the city, and the monastery. Today this fact would be mentioned in historic movies only, in the propaganda context.
And now these two women, a Russian and a Tatar, are discussing once again whether Lyudmila can handle this task.
"A monastery means peace, and prayers, and work. And my embroidery would come in handy, right Sonya?" Lyudmila asks her neighbor. And Sonya, the Muslim Crimean Tatar woman touches the embroidery on the loop, and nods. "Yes Lyudmila, your work will be appreciated there."
The statements, views and opinions expressed in this column are solely those of the author and do not necessarily represent those of RT.
The statements, views and opinions expressed in this column are solely those of the author and do not necessarily represent those of RT.
You can share this story on social media: