Struggle for independence: 'it's ridiculous' to ban Catalonian referendum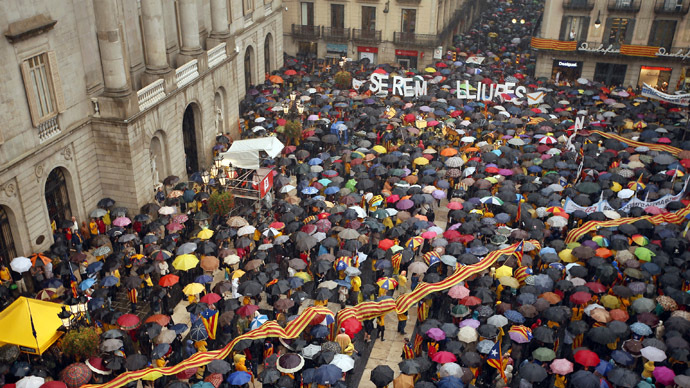 By trying to stop Catalans voting in a referendum Madrid is showing it has no understanding of democracy and universal human rights, though Catalonia's independence would benefit everyone, Anna Arque from European Partnership for Independence told RT.
On September 29, the Spanish Constitutional Court unanimously decided to suspend Catalonia's November 9 vote for independence. This provoked demonstrations in Barcelona, Madrid and several other cities the following day with people chanting "We will vote" and "We want a vote!" Catalans are l defending their right to a vote despite Madrid saying it won't allow the country to be split up.
READ MORE:Scuffles as Catalonia erupts in protests over Nov. 9 referendum ban (PHOTOS)
RT:Why can't Spain let the Catalonians vote in the same way the UK let the Scots?
Anna Arque: That is a great question. We would say, first of all, the current Spanish state is run out of the regime of 1978, which was just after Franco died, a transition that really never was that real because we never get to judge what happened during all that time of the dictatorship. Secondly, it's important to understand that the Spanish state does not recognize us, does not recognize Catalans as a country, as a people. Thirdly, they don't react the same way because they know that Catalans would vote "yes" for independence.
RT:Why doesn't Madrid want Catalonia to go alone?
AA: Well, because they actually do not accept democracy, they don't accept that we are a nation, we are a people, we are a country, we have the right to self-determination, and we have the right to vote. Actually Spain as a country is a great country and they would do fine without the Catalans. I think they have to understand, they have a lot of strength, and once Catalonia is independent we would work together for the best of both countries and for the best of our citizens, and for the best of Europe. It's for the benefit of everybody that Catalans can vote, and if that is the result that Catalans get independence democratically.
RT:Spain's Prime Minister has called the referendum undemocratic and illegal, saying it would violate the rights of Spaniards. But doesn't banning it violate the rights of Catalans?
AA: That's nonsense. Democracy can never be illegal…and human rights do not go against any citizens. Of course Spanish citizens, their rights, are not being violated just because democracy is in place and exercised. So yes, I agree that the right for Catalans and for Spanish people living in Catalonia is completely fine, but just letting democracy and exercising the universal right of self-determination - there is no violation here. Its nonsense, that's the way of seeing things that differs precisely from the first question, from how the UK perceives what democracy is, and that is because they come from different backgrounds, they come from different regimes. The Spanish didn't have real transition; they have a different vision of what is a constitution, what is legitimacy and what is democracy.
RT:The Spanish High Court has ruled that a referendum would be unconstitutional. Does it mean the cancellation of the referendum?
AA: The referendum has not been cancelled, it has been suspended. We have to bear in mind that the Spanish state has failed to observe 35 sentences of the Constitutional Court. The Constitutional Court has 12 judges who are appointed directly by the political parties who are against our right, who deny us. So obviously we cannot expect much, that's not a neutral organism. What we are going to do, the next step is just carrying out democracy, carrying out the referendum. And because the Catalan government has the democratic mandate to obey what the citizens in Catalonia have voted, and not to observe, not to carry out any Spanish antidemocratic sentence that implies not understanding what are the universal rights and what is democracy.
RT:Thousands are already out demonstrating against the referendum's cancellation. What happens next? Can you say that this issue is to deal with legal aspects rather than political and economic?
AA: Madrid doesn't accept this referendum, and therefore, the result of the referendum probably would not be considered either. But it's not a legal issue what we have here, it's a political issue. A lot of Spanish citizens don't agree with this…way of understanding how to stop Catalans voting because actually it is quite ridiculous in front of the world, in front of the UN, in front of the universal rights, in front of the Helsinki Act of 1975 or the resolution of the International Court of Justice in 2004 when it said that self-determination is a "norm ergo omens," which [has] no limitations in time to rhetoric or competence. So all together it is quite sad for the Spanish state because it's just taking a nonsense attitude with democracy.
RT:What's the general mood of the Catalans?
AA: We know we are doing everything well. We have a social majority, we have a parliamentary majority, we have an official declaration of sovereignty, and we have 911 town halls out of 942, which are almost a hundred percent of the town halls, which have actually in recent weeks made all the support and official formal support for the referendum. So the whole country is happy to vote, even the ones that want to vote "no" to independence because we understand it's just a human right, it's a people's right to go to the ballot boxes. After WWII we changed bullets for ballots so that completely makes sense, that's why we are happy. We are sad that the Spanish state actually doesn't understand this and they just can't change the way they see things, but it's actually their problem. They will have to justify to the international community why they have this attitude. We are happy because we know we are doing things properly and we are majority, we are just going to vote because our government understands what democracy is and has to obey the Catalan popular mandate.
The statements, views and opinions expressed in this column are solely those of the author and do not necessarily represent those of RT.