'No peace till Netanyahu no longer in power in Israel'
Published time: 30 Sep, 2014 10:56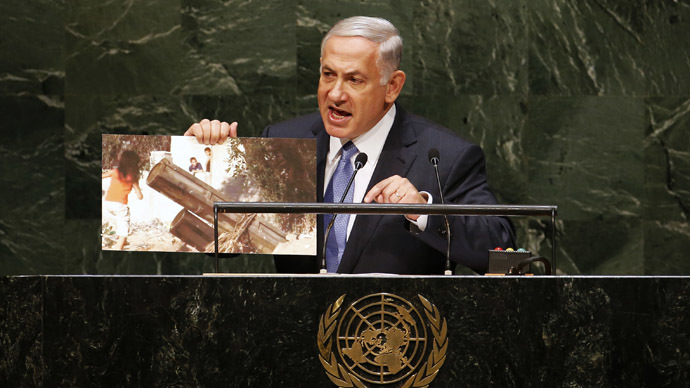 The Israelis and the Palestinians will see no peace while Benjamin Netanyahu remains in power, Charles Kogan from the Belfer Centre for Science and International Affairs told RT, commenting on the Israeli PM's speech to the UNGA comparing Hamas to ISIS.
Israeli Prime Minister Netanyahu addressed the UN General Assembly Monday, drawing attention to Iran and its nuclear program, which is considered by Israel a bigger threat than ISIS.
"Make no mistake – ISIS (Islamic State) must be defeated. But to defeat ISIS and leave Iran as a threshold nuclear power is to win the battle and lose the war," Netanyahu said.
READ MORE:Win battle, lose the war: Photo-wielding Netanyahu puts Iran over ISIS, slams Hamas
The Israeli Prime Minister also stressed that ISIS radicals and Hamas share the same task "of imposing militant Islam on the world," and even brought with him photo claiming the "proof" showed Hamas using Palestinian civilians as human shields.
"Hamas' immediate goal is to destroy Israel, but it has a broader objective. When it comes to its ultimate goals, Hamas is ISIS, and ISIS is Hamas," he added.
RT:Israeli Prime Minister Netanyahu was not holding back at the General Assembly, telling the Iranian president to "save his phony tears." Why is he so distrustful of President Rouhani's attempts to make things work with the West?
Charles Kogan: First of all, I must say that this is my own personal opinion, I have nothing to do with the US government anymore, and I do have strong opinions. I looked at the speech that Netanyahu made and there is very little statesmanship in it. It is an extended polemic, or if I were to use a stronger word, it is philippic, it is rant. There is inaccuracy in it also because he said some of the ideological extremist groups are Shia – that's not the case, they are all Sunni. There are Shia militias trained by Iran but they don't have an ideological bent, they just have their mission to protect the Shia-led regime in Baghdad.
RT:At a time when the world is struggling to contain the rise of the Islamic State, how relevant was this shift of focus to Iran's nuclear program?
CK: I think that it is probably the case that the Israeli leadership, or Netanyahu, is concerned with the new emphasis on ISIS, or the Islamic State, is taking some of the attention away from Iran, and he wanted to set this straight in his speech. He wanted to bring Iran in the forefront and describe it as a hypocritical power bent on the regional hegemony and heading towards nuclear weapon which would be a disaster from the Israeli point of view.
Another thing that he was anxious to point out in his speech was that Israel has been very careful to protect civilians when it made these attacks in Gaza, which of course is rather absurd because there were some 2,000 Palestinians killed in the Israeli campaign, and on the Israeli side there were something like 72 casualties, of which I think three or four were due to Palestinian rockets and the rest were Israeli army casualties. The imbalance is extreme. To say that Hamas invited attacks on Palestinians is an overstatement. Israel this time had some justification because Hamas was sending rockets into Israel. They caused very few casualties but they set everybody's teeth on edge. So there was some basis for retaliation but as the former French prime minister pointed out in an article in Figaro on August 1, he took the example of the British in Northern Ireland: if they had casualties, they didn't respond by bombing Belfast. That's basically what the Israelis have done in this campaign - 2,000 casualties and great damage. There was some justification for that but it was overdone.
RT:Another key message of Netanyahu's speech was that Hamas is no different from the Islamic State. He even brought a picture to make his point. Would you agree with this point?
CK: There is no question that the Islamic State is totally separate from Hamas in Gaza, they are not the same. He made the point that they are the same ideologically but this is not true. The idea that Hamas is responsible for killing Palestinians is absurd. There is a very little nuance in what he delivered in his speech at the UN. I would go further to say that as long as Netanyahu is in power in Israel, there will be no peace.
The statements, views and opinions expressed in this column are solely those of the author and do not necessarily represent those of RT.