'Crisis in Syria: Biggest humanitarian catastrophe in the modern era'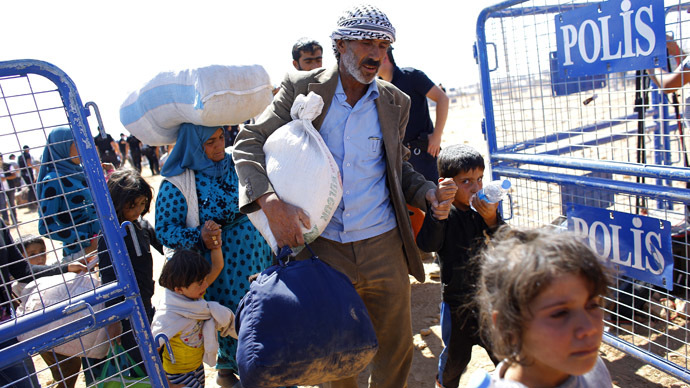 The Syrian humanitarian catastrophe is reaching world war proportions, with bordering states incapable of accommodating millions of refugees seeking shelter outside the conflict zone, Director General of the Turkish Red Crescent Mehmet Gulluoglu told RT.
With the escalation of situation in Syria both due to the ISIS expansion to Kurdish territory and US air strikes, the number of Syrian refugees trying to cross the Turkish border has increased significantly. According to the latest estimate from Turkish authorities, the number of Syrian Kurds who have crossed the border into Turkey escaping from Islamic State fighters in recent days exceeds 130,000.
RT discussed the current humanitarian situation on the Turkey-Syria border with Mehmet Gulluoglu, Director General of the Turkish Red Crescent.
Mehmet Gulluoglu emphasizes that the Syrian crisis, which has been going on for nearly four years, has indeed become a "chronic problem."
For sure Syria had a number of problems before ISIS came there, though the expansion of this jihadi group into the country has led to further escalation of the situation in some areas, for instance, in the north-east.
In general, there are more than 10 million people affected by this crisis, with around 6 million people being forced to move from one town to another and more than 4 million refugees to other countries.
.@RedCrescentTR have been providing Syrian refugees with vital support, including hot meals and drinking water pic.twitter.com/E48miUPywt

— British Red Cross (@BritishRedCross) September 22, 2014
According to Red Cross officials, there are only few options for the Syrian refugees – to try to find a kind of safe place within Syria, stay where they are and obey the ISIS rules, or, alternatively, to flee to Turkey.
"There are only [three] options. One of them is that they will be IDP [internally displaced person]; they will go to another place in Syria. Another option is that they would obey the rules of the ISIS, but it is very difficult to live under the conditions of ISIS because [if people make even] a few mistakes according to ISIS, they could be killed. That's why the only option for people there is to come to Turkey, and that is why thousands of people go there," Gulluoglu told RT.
Speaking about Ankara's policy of open borders for refugees, he said this was a good initiative but not the solution to the existing problems.
"Now Turkey is the most crowded country for the Syrian people. That is why the Turkish government probably will let the people go, because from the beginning of the war the Turkish government used an open door policy for Syrian refugees. But the solution will not be this," he added.
Gulluoglu calls for a political solution, as the Syria crisis and even the very reason for the ISIS existence "is a result of what is happening between the groups and the regime inside Syria."
At least 35,000 Syrian refugees have fled to Turkey in the last four days. @RedCrescentTR working tirelessly in Suruç pic.twitter.com/BZdOV88tMC

— British Red Cross (@BritishRedCross) September 22, 2014
However, he thinks that the elimination of the ISIS threat would not lead to the end of the crisis as not all the displaced people will be able to go back, and those who will return will have to start from the beginning since most parts of Syria are destroyed.
"[It will take years] for them to rebuild their cities. There are no hospitals, there are no schools, there are no houses, and there are no government buildings. Aleppo was one of the most crowded cities of Syria, unfortunately, people who went there are telling all the same, as reports and humanitarian workers do - they say that there is no Aleppo anymore. And there is no more Homs anymore, unfortunately," he told RT.
Donations and relief packages are important components of the humanitarian aid for the refugees, though they are not enough since millions of people are in need, Mehmet Gulluoglu said.
"There are some people living in the camps and some people living as urban refugees. For urban refugees there are some services that we should give, that we should sustain, like education, health services and some other services, and the conditions in Lebanon or the conditions in Jordan are not better than the conditions in Turkey. That is why donations are not enough, even [when they are] coming officially, coming from governments, UN agencies, or from NGOs," Gulluoglu said.
The statements, views and opinions expressed in this column are solely those of the author and do not necessarily represent those of RT.