'Inmates running the asylum': Kiev threatens to restart nuclear weapons program
Kiev's promise to restart its nuclear weapons program if it doesn't get enough support from the West is completely insane, be it real or just an empty threat, political commentator Daniel Patrick Welch told RT.
"If we cannot protect Ukraine today, if the world doesn't help us, we will have to go back to the development of nuclear weapons, which will protect us from Russia," Ukrainian Defense Minister Valery Geletey said in an interview with Ukrainian TV, also claiming that NATO members have already started supplying Kiev with conventional weapons.
NATO members start supplying weapons to Kiev – Ukrainian Defense Minister
RT:Is the prospect of a nuclear Ukraine something to be concerned about?
Daniel Patrick Welch: You know, your guess is as good as mine. I think what it shows first and foremost is that the inmates are fully in charge of the asylum here. This is a completely insane threat. If it is real then it is suicidal. And if it is a threat then it is petulant.
In the same briefing Geletey mentioned that arms were starting to come in from their new friends in the NATO alliance. So it really is just a matter of watching, and speaks of the fragility of this truce. There is nothing there. These people in Kiev are desperate to keep the war on Russia going at all possible costs.
RT:And Ukraine's neighboring countries, what do they have to say about that?
DPW: Well, I think slowly, I mean these people, some of them – Slovakia, to some extent the Czechs, Hungary, are creeping out of under the jackboot of American control. The Americans obviously put them up to everything they say. They know in advance. They know exactly what he is going to say.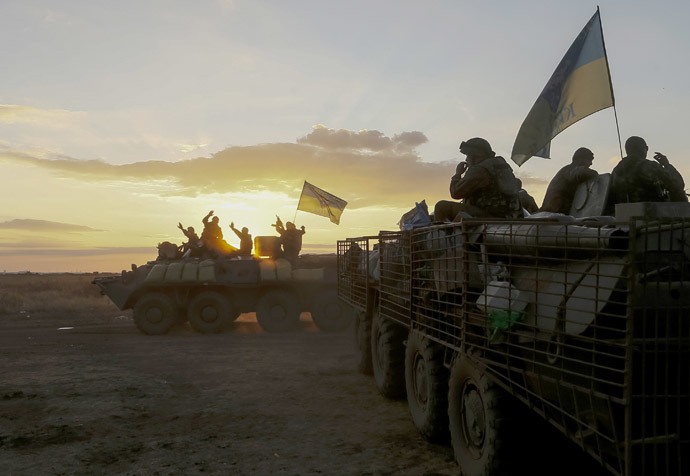 Now the Eastern European bordering states have to be realizing that they have backed a really bad horse in this race. And I can't imagine that this isn't seen as something incredibly destabilizing and dangerous.
RT:Ukraine's Defense Minister went on to say that nuclear arms development is not on the cards right now... However, it's a big statement to make, isn't it? So, you are saying that the US knew he was going to say this? Or is he going alone as a wild card?
DPW: That is always an open question, and the problem is that America employs so many wild cards on purpose, that it is hard to know whether someone is off their reservation of parroting State Department fluff.
The American political establishment wants to use Kiev as a spearhead against Russia. Make no mistake, this is exactly what is going on. Whether or not this particular statement was designed to increase tension and call Russia's bluff or something remains to be seen. But it would not surprise me in the least.
RT:What kind of international reaction will there be to Ukraine's threat do you think?
DPW: I think there will be condemnation of the idea and I think there will be a slow increase in the movement from the Atlanticist alliance. But I don't think, just like there weren't from international community about Gaza, just like many are on the wrong side on Syria, I think that people still are in the pocket of US imperial hegemony and they will not say all that much.
The statements, views and opinions expressed in this column are solely those of the author and do not necessarily represent those of RT.
You can share this story on social media: