Day 5: Connecting with the outside world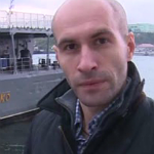 Murad Gazdiev, RT correspondent who has reported from a number of hot spots around the globe, including from the Syria-Turkish border, Yemen and Eastern Ukraine. He has also covered major international events, including Davos and the St. Petersburg economic forums, and even made a tour of duty with the crew of the Russian destroyer class Admiral Levchenko as it carried a military unit from the core base of Russia's Northern Fleet in Severomorsk to an unused former-Soviet base in the White Sea.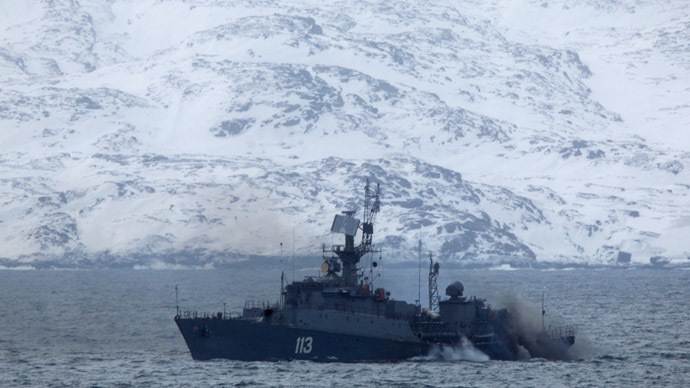 We saw our first wildlife today; an enormous swarm of jellyfish floating just below the water. As luck would have it, no one had a camera or mobile phone on them.
By the time we ran got a camera from the cabin – the sea was again clear.
Lesson learned: at least a mobile phone with us at all times.
We were also invited to film one of the ship's two helicopters taking off and landing today.
There's no tail rotor – compensated by the double-setup on top. The helicopter is almost immune to side wind, or wind at all for that matter.
But what makes it stand out is the downdraft it causes when taking off or landing.
You literally have to stand with your back or shoulder to a wall, and still you feel yourself being lifted up by the wind when it lands or takes off.
The helicopter flights fulfill two purposes now – the first is to give crew training, and the second is scouting ahead. And no – not for enemies, but for ice. We're now in a region where we have to watch out for icebergs.
Also today, we had to send various footage back to our Moscow studio – which turned into an adventure of its own.
Understandably, Wi-Fi isn't an option. There's no mobile phone coverage for hundreds of kilometers around us – and our only option is a small satellite dish.
The problem is we're in the only two regions on the planet – the Arctic and the Antarctic – where even satellite coverage is a rarity. The military has its own network – but I didn't deem it worth asking to tap into theirs so I could update the blog.
So we set up our equipment, and begin testing the signal on different parts of the ship. Bear in mind that this is a military ship, one of the largest in the Russian navy, so we couldn't very well go where we pleased and point satellite dishes everywhere.
So a big thank-you to the officers who put up with our little odyssey on the deck!
Eventually, we found a spot on the helicopter deck where the signal was adequate. And by adequate, I mean it cut out less than on other parts of the ship.
We compressed everything we had to the smallest size possible – which ended up being 200 megabytes, and sent it on its way.
At 27 kilobytes a second.
Factoring all the disconnections and adjustments, it took us more than two hours to send everything. Two hours in the howling wind, under incessant rain and even mild snow.
I'm not looking forward to doing this again when the temperature drops to below zero…
The statements, views and opinions expressed in this column are solely those of the author and do not necessarily represent those of RT.