'Germany unhappy with the way NATO summit has gone over Russia and Ukraine'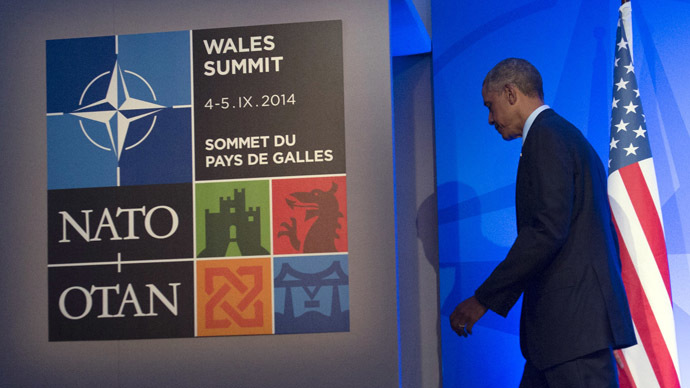 Germany does not want to see its money going into something that is going to be misused from its point of view, defense analyst Dr. Binoy Kampmark told RT.
The country is not going to comply with the NATO demand to increase military spending, German Defense Minister Ursula von der Leyen, said on Monday. NATO member-states agreed to spend a minimum of 2 percent of their country`s GDP on defense. Germany's military budget currently stands at 1.3 percent of GDP and there is no need to increase that figure, said von der Leyen.
RT:Representatives of NATO member-states shook hands at the Wales summit, shared smiles and pledges of support. But a few days pass, and even Europe's economically-soundest nation, Germany, is refusing to increase funding. Why?
Binoy Kampmark: I think it comes down to a very basic point, it comes down to how much Germany is already spending in terms of its contributions. So on the one hand, the argument is that NATO member-states have to be forking out 2 percent of their GDP. On the other hand, the argument on the side of the Germans is that they are already forking out as the second largest contributor anyway, broadly speaking to the alliance and broadly speaking to the arrangements, notwithstanding the fact that there are 4 countries of the 28 members of the NATO alliance who do spend at that 2 percent threshold. So I think they have very good reasons to be rather miffed by the whole business because they feel that perhaps their money could be spent in a more constructive way.
RT:Considering the differences in GDP, Germany will still be paying many times more than some other members. Does that maybe justify its refusal to increase spending? Do you expect other nations to comply with the demands?
BK: It is absolutely right of course. If the arrangement is 2 percent, well, then of course the other members will pull their weight. But I think it is deeper, and the disagreement on this score reveals that the German side is not particularly happy with the way the summit has gone, and when it came to the actual discussions in Wales it seemed that there was a general understanding about certain revisions coming out in terms of where NATO will be heading. But I think the reality is that when it came to diplomatic [ties] with Germany there was a considerable unhappiness with the way some things are being directed certainly [against] Ukraine and Russia and certainly the way, for example, the rapid reaction force, the response force and so forth is being shaped. They do not want particularly to see money going into something that is going to be in their minds misused, and that is a very important point.
RT:If NATO is mostly funded by one country, America, is there a danger it could be used to carry out its foreign policy agenda?
BK: That has always been an issue. You have to remember that NATO at the end of the day essentially is some kind of military corporate charter for Washington, that has always been the idea, the various individuals have looked at this over the years, they used rather exotic terms of framing this, but [some are] particularly fond of this idea of "empire by invitation". In other words the European powers during the Cold War bringing US influence in Western Europe and anticipation of a potential Soviet threat. But what we are seeing essentially now is a dusting off of that idea; we see similar things brought up. I do not necessarily think that all of the NATO members are buying the idea. The US angle on this has always been clear from the start and the US angle of course has primacy - it is power, it is hegemony, it is a whole range of things that comes with that and that is to be explained by the fact 4.4 percent of the US GDP is spent on it and most of the budget of NATO comes from the US. That stands to reason because the US interest in NATO is US interest in Europe. But as for the other European powers, they have mixed approaches to the threats coming from the East; they have different ideas to where money should be spent.
RT:The UK and the US have already agreed to provide troops for a NATO rapid-response force. Will others follow suit?
BK: They can, but there is a fundamental problem and it comes to a massive interpretation of course. The Russia-NATO Founding Act of 1997 makes it very clear, for example, that permanent forces stationed anywhere in Europe with respect to this particular kind of agreement, would violate that agreement. So we have a particular situation where these forces are being created. So what we have here is especially Poland and the Baltic States rather enthusiastic but other countries - members of the NATO alliance that perhaps are not. And it comes down to a particular interpretation as to how these forces are going to be stacked and constituted. Is it going to be a rotating force, is it going to be a standing force, is it going to be fully based, for example, in Poland? And that is the sort of thing that is being worked out at the moment. But I can assure you that there is a lot of debate about what is going on as to whether it violates that particular agreement.
The statements, views and opinions expressed in this column are solely those of the author and do not necessarily represent those of RT.
The statements, views and opinions expressed in this column are solely those of the author and do not necessarily represent those of RT.
You can share this story on social media: