'EU politicians know that sanctions are a shot in their own foot'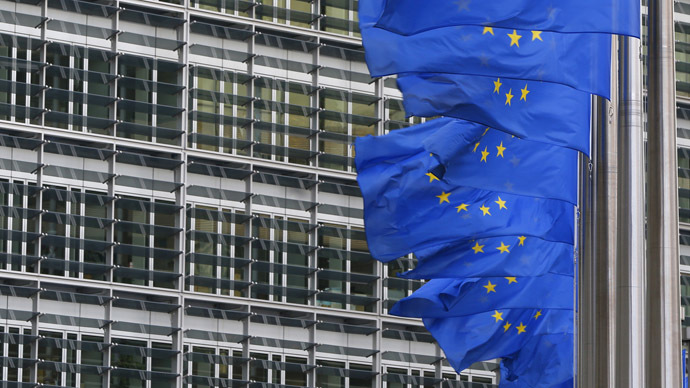 EU-Russian trade and contracts is not a small thing, so if there is a break down all of Europe could go down the drain and into a recession, economic analyst Michael Mross told RT.
RT:If the EU imposes a new batch of sanctions on Russia. Would that be the right move, given the past 48 hours' developments?
Michael Mross: Of course not, and what I can tell you is that most German and European businessmen are not at all in favor of the sanctions. The math is as simple as that – show me the facts and then we can talk about sanctions. But what has NATO done so far and all those politicians in the West, its only propaganda, only stories that are not proved, they are blinded to the public and now they want sanctions. So more and more people here, not only in Germany, are questioning the steps, we can only hope that they will not impose further sanctions.
RT:Over recent days we've heard President Putin's peace proposal, Ukraine's leader now talking of a ceasefire that could begin soon, and the self-proclaimed republics are calling on the same thing. Why would the EU push for sanctions when so many efforts are being made to calm the situation?
MM: We do not have an answer to this question yet, but when I see Angela Merkel here in Germany and when you read between the lines, she is also a little bit more reluctant than the others when it comes to sanctions. It seems that Big Brother is the director here; it seems that the precondition is that we want to have a kind of economic war with Russia. So they do not listen to any efforts in order to calm the situation. The only thing that we can hope [for] is that more and more people see what is going on and that more and more people are demanding real facts when it comes to the so-called incursion by the Russians into Ukraine and all the other lies that NATO is telling us, for example, that thousands of Russian soldiers are already in Ukraine and hundreds of military vehicles.
RT:The new sanctions are, by and large, reportedly aimed against Russia's oil and defense. How bad would they hit?
MM: All sanctions that we saw so far are a shot in our own foot, and all these politicians know this. We are here in Europe, especially in the eurozone, already in recession, in depression, and one thing that we do not need is a problem with Russia, because Russia for us is a huge market, we can do a lot of business. Everybody knows it here, especially in Germany. There are 6,200 companies who have relationships with Russian companies, the trade volume is about €80 billion per year, and there are €20 billion that are spent in Russia. So this is not only a small thing that we are talking about, it can be if the deal thing is broken down, that all Europe would go down the drain and into a recession. We do not need this struggle at the moment.
RT:The chief executive of French oil giant Total said he doesn't believe Russia is an enemy, and that Europe's energy supplies are largely dependent on Moscow. How many other European business leaders agree with him, do you think?
MM: I think 100 percent almost. Those people to whom I speak, also with businessmen of big companies, they are telling me behind closed doors "We don't need these sanctions. And if we are talking about sanctions because they are very costly, then we want to see the facts, and not only rumors and mere propaganda." What I can say is that 90-95 percent of German business people are against the sanctions, but they do not dare to say it officially, because they feel the pressure from the politicians. So they must obey and cannot say it in public, so they obviously say "Ok, we are for officially," but when you talk to them it is clear, because they are losing, they are the losers, and they lose their business. And although the Russian economic relationship in Germany is not so big, it is enough to hurt us ourselves.
The statements, views and opinions expressed in this column are solely those of the author and do not necessarily represent those of RT.