The City of Angels: 10 years after Beslan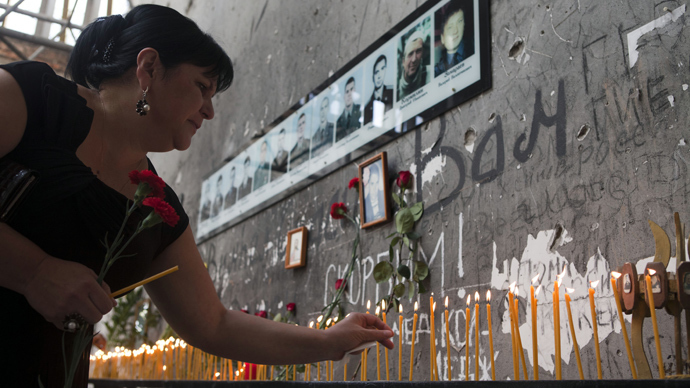 This September marks 10 years since the tragedy of Beslan, North Ossetia – one of the cruelest hostage crises in history.
It's a special day for Russia. Back then, the main and key values of all the people were attacked: children, who are never taken hostage, and September 1, when dressed up pupils in all of Russia come to their schools to start a new school year.
Since 2004, the first day of a new school year has been tainted by the memory of the tragedy beyond human comprehension. One hundred and eighty-six children dead, 72 disabled. It happened against the backdrop of the Chechen war and became the height of its cruelty.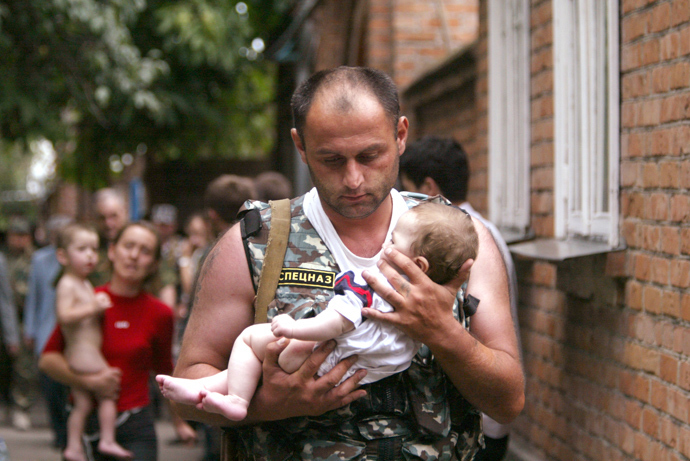 The angels' caretaker
Kaspolat Rakhmonov is 47. For the last 10 years he's been the gatekeeper of the 'City of Angels'. He doesn't like calling it a cemetery, though it's here that 266 out of 334 Beslan victims are buried.
No one appointed him caretaker. Initially he came here to bury his elder daughter Marianna – only to stay for quite a while. Kaspolat knows all the names and birth dates of everyone buried here by heart.
His wife and three kids went to school on September 1. His wife, their elder daughter and son Irek were taken hostage. The elder one never survived, while the wife and son were seriously injured.
"Irek is now 18; he is studying to become an economist and is now in his second year. At that time he was eight years old and managed to recover thanks to the doctors." Kaspolat spent over two months in hospital with his son.
"Marianna would have been 25 by now," he says. He loved the girl the most, it seems.
After finishing school with a perfect academic record, Kaspolat worked in the customs service to give his kids an education. But Beslan became a watershed in his life.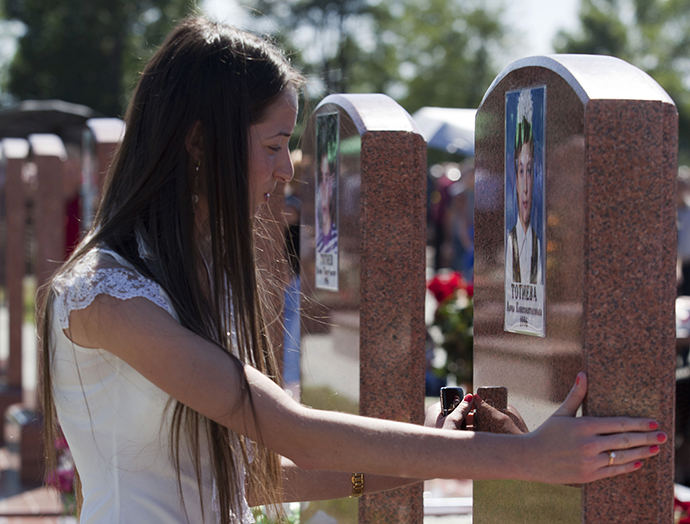 After Beslan, it took him time to start thinking about something other than just his dead child. He has been visited by parents who had lost their entire families, become disabled themselves or had their kids handicapped. He would talk to the people, save some of them from dire psychological shock, and give them some food and shelter. He would even take some of them home. But he would always come back to the cemetery – because gatekeeping the City of Angels is what he does.
2004 timeline:

The Chechen War had been going on for over four years.




May 9, 2004: Chechen President Akhmad-Hadji Kadyrov is killed in Grozny at a Victory Day parade. (This was the first military parade in Chechnya since 1991. The explosive device was hidden in the stands of the arena where the parade was taking place.)




June 22, 2004: Terrorists seize 15 government buildings in Ingushetia, killing 93 police and FSB officers, along with six bystanders.




August 24, 2004: Two passenger planes are blown up in the air over Tula and Rostov Regions at about the same time, 10:50pm, killing 90.




August 31, 2004: A suicide bomber attack at the Rizhskaya subway station in Moscow. Ten people killed.
"There are also those who still can't quite come round. There are those who have forgotten and moved on with their life," says Kaspolat. He knows the rich men and government officials who come here because they feel like doing it and others, who come in cars with tinted windows, with bodyguards, and a lot of pomp and circumstance. But he doesn't blame anybody.
"If all people were good, there would be no wars."
Over these 10 years lots of families have had new kids. Kaspolat has had a baby girl, too.
"I've got a baby girl, she is seven months old. She makes me a very happy person. I guess I live for her," says the gatekeeper. However, he spends most of his life among these graves and among those for whom these graves are the most important thing in life.
People come here day and night. If someone approaches him, he won't ignore them.
"We have people coming from all across Russia. For many, this is a pilgrimage rather than a tourist or a business trip. The people see this as a holy site, like Jerusalem or Vatican. They come from Canada, Italy, Spain, China, Japan, Turkey, and Iran…"
There are few cemeteries like this one in the North Caucasus, with Christians and Muslims buried together.
"It's a deeply wrong idea to separate them. Among the dead children, there are no Muslims or Christians, only the angels, the pure beings. And both Christians and Muslims come to visit the graves. There are mean Christians, there are honest Muslims… They come and go with tears in their eyes."
Yunus-bek Yevkurov, Ingushetia's leader, has recently been there. This is an extremely important visit for Ossetia. Most of the terrorists who had sieged the school were of Ingush origin.
"I saw whole families coming from Ingushetia: the elderly, their children and grandchildren. They were all crying. We feel the pain of the whole country. It resonates in our hearts," says Kaspolat.
It's good to hear him say that. More than once I've heard people in Ossetia say that people feel abandoned, betrayed and forgotten.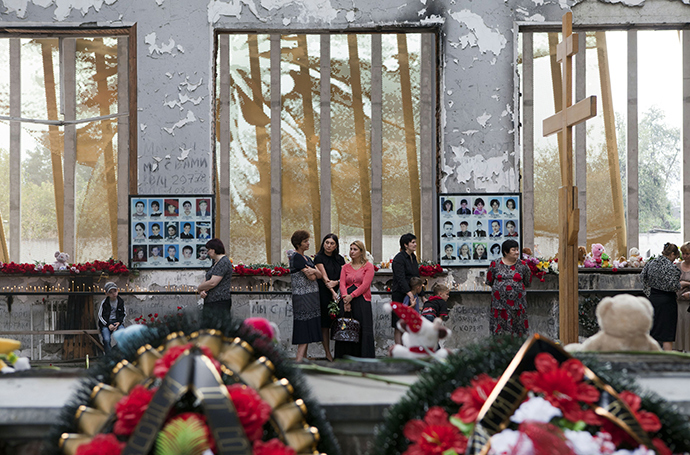 "People often talk of how unsympathetic Muscovites are. But while I was in hospital in Moscow with my son, we had about a hundred visitors every day for three months running. They would give us every imaginable kind of assistance. They took care of us. Once we even saw two hobos, who were terribly smelly! They offered two coke bottles to us, saying, 'That's all we have.' The taxi drivers would never ever charge us. 'Are you from Beslan?' they asked. And I kept wondering how they figured it out. Everyone treated us exceptionally well."
Neither he, nor his family received any assistance, in spite of all the promises.
"I don't need the housing or the money. I have a place to live, and that's enough. Aid deliveries came by cars and trains, but everything was stolen, none of these reached the people," says Kaspolat. "If you want to help somebody, find that person and hand it over to him. Otherwise all this money is going nowhere."
'Memories are bitter, but we must hold on to them'
Natasha Satsayeva worked as a nurse at a maternity ward. On September 1, she came to the school with her three children – 6-year-old Tamerlan and two toddlers of 2 and 3. They all ended up being taken hostage. When gunfight erupted, a piece of shrapnel hit her in the head and she passed out. Tamerlan ran out of the school and started screaming for help. Somebody carried Natasha and her daughters out of the burning building. Natasha spent two months in a coma. Moscow doctors performed a surgery on her skull but shrapnel moved from the front part of the cranium to the rear, leaving Natasha unable to walk.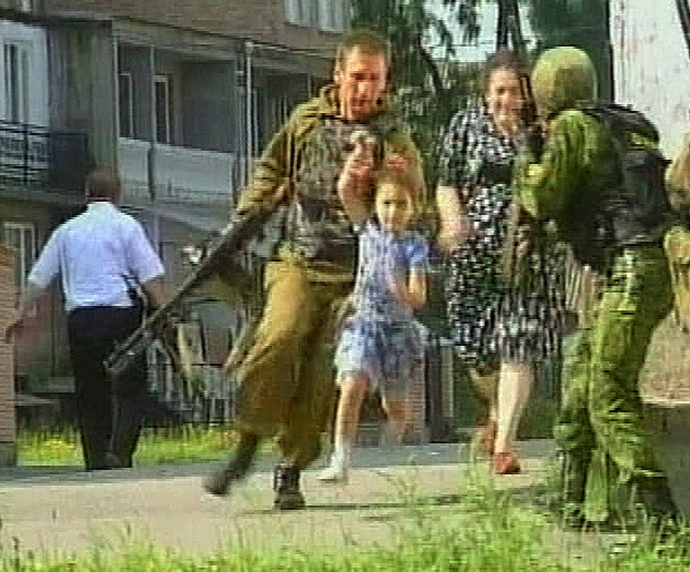 "We received assistance in a lump sum [50,000 rubles, approximately $2,000 at the time], and there were a few benefits later, but my medical treatment ate up all this money. Currently, we don't have any benefits. My husband doesn't work – he's taking care of me and the kids. We all live on my disability pension, which is 14,000 rubles a month [approximately $400]," Natasha says. She's not complaining; she's just describing the way she lives.
The attack on the school:

In the morning of September 1, 2004, a group of militants attacked School No. 1 in Beslan, a small town in North Ossetia, taking students and teachers hostage. The population of Beslan is 35,000. Ossetia's main airport is close to the town. A total of 1,200 people were taken hostage.




The militants demanded an end to the war in Chechnya and troop withdrawal.




On September 3, there was an explosion in the school building.




Three hundred and thirty-four people were killed, including 186 children, 17 teachers and 12 law enforcement officers.




Here is the full list of those killed.




Over 800 people were injured. 72 children and 69 adults were left invalids.




The number of militants, according to different estimates, was 28 to 33. They were all killed except for one, Nurpashi Kulayev. He was arrested and sentenced for life.
When I ask about the Beslan Mothers, Natasha speaks highly of them. Charities and local authorities don't offer any help apart from disability entitlements.
"One time, they sent me to a health resort in Sochi for a month. This year, they offered to send me to Crimea for 30 days. I am unable to go anywhere by myself, so they said a social security worker will accompany me. We all have paperwork showing that we were hostages. They have been taking some of our children to Croatia for two weeks each summer for nine years, but our turn never came until this year. This year, my younger daughter went there for the first time. The older one said she didn't want to go," Natasha says. Now the Croatia program is over. Women in Beslan hope the authorities will keep the college enrollment benefits for their children.
"My neighbors and my colleagues come to see me, nobody remained indifferent, but these are hard times for everyone," Natasha says.
Her older son Tamerlan is in college at the Computer Studies department.
"Tamik is very good with computers. But we don't have a computer at home – it's broken," she says.
"Our attitude toward Ingushes is normal. Muslims have nothing to do with this. Those who attacked the school were junkies. It was clear who they were – they were rough with us, they gave us no water, no food for three days."
"I shall never forget those days. These memories are bitter, but we must hold on to them. The school must also remain as it is for people to remember. I've been there twice; it's very distressing, but we must preserve it."
'I don't want to forget anything'
Zaur Aboyev was 15, going into his final school year, and carried a first grade girl with flowers on his shoulders. He was right near the entrance and become one of the first hostages.
"I thought it was an exercise. Didn't even think too much about it at first," says Zaur.
His life was pretty smooth. He wasn't even injured – just thrown out the window by the shockwave while his cousin lost a child.
"During these three days in captivity we became really close, like one big family. I tried to move around the gym to talk to the people and comfort those who had it hard. About half an hour before the blast, the attackers told all the children to get down from the window sills. I started taking them down. Everyone whispered they would let us out soon. And then came the blast. We were all in shock. I must have had my mouth open, as my eardrums didn't pop. Suddenly it got very stuffy and hot inside. I was the only one standing, everyone else was on the floor. And then came the second blast, which must have thrown me out the window. I realized I was outside the gym, all alone again. And silence – all around me," recollects Zaur.
The attackers told the hostages that they have been forgotten and no one is concerned about them.
"We thought it was true. I thought my mom was in the bank, and I had to go and see her. Then I saw my shirt was dirty and dusty and thought I should change before seeing my mom in the bank," laughs Zaur. And then he saw police officers running towards the school.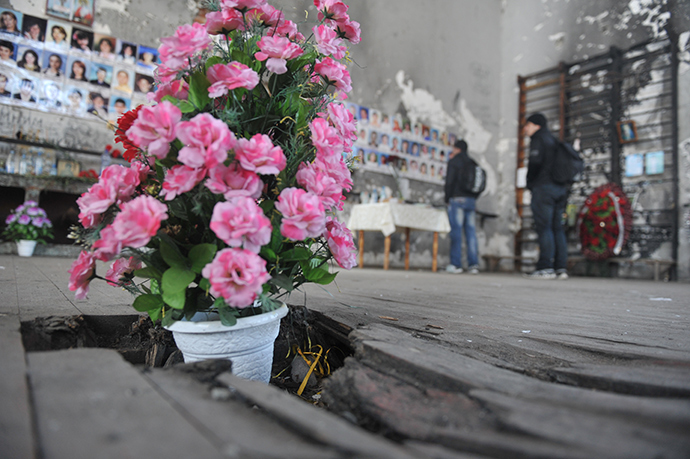 Only three students from the 11th grade were taken hostage. The rest were standing on the opposite side of the yard and managed to run away. But one girl died during the escape after she was hit with a fragment of a shell.
Zaur then went to St. Petersburg where he studied for six years. Now he's back in Beslan.
"While in St. Petersburg, I went to all the TV shows about Beslan. I think those who survived need to keep his memory alive. I don't want to forget anything. I want to preserve in my memory the last words of those who died and their faces," says Zaur.
He's now 24, working at two jobs, including as a deputy director, and looking for a girlfriend.
"After you spend some time at the crossroads of two worlds, you don't have any more time to be sad and sulky. I am a Christian. I respect every religion. I don't have any hatred towards Muslims or Ingushes. I don't know any Ingush personally. Also, they weren't just Ingushes, these attackers. I can't really comment on the political aspect – there are experts who understand it much better. I will definitely go to the school on September 1. It'd be disrespectful and dishonest to forget. I am healthy, and I must speak of what happened," he adds.
The Beslan tragedy has been explored in hundreds of books but there still seem to be things that are unresolved.
One of the aspects of the drama was that two thirds of Ossetia is Christian and followers of the traditional religion, while most of the attackers were Muslims and came from the neighboring republic of Ingushetia. The 1992 conflict between these two ethnic groups forced Ingushes to flee one area of Ossetia.
Many analysts predicted there would be a new escalation of the war in Caucasus along the religious and national lines.
Fortunately, that didn't happen.
Nadezhda Kevorkova is a war correspondent who has covered the events of the Arab Spring, military and religious conflicts around the world, and the anti-globalization movement.
The statements, views and opinions expressed in this column are solely those of the author and do not necessarily represent those of RT.
The statements, views and opinions expressed in this column are solely those of the author and do not necessarily represent those of RT.
You can share this story on social media: