Tory party blues - all because they chose a Tony Blair clone as their leader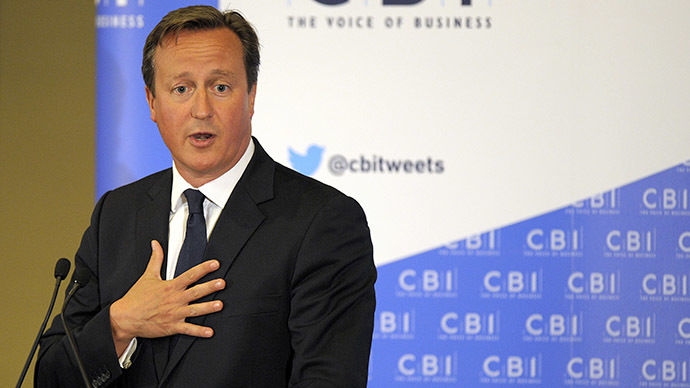 The defection of Tory MP Douglas Carswell to UKIP is undoubtedly a major blow for British Prime Minister David Cameron and the ruling Conservative Party.
In June, UKIP celebrated an excellent result by topping the poll in the European Parliament elections. For the first time since 1906 a party other than the Conservatives and Labour had got the most votes in a national poll in the UK. Many said it was a "flash in the pan," but Tory hopes that UKIP had peaked look to have been wishful thinking. The damage that UKIP is doing to Tory election chances is considerable, as current betting odds show.
The bookmakers make Labour odds-on favorites to win next year's General election, with the Conservatives odds against to win most seats. Cameron's party is as big as 3-1 to win a clear majority and, remember, the bookies don't often get these things wrong.
David Cameron was the man who the Tories believed would lead the party to a new era of political dominance to match the one they enjoyed in the 1980s. Yet he now seems likely to go down in history as a one term Prime Minister; and a pretty disastrous one at that. So where did it all go wrong for "Dave"?
To answer that, we need to go back to the autumn of 2005, when Cameron, then a relatively little known MP, became Conservative Party leader.
Tory bigwigs were frustrated that they had been out of office for eight years; and had gone through three different leaders while Labour kept on winning elections.
William Hague, Iain Duncan Smith, and Michael Howard had all failed to connect with voters. Influential Tories, envious of Labour's electoral success, took the decision that they needed their own Tony Blair. A spate of opinion pieces appeared promoting Cameron as a "modernizer" who could do for the Conservatives what Blair had done for Labour, i.e. transform a party that looked unelectable, into an election-winning machine.
"Dave" would copy Tony Blair's informal style, his "modernizing" social policies, and his enthusiasm for foreign military adventures (and hey presto) he'd deliver to the Tories a landslide victory come the next general election.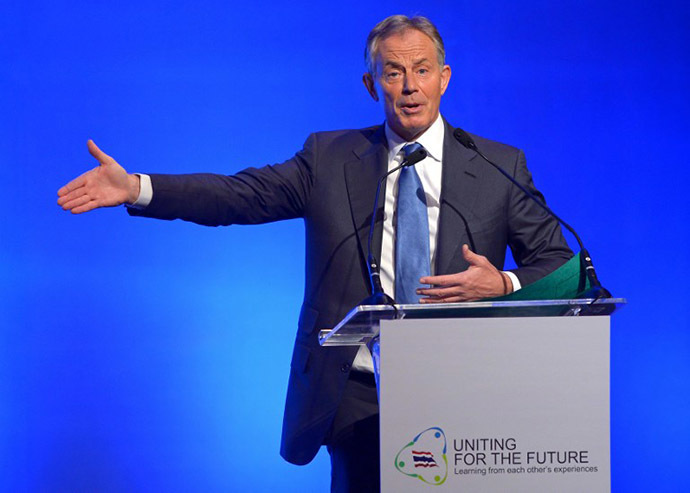 The "nasty party" that appeared stuck in the past, would become a cool and trendy up-to-date party that people liked. But there was one very big flaw in the Tory strategy. Namely, that by the time the next election came around, British voters were sick of politicians who modeled themselves on Tony Blair, and who followed most of his policies.
In 1997, Blair and Blairism was new and sexy; in 2001 it still had plenty of appeal to voters, but by 2010 both the man and his ideology was badly tarnished. Blair was no longer seen as a charismatic politician who had taken on the "forces of conservatism"; and who had helped bring peace to Northern Ireland, but as a serial warmonger, a slippery operator who was devoid of integrity and sincerity and who embodied everything that was rotten about British politics. Yet precisely at a time when people were sick of Blairism, the Tories were offering us Tony Blair Mark Two.
Cameron was packaged and promoted by the Tory spin doctors and sympathetic establishment commentators as a "compassionate conservative" and a moderate "One Nation" Tory. But as I wrote here in the Guardian,
shortly after his victory, behind Cameron's "compassion" was a man with strong neocon associations. Cameron was a supporter and defender of Tony Blair's Iraq war which should have warned people about the sort of foreign policy we could expect under a Cameron government. His support for measures such as same-sex marriages concealed a reactionary, hard-right economic agenda, which involved extending privatization into areas that even Margaret Thatcher shied away from.
Success of the successor
It was clear that if/when "Dave" became Prime Minister he'd follow neoconservative foreign policies and neo-liberal economic ones, which is good for those members of the elite who benefit from wars and privatization, but bad news for the majority who want a peaceful foreign policy and an economy in which delivers for ordinary people. As I warned in 2005:
"Those not enamored by the prospect of a regressive tax system, a revival of 1980s economics, a hostile attitude to Europe or British participation in military invasions of Iran, Syria or any other country the US decides to attack in five or six years' time are well advised to read the small print."
But still, media commentators continued to give Cameron an easy ride in opposition, and laughably there were even "progressives" who argued that he'd deliver more social justice than Labour.
Pundits, with one or two exceptions, expected Cameron to win an easy victory in 2010. Labour had been in power for 13 years – its longest ever spell in office and people were tired of them. The press was extremely hostile to Gordon Brown, the very un-Blair like figure who had replaced Blair as Prime Minister and Labour leader in 2007. Yet Cameron, despite the overwhelmingly positive media treatment, failed to obtain a majority.
He then made a crucial error. Instead of trying to govern at the head of a minority government, having his program voted down, and then going to the country again and asking for a clear mandate to govern, he plumped to go into a coalition with the Lib Dems, the serial losers of British politics. The coalition has proved equally toxic to both parties.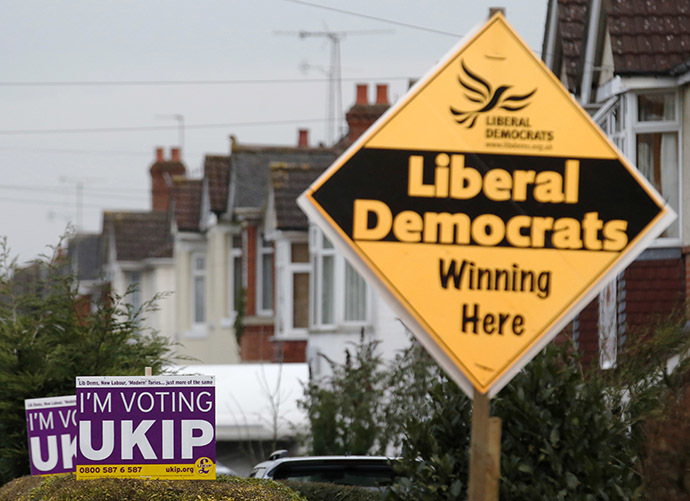 Traditional Conservatives have been angry at the concessions Cameron has made to the Lib Dems. While Lib Dem activists, who felt closer to Labour, believe that leader Nick Clegg has betrayed the party by collaborating with hard-right Conservatives in government.
In this year's Euro elections, support for the Lib Dems slumped to just 6.69% while at the Newark by-election in June, the Liberal Democrat candidate could only finish sixth. It was the ninth time a Liberal Democrat candidate had lost his/her deposit in a by-election since 2010. Clegg's party faces electoral wipe-out next year, and while the Conservatives won't be obliterated, there's precious little to cheer about for the Tories.
Cameron's aping of Tony Blair has backfired spectacularly. A key feature of Blairism was/is saying one thing and doing another. At the Labour Party conference in 1996 for instance, Blair promised to restore "a unified system of railways with a publicly-owned, publicly-accountable British Rail at its core."
He was cheered loudly after making this commitment to renationalize, yet when he came to power less than a year later, he carried on with the privatized system.
Cameron copied Blair in relation to pre-election promises made about the NHS. In 2009, Cameron pledged; "With the Conservatives there will be no more of the tiresome, meddlesome, top-down re-structures that have dominated the last decade of the NHS." Yet the Coalition's Health and Social Care Act brought in the most radical "top-down" restructuring of the NHS in its entire history, and has enabled widespread privatization of NHS services.
It's no surprise, as reported here, that the Conservatives tried to get pre-election pledges removed from the internet.
It is clear that in 2010 a major fraud was perpetrated on the British electorate.
"The same sort of people who managed the Blair fraud long ago gave up on him, and started work on the Cameron fraud instead,"writes political commentator Peter Hitchens.
"These people are like advertising men stuck with a product that is no good, a car that breaks down, a soap that crumbles into powdery grease when it touches water, a foodstuff that tastes disgusting and cleaves to the tongue. Yet they have signed a contract to promote it. At all costs they must keep the consumer from seeing the truth until after he has bought the merchandise."
For the Britons who did buy the Cameron "merchandise" in 2010, it's been one big letdown, as they've found out the truth about the man they voted for.
Anything to be proud of?
After four years and three months as Prime Minister, Cameron's record is a very poor one, to say the least.
His government sold off the Royal Mail, a much-loved national institution which had been in public ownership since its inception in 1516, for way below its market value, costing taxpayers around £1.5bn.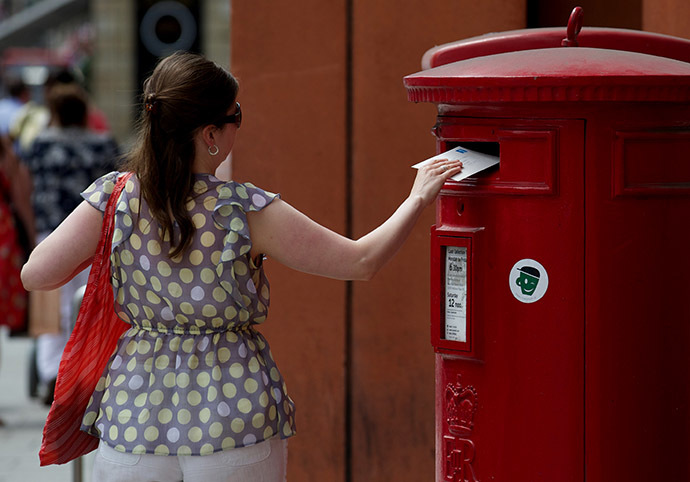 Obsessed with privatization they've also privatized RAF search and rescue and even the NHS plasma supplier, the beneficiaries of both privatizations were American companies.
Cameron's neoliberal economic policies have proved disastrous for ordinary people. While household bills and transport costs have spiraled, many have seen their wages either stagnate or fall; figures last year showed that average hourly wages had fallen by 5.5% since 2010, making Britain's wage decline the worst in Europe.
Although Cameron's government has raised the tax-free personal allowance to £10,000 it has also cut the top rate of income tax from 50p to 45p the biggest cut in the top rate of tax anywhere in the world in 2013. Meanwhile the corporation tax of companies whose profits are more than £1.5m a year was cut from 23% to 21% this year, and will go down to 20% next April. It was reported in July, that the governments cut in corporation tax are costing the country over £5bn a year.
On Europe, Cameron has talked tough, but delivered very little change. The arguments that he has picked with the EU tell us in whose interest he is governing: his government has tried to prevent EU curbs on the operation of hedge funds and bankers' bonuses. The EU doesn't get too much right, but on the few things it has been right on, Cameron's government has opposed it.
Then there's Dave's foreign policy. While "Iraq"' will be the word inscribed on Tony Blair's tombstone, "Libya" should be written on Cameron's.
In the same way that Blair – the serial warmonger – helped destroy Iraq, Cameron, an enthusiastic supporter of NATO's "intervention" in 2011, destroyed Libya.
"Never mind Tony Blair and his denials over Iraq. As our government contemplates its response to the latest crisis in Iraq, now may be the moment for a different Prime Minister to admit to another grave error. Will David Cameron concede that he might have been wrong to have intervened in Libya?" asks Freddy Gray in the Spectator.
Alas, I think we'll be a long time waiting for an apology: Blairites "liberal interventionists" like Cameron simply don't do them, and in any case they're too busy focusing on the next country in the neo-con hit list.
Not only did Cameron help to wreck Libya, (a country with the highest living standards in Africa and which was also the highest-ranked African country in the Human Development Index), he's also helped to fuel the civil war in Syria, by his backing and support of "rebel" forces. Last summer, it was Britain who played a key role in getting the EU to lift its arms embargo on weapons for Syrian rebels. And exactly twelve month ago, Cameron and his neocon associates in government, tried all they could to get Britain to join in a US-led war against a secular Syrian government – putting us on the same side as ISIS. In 2014, Cameron has also followed the US and neocon line on Ukraine and Russia, to the detriment of Britain's national interests, which are most certainly not served by a new "Cold War" with Russia.
Cameron's record in government at home and abroad has been wretched but astute observers could see all this coming. The last thing we wanted after the Tony Blair years was another Tony Blair, but sadly, that's exactly what we got.
The statements, views and opinions expressed in this column are solely those of the author and do not necessarily represent those of RT.
The statements, views and opinions expressed in this column are solely those of the author and do not necessarily represent those of RT.
You can share this story on social media: