Death of James Foley: A lot of questions, no answers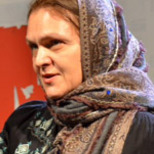 Nadezhda Kevorkova has worked at RT since 2010, before which she was a special correspondent for 'Novaya gazeta,' 'Nezavisimaya gazeta,' and 'Gazeta.' Kevorkova has also worked extensively in Russian mass-media. As a war correspondent, she covered the Arab Spring, military and religious conflicts, and the anti-globalization movement. She has worked as a reporter in Egypt, Sudan, Palestine, Jordan, Lebanon, Syria, Iraq, Iran, Pakistan, Azerbaijan, Ukraine, Hungary, Greece, Turkey, Cuba, and in the republics of the North Caucasus, Tatarstan, and in the Far East. In 2001, after an invitation from US State Department, Kevorkova visited a number of states, including Alaska. As a correspondent of 'Gazeta' she reported from Indian settlements in the US. She covered the 'Gaza Freedom Flotilla' in 2008, 2010 and 2011; she also visited Gaza several times during the blockade. In 2010, Kevorkova was nominated for the 'International Women of Courage' award.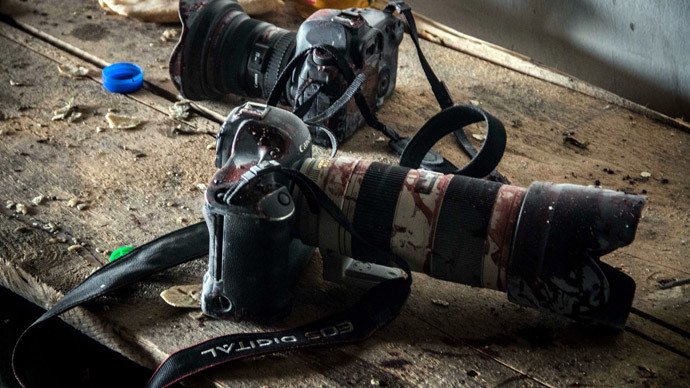 He was 39. Everybody loved him. Everybody called him Jim. Dozens of colleagues changed their avatars on social networks to black to commemorate him.
James Foley was the kind of person who could talk to you for a minute and call you brother. Many of James' last tweets had to do with Palestine. Israel was bombing it in November 2012 as well. That's when he was kidnapped in Syria.
Two of my colleagues who spent a lot of time with him in Libya, Orkhan Djemal and Athanasios Argirakis, recall that Foley stayed in Benghazi at a cheap, $30-a-night hotel, and he used old equipment, yet he had noise-reduction protectors on his mic, very important in the desert.They recall he had a small convenient backpack with a built-in flask, which was very convenient to sip from - indispensable in the desert.
Unlike most journalists, Jim was a newsman, not a reporter.
He had to be on the ground in time for everything, send his materials and hurry on chasing the news. But every morning you would see him at the breakfast table, in a clean cowboy shirt, smiling and friendly – that is, of course, unless he stayed for the night somewhere at the frontline.
"I see a lot of Jim's pictures in the media these days, and I barely recognize him. He was always disheveled, his hair sun-bleached, with white circles left by the glasses on his sun-burned face. Always friendly. A real American cowboy, open and, unlike many journos, not snobbish at all. He made fun of my English, and I asked Claire to translate his impossible American accent for me," his friend Orkhan Djemal says.
One day, they sat swapping stories about the different ways they became journalists. Jim said he majored in forestry in college, but for some reason it did not work out.
He was an outgoing person who was always willing to put up with difficult circumstances and who had a profound need to remain in the warzone.
He picked up journalism late, after he was 35, and immediately went to the most dangerous places. His reporting was balanced and fair among the rebels. This is what he wrote about himself: "I've reported from Iraq, Afghan [sic], Libya, Syria… A lot of questions, no answers."
One day, in 2011, a group of journalists went to the frontline. Somehow, they all scattered, and then all of a sudden Gaddafi forces launched an offensive. Rebels jumped into their cars and fled before Jim and two other guys could join them. They tried to hitch, but it turned out the cars they tried to stop belonged to advancing Gaddafi forces.
Government soldiers immediately opened fire. Antoine, a journalist from South Africa, was wounded in the belly. Soldiers refused to take him to hospital; they said he would not make it, anyway. They left him behind and arrested Jim and his other colleague.
"They were kept in prison for a month, then tried, fined $300 for entering the country illegally and banned from Libya for a year. I called Jim and told him I wanted to interview him about his time in prison. Jim laughed and said he did not have enough stories for an interview, as he only spent 36 hours in prison, and then they were moved to a villa. So he said, 'If you want an interview about my time at the villa, you're welcome.' That's the kind of funny guy he was. Then they were deported to Tunisia, and then he went to Syria. He wanted us to find Antoine's body, but nobody was able to locate the spot where he die[d]," says Djemal, Jim's fellow-reporter in Libya.
While James Foley was incarcerated at a villa in Tripoli, US politicians met with his family, passing on words of support and promising to do their best to rescue James.
By the time he was captured in Syria, nobody was promising anything.
Video invites questions
The video clearly looks odd, but for some reason nobody asks the obvious questions. The video is too artsy. The executor's hand looks strange on Jim's shoulder, while Jim gathers all his strength to keep calm and speak. The execution looks weird. It is peculiar that there were at least two cameras and no witnesses present, even outside the picture. No unrelated noises.
No Islamic law sanctions this execution. James Foley did not fight the rebels and did not cause them any damage.
Why would the rebels kidnap a poor freelancer who worked among them, and definitely did not sympathize with their enemies, will remain a secret of the Syrian rebel movement.
Palestinian Ankhar Kochneva, who spent five months as a hostage there, thinks that most rebels are poorly educated. They don't understand the value of a journalist, and seek to get a ransom even when it is obvious that nobody is going to pay one.
A multimillion-dollar ransom was demanded for James Foley. Reports vary but it is possible that the kidnappers asked for $132 million, which was clearly impossible.
The page demanding his release collected thousands of signatures.
Reports in the media were getting scarce.
And then all of a sudden this horrifying video of his execution surfaced.
Igor Bezler, a rebel leader in eastern Ukraine, once made a video of rebels executing Ukrainian soldiers, which caused a very strong reaction. Later, one of those "executed" gave an interview describing how Bezler staged the execution and then allowed his captives to meet with their wives and fed them just like his own fighters. So, yes, from time to time you come across noble outlaws in this day and age, but it does not happen often.
On rare occasions a journalist can be sacrificed for the cause. When a journalist gets killed, this means the media will be all over this story and, more importantly, it may even start a war.
For example, British journalist Alex Thomson was reporting from the city of Al-Qusair, not far from the Lebanon border, in the summer of 2012. He said the rebels were extremely unfriendly and sent him along the road where he came under fire from government forces.
After this group of rebels was defeated in Syria in May 2013, Hezbollah fighters examined abandoned fortifications, weapons and uniforms. They said most of them came from Israel. One Hezbollah commander told me directly that Al-Qusair defenders had Israeli instructors.
In September 2001, after 9/11 but before the US went on a bombing spree, British journalist Yvonne Ridley went to Afghanistan where she was captured by the Taliban. Later, she often said she felt strongly that Western intelligence services did their best to make the Taliban execute her, so the US would have another excuse for bombing Afghanistan. Yet the Taliban let her go.
In 2005, Italian journalist Giuliana Sgrena was kidnapped by the rebels in Iraq. She covered the anti-American rebellion in Fallujah and was very sympathetic towards the rebels. Many people wondered why the rebels kidnapped their biggest ally in Western media. The Italians rescued her, even though the Americans did all they could to stop them. Eventually, as the car carrying Giuliana was rushing to the airport, US soldiers opened fire on it. Giuliana said repeatedly that US intelligence services did not want to see her rescued. She miraculously survived the attack after an Italian officer saved her life by shielding her with his body.
Julian Assange got famous by posting a video, rejected by all the major media outlets, that shows US helicopter pilots firing on Reuters journalists in Bagdad in 2007. The pilots can be heard laughing and joking as they open fire on a van, which had arrived to evacuate the wounded.
In 2003, during the invasion of Bagdad, the US military intentionally attacked the Palestine Hotel, despite knowing that correspondents from major media outlets all over the world were staying there.
In November 2012 and in the recent campaign in July, Israel targeted media bureaus and offices.
It would take a long time to enumerate all the instances when journalists were deliberately targeted.
So far, Iraq holds the record for the number of journalists killed — over 11 years of US occupation and 370 journalists died there. Most of them were killed by occupation forces, not by rebels.
In his final address, James Foley made a plea to spare Time correspondent Joel Sotloff, who was held captive with him.
All the US government had to say in response was that they were shocked by the brutal murder of the journalist. Barak Obama made a statement and went off to play golf. The US government refused to "negotiate with terrorists" and continued its airstrikes against Islamic State positions.
Why does Israel say ISIS is like Hamas?
After international TV networks showed James Foley's execution, Israel's PM Netanyahu said that Hamas is like the Islamic State (IS, formerly ISIS) and IS is like Hamas.
I'm tempted to say that this grim footage will serve many political and military goals. Israel was the first to use this card – yet its military might has not been able to crush the resistance of the Palestinian enclave despite unleashing hell there for 40 days now. The video of the journalist's beheading is a good excuse to cast a shadow on Palestinians and force them to be perceived like that black-clad executioner.
The Gaza death toll now exceeds 2,000 people, with a quarter of them being children. The Palestinian conflict is now back in the headlines, although it seems the events in Libya, Syria and Iraq will soon make everyone forget about it.
Launched on July 8, Operation Protective Edge has prompted mass protests against Israel in support of Palestine.
Initially, as Israel indicated, its goal was to destroy armed units but what we now see is that these armed units have not been disarmed, that they have grown stronger and can now infiltrate Israel's territory – they literally appear from under the ground at the bases, homes and kibitzes, and attack the military.
The Protective Edge proved to be a fragile one – Palestinian rockets can reach strategic targets inside Israel, including military and nuclear facilities and airports.
The Iron Dome, a defense shield that the US so heavily sponsored, can intercept less than a third of Palestinian rockets.
Over these 40 days, all Israel was able to achieve is the killing of three commanders of the al-Qassam Brigades and the wife and a daughter of Muhammad Al-Daif, the commander-in-chief of the Brigades.
Palestinian activists have posted photos of those killed and demonstrated that these people don't look like the black-clad executioner who slit the throat of an innocent man.
Thousands then hit the streets to bury these three commanders, defying the dozens of drones that buzz in the Gaza skies around the clock.
And although Israel insists Hamas are terrorists, it holds negotiations with them. It was the US who pushed Israel to the negotiating table.
The Palestinians agreed to these indirect talks with a common list of demands coordinated by all the factions – the lifting of the blockade, removal of checkpoints, construction of a sea port and an airport and the release of 104 prisoners.
Israel offered Gaza's fishermen the possibility to catch fish within nine miles of the coast and partially opened border crossing points for 5,000 Palestinians daily.
But the united delegation of Palestinian factions flatly refused – either Israel lifts the blockade or they continue their resistance.
Israel resumed the shelling of Gaza. Palestinians responded in kind. On Friday, they paralyzed operations at Tel Aviv airport – for the second time during this war.
So it was these failures that forced Netanyahu to say that Hamas and Islamic State executioners are branches of the same tree.
Israel is losing ground in the propaganda war. It reminds one of Gilad Shalit, an Israeli soldier held in captivity for five years, the cause of Operation Cast Lead, who, when released, said the Palestinians are people who have the right to justice.
Could journalist's death be a ruse by security services?
When you compare warm to violet, people will hardly agree with you. The story of the Palestinian resistance has been well-documented, so it's a waste of time to accuse Palestinians of things they have not committed.
Palestinians groups have never captured or killed journalists. They don't slit throats, don't take video footage of such crimes. Instead, they condemn such actions.
In his last remarks, James Foley blamed the US for bombing Iraq and other things.
"I call on my friends and loved ones to rise up against my real killers, the US government. For what will happen to me is only a result of their complacency and criminality. My message to my beloved parents: save me some dignity and don't accept any compensation for my death, from the same people who effectively hit the last nail in my coffin with a recent aerial campaign in Iraq," declared James before he was beheaded.
By making the assumption, Netanyahu unwittingly reminds the world that Israel is killing Palestinians with US weapons and weapons produced with US money. So paradoxically his Islamic State/Hamas statement is more damaging to Israel itself.
Social media are flooded with photos of hundreds of Palestinian children killed in the attacks. Now there's one more victim, a journalist. It now seems these children and James Foley were killed by the same warmongers – the US and Israel?
Journalism is a profession that doesn't leave much legacy. Reports and footage from armed conflicts and wars fall into oblivion. Few of the journalists go on to become Hemingway, Churchill or Robert Capa.
James Foley sacrificed his life to open a new chapter in our profession – with his last words he got to the core of our job: 'You're killing us.'
The statements, views and opinions expressed in this column are solely those of the author and do not necessarily represent those of RT.