How America's 'War on Drugs' turned Ferguson into a warzone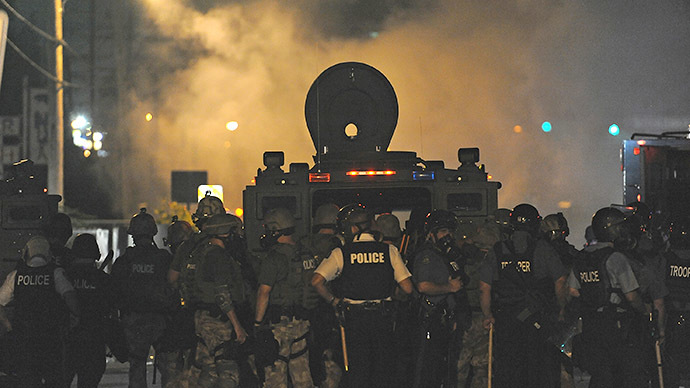 The violent protests that continue to plague Ferguson, Missouri, where an unarmed black teenager was shot dead by a white police officer, has brought military-grade hardware onto the streets in a frightening display of force. How did America get here?
LIVE UPDATES: Militarized US cops face off against Ferguson protesters
Long before most Americans had heard of the names Osama bin Laden, Al-Qaeda, or Ferguson, Missouri for that matter, Washington had declared war on a different sort of evil. This one, popularly known as cocaine, arrived from south of the border: the drug of choice for everybody from middle-class suburbanites to Hollywood celebrities.
On Sept. 5, 1989, George H.W. Bush told the nation he would increase spending on the "war on drugs" to $7.9 billion – "the largest increase in history," he announced.
The following year, the National Defense Authorization Act (Section 1033) empowered the Pentagon to "transfer to Federal and State agencies personal property of the Department of Defense, including small arms and ammunition, that the Secretary determines is - (a) suitable for use by such agencies in counter-drug activities; and (b) excess to the needs of the Department of Defense."
Predictably, however, these bold plans failed to stop the flow of drugs into American neighborhoods. Rather, the ill-conceived program used the bulk of taxpayer money to purchase military-grade armaments and sprawling new prisons for a long and expensive fight against drugs.
In this drug-fueled showdown against South American drug cartels, Uncle Sam, like Tony Montana, the power-crazed drug kingpin in the film 'Scarface' (1983), will go out in a blaze of guts, glory and gunfire against the enemy.
Ultimately, however, the "war on drugs" fizzled out like a wet firecracker. Despite blowing more money than a coke fiend, the UN estimated that opiate use actually increased 35 percent worldwide from 1998 to 2008, cocaine by 27 percent, and marijuana by 8.5 percent.
At the same time, local US communities inherited the spoils of foreign wars – from Iraq to Afghanistan - stockpiling many tons of military hardware, the samples of which are appearing today on the streets of Ferguson, Missouri amid increasing street protests.
Not only are local communities getting upgraded to military-grade specifications, they are also receiving the military training techniques to go with the powerful hardware.
"The St. Louis County Police Department's annual budget is around $160 million," Newsweek reported. "By providing law enforcement agencies with surplus military equipment free of charge, the NDAA encourages police to employ military weapons and military tactics."
Just as disturbing as the violence that has rocked Ferguson for the last eight days and nights, and the horror over the shooting death of an unarmed teenager by a police officer, is the spectacle of watching armored vehicles roll down city streets and police who look better equipped to fight a war in the Middle East than a protest rally in the Midwestern United States.
In addition to armored vehicles, the Ferguson police have at their disposal body armor, full combat gear and futuristic crowd-control weapons, like acoustic weapons that disperse protesters by emitting a powerful, ear-splitting electronic signal.
The death of teenager Michael Brown, and the ensuing violence it has reaped, has thrown a spotlight on what has been largely concealed from public scrutiny: the militarization of local US police forces.
Many observers are wondering exactly how armored vehicles and other combat equipment landed on the streets of Ferguson in the first place.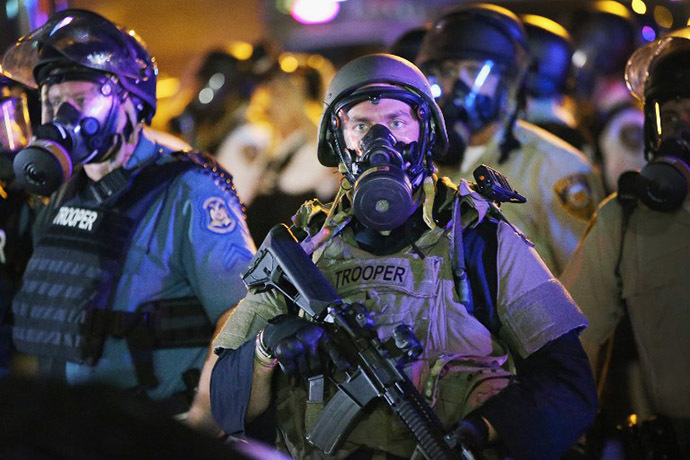 Although police in Ferguson have been seen driving around in a black vehicle that closely resembles a "Bearcat" MRAP (Mine-Resistant Ambush Protected vehicles), Mike O'Connell, Communications Director for the Missouri Department of Public Safety told Newsweek that "no St. Louis County law enforcement agencies have acquired any MRAPs through the 1033 program."
O'Connell said that if the vehicle is indeed an MRAP and not one of about ten "utility trucks" acquired by St. Louis County, he admitted he does not know where it came from.
The military gear comes with an additional cost: The image of a paramilitary presence more prepared to fight a war against a foreign enemy can have the unintended effect of creating an atmosphere of fear and paranoia among the public.
Former Seattle Police Chief Norman Stamper warned that when police wear military-style uniforms, it can aggravate the overall level of hostility that the crowd feels for the officers.
"Keeping the peace at a demonstration essentially means having police officers in standard everyday uniforms, not military garb," Stamper told Vox in an interview. "In the process they become an occupational force where they are in charge — in the name of control, in the name of public safety, taking actions that actually undermine legitimate control."
#Ferguson picture from earlier in the day, high powered rifles trained on protesters pic.twitter.com/OYOur3ZCrA

— David Carson (@PDPJ) August 13, 2014
In June, the American Civil Liberties Union released a report that pointed to the acquisition of military equipment by local police, along with a surge in the number of SWAT deployments, as proof that US police forces are morphing into something potentially dangerous.
More incredible is that this 'military creep' inside local police forces is occurring without the benefit of public debate.
"American policing has become unnecessarily and dangerously militarized, in a large part through federal programs that have armed state and local law enforcement agencies with the weapons and tactics of war, with almost no public discussion and oversight," the ACLU report stated.
As the United States winds down its military operations in Afghanistan and Iraq, US police forces are getting the used 'hand-me-downs' from the Pentagon.
"Using these federal funds, state and local law enforcement agencies have amassed military arsenals purportedly to wage the failed War on Drugs…But these arsenals are by no means free of cost for communities. Instead, the use of hyper aggressive tools and tactics results in tragedy for civilians and police officers, escalates the risk of needless violence, destroys property, and undermines individual liberties," according to the report.
The gentleman on the left has more personal body armor and weaponry than I did while invading Iraq. pic.twitter.com/5u6TxyIbkk

— Brandon Friedman (@BFriedmanDC) August 14, 2014
Meanwhile, the Pentagon drafted in April a "U.S. Army Techniques Publication: Civil Disturbances" that anticipated the exact sort of civil disturbances now happening in Ferguson.
The manual, recently obtained by Public Intelligence, discusses situations under which, "Civil unrest may range from simple, nonviolent protests that address specific issues, to events that turn into full-scale riots."
"Significant ethnic differences in a community can create an atmosphere of distrust, even hatred … (and) can cause an eruption of civil disorder that can lead to full riots," it continued.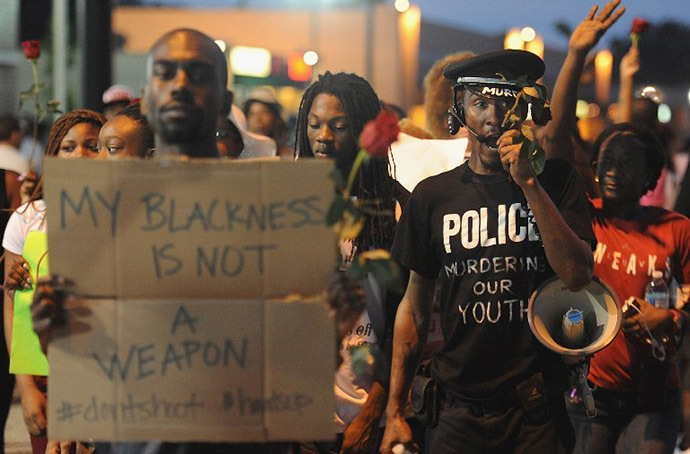 But the "military creep" that appears to be happening in Ferguson is indicative of a nationwide move involving the total transformation of local police departments into paramilitary apparatuses, and despite (or because) of the fact that the "war on drugs"' has fallen off the national radar.
Meanwhile, this exorbitant investment in both military hardware and techniques seems to be provoking police departments to react with much more firepower against guilty and innocent alike than they normally would.
Peter Kraska, a professor at Eastern Kentucky University's School of Justice Studies, told the Economist that SWAT teams were deployed about 3,000 times in 1980. Today that number exploded to"around 50,000 times a year."
Kraska provided a litany of disturbing statistics attesting to the growing militarization of American communities, many of them with low crime rates: 89 percent of police departments in American cities with more than 50,000 people had SWAT teams in the late 1990s—nearly double the amount in the mid-80s. By 2007, more than 80 percent of police forces in cities with a population between 25,000 and 50,000 had them, an increase of 20 percent since the mid-1980s.
It should come as little surprise that an increasing number of Americans do not trust their police to protect them. As the ACLU said in its report, "It's time for American police to remember that they are supposed to protect and serve our communities, not wage war on the people who live in them."
Robert Bridge is the author of the book,"Midnight in the American Empire,"which provides a glimpse behind the iron curtain of corporate power, and how this economic phenomenon is destroying the American Dream.
The statements, views and opinions expressed in this column are solely those of the author and do not necessarily represent those of RT.
The statements, views and opinions expressed in this column are solely those of the author and do not necessarily represent those of RT.
You can share this story on social media: