Russia's aid for Ukraine: 'What loneliness is more lonely than distrust?'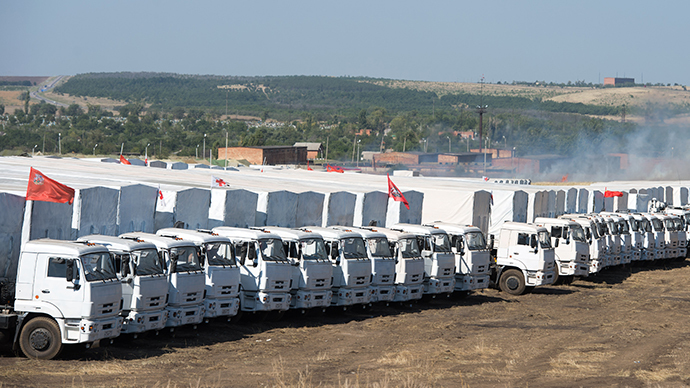 T.S. Eliot wrote that about relationships, and politics like no other field of endeavor is given impetus by manipulating, cajoling and obtaining the financial energy required for driving broad swathes of relationships, nationally and internationally
It has also been said that multiculturalism celebrates the diversity of cultures and treats them as all equally worthy of respect, and today it is all the rage in the populist politics of globalization. Yet that celebration of diversity often is little more than a cover for intellectual laziness, and a total lack of interest in the actual nature of any particular people, culture or their actual circumstances.
And where such laziness prevails, its corollary is likely to be an unfounded projection of one's own culture onto others. Such seems the case surrounding the regions west of Russia, and east of Kiev, and the efforts not made by the EU and US to know them objectively and firsthand. Over these past weeks I have witnessed the incredible power of information "spin" given depth and breadth via internet, bloggers, tweets, as well as resonating from centers of journalistic and traditionalist political opinion by MSM in the various capitols.
Today, almost everyone agrees that civilians are dying, and that the humanitarian catastrophe in the regions surrounding Donetsk and Lugansk is acute and getting worse daily. With the continuing projection of military force by Kiev to control the dissenting regions, the plight of people in those two areas is now past critical. Russia has acted by providing 270 truckloads of supplies essential for survival. They are on their way, and if they are permitted to deliver directly to the conflict zones it will make a positive difference, perhaps saving the lives of many who would otherwise perish.
It is most disappointing, in the absence of any smoking guns, in the face of Moscow's professionally informed and correct diplomatic restraint, to observe the degree of animosity and distrust directed at Russia for making this effort. Distrust by Brussels, Washington, Kiev and others ostensibly from the camp espousing liberty, equality and fraternity. The aid that Russia is bringing by trucks (not proposing in words) is more than symbolic; it is desperately needed by ordinary people. What I do hear is: the aid convoy is a "Trojan Horse", Russia will use this to further its political and military agenda, and the aid supplies disguise some nameless nasty surprises. In short, overtly delay helping the victimized people. I have not heard a single similar aid proposal from the EU or Washington, much less from Kiev to relieve this situation, or the taking of necessary steps to gather, load, and convey the aid directly to those in need. This seems to me like very conscious Nero-esque dithering while necessity burns with a culture of indifference.
The inner loneliness felt within the member nations of the EU, and in the USA must be acute to so distrust the Russian Federation when it openly, with the world as witness, takes the steps needed to come through for people in need with acts and not speeches. I can only say that this path taken by the US and EU leads to a soul-destroying loneliness, for it leads to an even greater culture of distrust, misinterpreted actions, misguided advice, which ultimately results in a belief-bereft culture - seeing only darkness in others. Let us trust that this convoy reaches the people who need it now.
Paul Goncharoff
Chairman, Ethics and Membership Committees
The Association of Directors and Upper Management, the Russian Federation
The statements, views and opinions expressed in this column are solely those of the author and do not necessarily represent those of RT.