Western media inspect Russia's Ukraine aid trucks and find... aid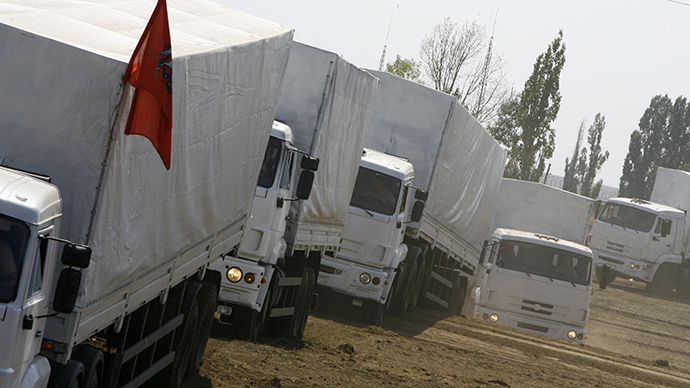 A Russian convoy to deliver humanitarian aid has reached the Ukrainian border. Some western journalists were given the opportunity to monitor its progress, as well as being allowed to see what they were carrying.
The Ukrainian government had been adamant that this was little more than a 'Trojan Horse' being used to transport Russian military hardware to anti-government troops in the east of the country. Trucks 'inspection' showed they were carrying quiet a different load.
Looked inside several trucks, found buckwheat, sleeping bags and a mechanics workshop. pic.twitter.com/Y363BgusYS

— Andrew Roth (@ARothNYT) August 14, 2014
The convoy is long - with 270 trucks in all. They are trying to bring much needed supplies to the city of Lugansk, which has been without electricity, gas and water for weeks, following constant shelling from Ukrainian government forces.
Tan men told us we could open any truck we liked. This one had bags full of grechka (buckwheat) pic.twitter.com/nC3j02bcUs

— Courtney Weaver (@courtneymoscow) August 14, 2014
The "tan men" are the volonteers who have been helping to deliver the supplies in the convoy. They have had a long journey, travelling from outside Moscow, all the way to the Ukrainian border.
Men in tan clothing are 'volunteers' of an unnamed org, but are allowing looks inside trucks of journalist choice. pic.twitter.com/Mkd9iAKzrF

— Andrew Roth (@ARothNYT) August 14, 2014
The journalists say that there are members of the Red Cross on site, but they are not talking to journalists at the moment. According to the Guardian's Shaun Walker, the convoy has stopped about 25 kilometers from the Ukrainian border and the volunteers are currently setting up camp. There are some comforts available for the workers, with showers having been provided.
Spent a couple of hours with the Russian convoy which has stopped, possibly for some time. Field camp being set up pic.twitter.com/UN1NTJSsbX

— Shaun Walker (@shaunwalker7) August 14, 2014
Just spent an hour walking around the convoy camp where tents and showers have been set up for the #tanmen 1/2 pic.twitter.com/2FTYISNY4X

— Courtney Weaver (@courtneymoscow) August 14, 2014
There are two military helicopters escorting the convoy, which also contained some military hardware at the rear, while the western journalists said there was almost no security to hinder them doing there work and they were allowed free reign to look at anything they wanted.
To clarify, we are heading north from Rostov to try to meet the convoy coming south. Military vehicles we've seen nothing to do with column.

— Roland Oliphant (@RolandOliphant) August 14, 2014
So two of these babies just pulled up behind the convoy line pic.twitter.com/EVyACn40HQ

— Courtney Weaver (@courtneymoscow) August 14, 2014
Two helicopters accompanying the convoy, flying extremely low. Now sat in the fields alongside pic.twitter.com/yYTr7Vhp8C

— Shaun Walker (@shaunwalker7) August 14, 2014
Trucks parked up in an orderly line, helicopters overhead and almost no security from journos.

— Andrew Roth (@ARothNYT) August 14, 2014
You can share this story on social media: