​'West and Russia would gain more if they talk to each other and cooperate'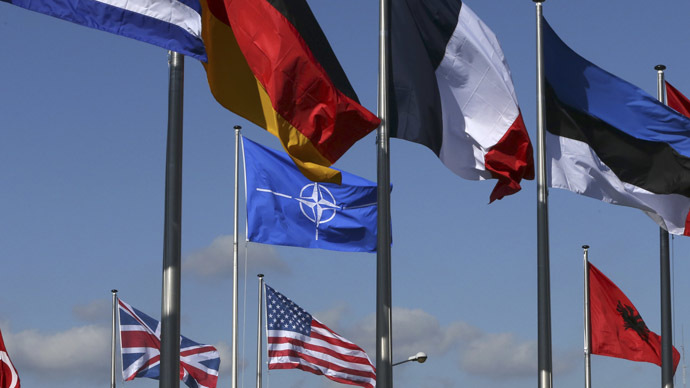 Western sanctions towards Russia and vice versa certainly are something that are going to create more difficulties, animosities and resentment, Michael Maloof, former senior security policy analyst in the office of the US Secretary of Defense, told RT.
RT:During his visit to Ukraine NATO Secretary General Rasmussen once again reiterated that NATO is suspending cooperation with Russia. This is surely going to complicate relations, isn't it?
Michael Maloof: Absolutely it will complicate relationships. I think that more can be done when people are talking together and particularly during difficult periods, you do not want to be cutting off communication. I might add that it is going to be important for NATO and Russia to speak simply because there is yet another crisis that is looming over all the other issues that are going on right now, and that has to do with what is going on in the Middle East. I think NATO can benefit from Russia's counter-terrorism cooperation and assistance now in dealing with a serious problem, and that is an Islamic State and what it is now doing. With 40,000 refugees about ready to be slaughtered I think the world needs to come together and work on this common problem. There are other issues, but you gain more by working with people and trying to cooperate, and sanctions certainly at the end of the day are just something that is going to create more difficulties, animosities and more resentment.
RT:Will Russia be the only side to suffer after this decision? Why does NATO keep on with this hard rhetoric if nobody will benefit?
MM: They are trying to make a point, but the question is "Can they really follow through on their threats of increasing their own forces and what is happening on the borders?" Already what we are seeing just in Europe and the eurozone, the entire climate as a result of the Ukraine crisis is one in which countries are economically already hurting in an already very fragile economic condition. Their recovery is not coming up as they had expected, their economy is very fragile and just today Italy, which is supposed to be the third largest economic country in the eurozone, announced that it had minus growth that is not a good sign.
With all the other issues that are going on now it's the time when countries need to cooperate even though we have issues, but they need to be talked about. I realize that the Ukrainian crisis is serious but Europe has also got to recall that it was taking advantage of the situation. Their actions and activities have actually brought down and ousted a democratically elected government in Ukraine. As a consequence, all of that has been forgotten and what has happened now as an event, we react more and more to daily events and we get caught up in that. We failed to realize that there is a fundamental basis as to why that occurred, that shows a serious lack of sensitivity on the part of European countries to the concerns that Moscow certainly has had in terms of the encroachment that NATO is always attempting to do, they continuously show that. I think that people need to step back on both sides, take a deep breath and actually work to cooperate, especially in the light of this latest crisis in the Middle East in which the West can really benefit from Russia's counter-terrorism assistance.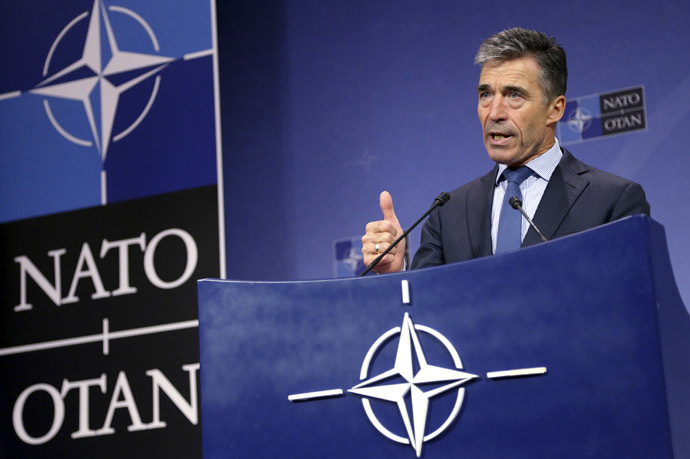 RT:NATO also voiced its support for the Kiev government. How far will it go help the country?
MM: It can only go so far, because Ukraine is not a member of NATO, they cannot invoke Article 5, in which each state would have to react to an attack on a NATO country. They can provide some assistance, Europe ultimately will be reliant on the US for its assistance, and I doubt that it will be all that forthcoming. The US resources are low, we have commitments elsewhere in the world and even those sanctions may be imposed, what both sides are beginning to see is that the sanctions do not do anybody any good.
RT:Rasmussen said NATO was working 'more closely with Ukraine to reform its armed forces and defense institutions.' Do you think NATO might provide military help to Kiev?
MM: I think it is already, military assistance has been given to Kiev, including from the US. They can give so much in terms of intelligence support, they are probably sending advisers but the military assistance will probably be somewhat limited because it is just so much they can do without further provoking and raising concerns in Moscow as to what the true intentions of Kiev might be. And again, Kiev is really a questionable government in the eyes of a number of people because of what happened and how they came to be. And I think again countries can cooperate, they need to step back and talk these things through, and ratcheting up with threats is to give moral support to Ukrainian government.
I can recall what happened in Georgia in 2008 after the US finished military exercise in Georgia, and yet Georgians were buoyed up by that confidence that the US will come to assistance if the Russians were ever to attack them. What happened is that the Georgians then initiated the conflict and as a consequence there was a response. I am concerned of what might happen if Kiev will react in the same way because the NATO countries will only be able to provide so much assistance and they may be developing a false confidence as a consequence.
RT:Do you think Ukraine could become part of NATO?
MM: They could become a part, they certainly have the partnership arrangement but that is not an actual membership. They have done the same for Georgia, but NATO will only go so far. I do not think they want to antagonize Moscow, because President Putin has made it very clear that he wants to create a buffer between the Russian Federation and NATO and he sees an encroachment there which he perceives to be threatening. Indeed, the whole idea of building anti-missile defense system in Europe only irritates and agitates the problem even more because it does then raise concerns in Moscow as to their own strategic capabilities and whether they will be able to protect the Homeland itself. As long as NATO continues this kind of agitation and probing to raise concerns in Moscow, it only brings on a negative atmosphere and this is not conducive to positive results.
The statements, views and opinions expressed in this column are solely those of the author and do not necessarily represent those of RT.