​'Afghan armed forces have serious problem with discipline'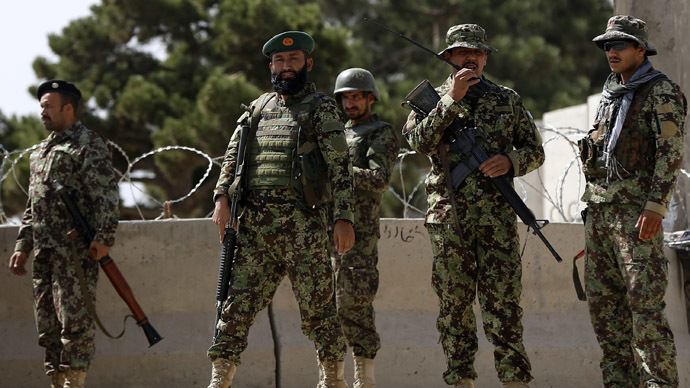 The Afghan armed forces are not cohesive and there are problems with checking and investigating recruits, making sure that the army is properly recruited and trained, Middle East expert Deepack Tripathi told RT.
On August 5 a gunman dressed in an Afghan army uniform opened fire on allied troops at The Marshal Fahim National Defense University in Kabul. The International Security Assistance Force (ISAF) confirmed the killing of a US Army two-star major general and wounding 15 coalition troops, including a German brigadier general and two Afghan generals.
RT:No group has admitted carrying out the attack. Who do you believe is behind it?
Deepack Tripathi: First of all it is reflective of the deep-seated resentment against the occupation forces - the US and its allies. We know that the Taliban has been fighting a low-level, but increasingly bitter war against the occupation forces. There are also various ethnic groups, and this incident took place in a largely Pashtun area, where the sentiment of nationalism is particularly strong. They also know that the occupation forces are about to leave the country, and they have chosen their target, a British-run military academy.
RT:NATO's pulling out, so why do you think high-ranking officers were being targeted now?
DT: It just shows the deep animosity in certain sections of the Afghan population. Secondly, there was an important gathering where this shooting took place. An American general is reported to have been killed; we hope to have confirmation of it in the next few hours or the next day or so. A German brigadier has been wounded and something like 14-15 others injured. So there was a meeting, a large concentration of senior army officers from the US and allies, and that made them the target.
RT:So-called 'insider attacks' are said to have dropped last year, compared to 2012. Are they becoming a bigger threat again? Why?
DT: This incident, as previous incidents, shows that there are problems; there is a serious problem of discipline in the Afghan armed forces. That has been the case for many decades, even during the Soviet occupation during the 80s. The Afghan population is very diverse and that diversity actually shows in the armed forces. The armed forces are not cohesive. The other thing concerns the training. The allied forces who are about to leave have tried very hard to increase the size of the armed forces, and that of course has problems with checking and investigating into recruits and making sure that the army is properly recruited and trained.
The statements, views and opinions expressed in this column are solely those of the author and do not necessarily represent those of RT.