'Mister Yes' who helped put an end to the Cold War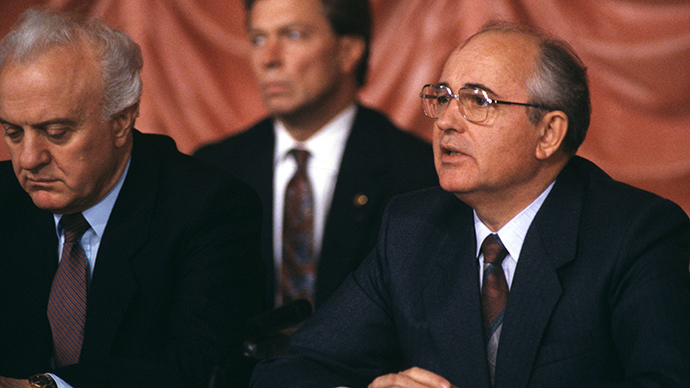 Eduard A. Shevardnadze, Mikhail Gorbachev's close ally and associate in the implementation of perestroika and "new thinking", former USSR Foreign Minister and President of Georgia died on Monday, 7 July 2014.
He was 86.
Mr. Shevardnadze had spent his working life as a Communist party functionary including posts as the head of the Georgian KGB and up to the very top position as the leader of the Georgian Communist Party.
In 1985 Gorbachev offered him to lead the Foreign Ministry of the USSR despite the fact that Shevardnadze had no experience in diplomacy, other than hosting foreign delegations in his republic.
In his memoirs Gorbachev explained that in the early days of perestroika he needed "experienced people" who understood his thinking and an undeniable will to reform the Soviet Union. Shevardnadze was granted "a free hand in foreign policy" by bringing in a close friend and associate.
Together, the two leaders revolutionized Soviet foreign policy. They withdrew Soviet troops from Afghanistan; negotiated treaties on reduction of medium-range and strategic nuclear arms; withdrew military forces from Central and Eastern Europe and the USSR-China border; catalyzed the fall of the Berlin Wall and the reunification of Germany; and accepted protection of human rights as part of West-East negotiations.
I recall that during the Helsinki verification meetings in Vienna Shevardnadze walked to a group of protesting Soviet dissidents in exile and warmly embraced a few of them saying that from now on the situation with human rights in the USSR will be different, and it was. Practically all of them have been released from prison or domestic exile like the most famous of them Academician and Nobel Peace Laureate Dr. Andrei Sakharov.
Mr. Shevardnadze was an architect, spokesman and negotiator for the new policy, and the white-haired visage that earned him the nickname "Silver Fox" and "Mister Yes" (contrary to his predecessor Mr. Gromyko – "Mr. No") when he was propelled to the world politics stage from 1985 to 1991.
One of his last acts in the job was to persuade Russia's leadership to support a United Nations resolution on Nov. 29, 1990, giving the United States and its allies the green light to eject Iraq from Kuwait. Hard-liners were offended, blaming Shevardnadze's close relationship with Secretary of State Baker.
Part of his success was forging relationships with Secretaries of State George P. Shultz and James A. Baker III, who became proponents of reconciliation in administrations that were intensely anti-Soviet. Just as difficult, he helped convince Soviet hard-liners that it was time for rapprochement with the United States.
Mr. Shevardnadze's revisionist thinking outpaced that of Mr. Gorbachev. "He thought he was refining socialism while I was no longer a socialist," Mr. Shevardnadze told The New York Times Magazine in 1993.
Mr. Shevardnadze became worried that Mr. Gorbachev was falling under the influence of the hard-liners. He ultimately shocked his boss by resigning on Dec. 20, 1990, with a warning that "dictatorship is coming".
Three months later, Mr. Shevardnadze agreed to head the council governing Georgia after a coup there. He was elected president in 1995 and helped hold his country together, establish democratic reforms and stabilize the economy. He survived assassination attempts in 1992, 1995 and 1998, without suffering serious injury. His second term, won in 2000, was a disaster, as civil clashes proliferated, the economy deteriorated and corruption flourished.
Mr. Shevardnadze was forced to step down in 2003 as a result of the US backed "Rose Revolution" but his American friends were able to protect him by telling his successor to leave Shevardnadze in peace.
In a statement on Monday, Mr. Baker said Mr. Shevardnadze would "have an honored place in history, because he and Mikhail Gorbachev refused to support the use of force to keep the Soviet empire together… Many millions of people in Central and Eastern Europe and around the world owe their freedom to them".
Many Russians see things differently and these days neither Gorbachev nor Shevardnadze are held in the high esteem in Russia.
However, only history can judge the rights and wrongs, and for now everyone is entitled to their opinions. One thing for sure, this man was able to make some extraordinary changes both in the tiny Georgia and in the whole Soviet empire.
Edward Lozansky for RT