'No NATO extension needed as there are no enemies trying to invade Western Europe'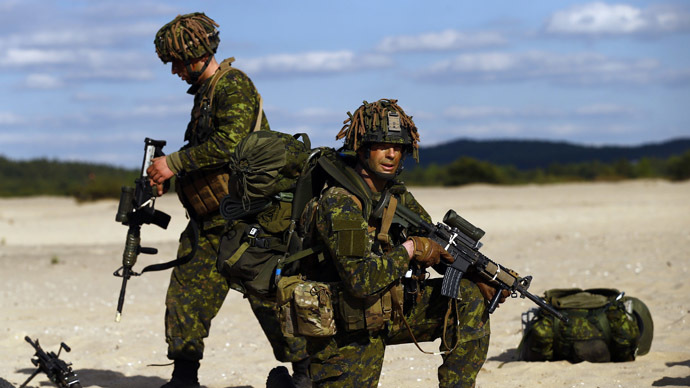 There is a number of problems surrounding the Ukrainian issue, though to resolve them NATO should pull back from the borders and start a dialogue with Russia, UK Labour MP Jeremy Corbyn, told RT.
RT:The US believes the situation in Ukraine requires it to increase its presence in the region. What kind of threat does it want to tackle?
Jeremy Corbyn: I think this is a continuation of a strategy by NATO over the last decade and a half which is to steadily expand eastward. While Ukraine itself is not a member of NATO there is now this plan of a joint military exercise with Ukraine coming up in a few weeks' time, together with the deployment of US troops in other countries, so far in quite small numbers. Then Obama arrives in Poland and announces an increase of a billion euro in US defense expenditure. Surely, with all the tragedies that are going on, with all the stresses and tensions this is the time for a dialogue on the future of Ukraine, on the future of relations between Russia and Western Europe, and of course the United States, not a time for an increase in the military ante. I am really worried about what Obama said on Tuesday.
RT:The US Defense Secretary Chuck Hagel has urged NATO allies to boost their military budgets as well (today at the defense ministers' meeting in Brussels). What is the perceived problem? How are they selling it?
JC: They are selling this on the basis that the two percent floor level of expenditure of GDP is required by any of the NATO countries. Many are worried about that including Britain. But there is a period of austerity in Europe. Workers are seeing controlled or lower wages; there are massive cuts in social expenditure. Yet there is a kind of a concerted operation by the military through NATO and in every country and by the arms manufacturers to massively increase defense expenditure. I do not think this is acceptable or necessary.
RT:Who is the enemy here?
JC: I do not perceive any enemies that are trying to invade Western Europe. I see a degree of problems over determination and unrest in Ukraine which should be resolved. Stacking up more military forces on both sides of the border is not going to do any good. I know that Russia has pulled back from the border with Ukraine, and I would urge NATO to do the same and engage in a dialogue both with Ukraine and Russia to bring about a peaceful solution to this crisis. But planes flying in and bombing people and all the horrors that go with it and the increasing expenditure can only lead to dangers of another war, maybe somewhere else tomorrow. Surely we can learn the lessons of the whole post-war period, the Cold War cost us a lot of money, damaged an awful lot of people's living standards. In the time of austerity we do not need more money on defense; we need more money on housing, schools and hospitals.
The statements, views and opinions expressed in this column are solely those of the author and do not necessarily represent those of RT.
The statements, views and opinions expressed in this column are solely those of the author and do not necessarily represent those of RT.
You can share this story on social media: