Selective solidarity: Not all threatened journalists in Ukraine make UK headlines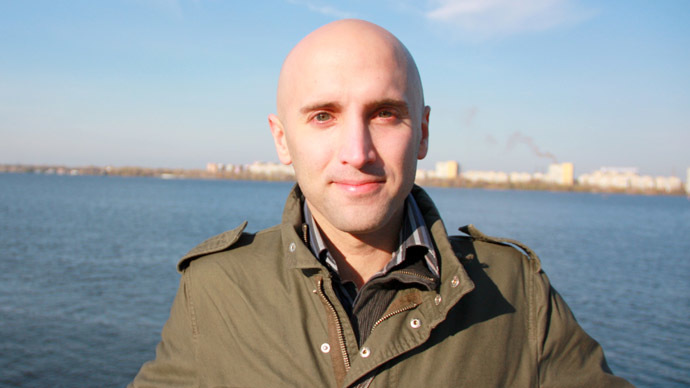 UK journalist and RT stringer Graham Phillips gets detained in Ukraine, but the British media remain silent.
"Ukrainian journalists face threats as separatists make demands of media", "Two Ukrainian journalists disappear in Crimea – watchdog", "US journalist Simon Ostrovsky held by pro-Russian militia in Ukraine." These and other flashy headlines have lately appeared in abundance in the UK media, which detailed the plight of reporters working in Ukraine torn by probably the most dramatic civil strife in decades. But this display of corporate solidarity appears to have been bewilderingly selective.
When Graham Phillips, a UK journalist and RT contributor in Ukraine, was detained on May 20 and whisked away to an unknown destination by the National Guard loyal to the new Kiev authorities, there was a media blackout. None of the major UK media outlets carried the story.
Not that Phillips is a low-profile reporter whose disappearance would go unnoticed. To the contrary, having reported from the very frontline in eastern Ukraine for the past several weeks, Phillips has become one of the most prominent foreign journalists covering the Ukraine crisis. Clad in a bullet-proof vest and a helmet, Phillips reported from the very eye of the storm, often braving gunfire and putting his life at risk.
So how is it that his detention and subsequent disappearance have gone almost unnoticed by the UK media? Was it that Phillips happened to be an RT contributor, or something else that could explain this unexpected collective oblivion?
The UK media have always prided themselves on the long-running traditions of freedom of expression, plurality of opinion, objective reporting and rejection of censorship. Not only have these tenets been held dear by scores of award-winning British reporters, but they have also been tenaciously implemented by generations of their less-famous colleagues, who never hesitated to resolutely stand up to threats to their journalistic integrity.
It is all the more amazing that having displayed so much professional solidarity with their Ukrainian colleagues, the UK media went silent when it came down to Phillips – one of their own and a British citizen.
At this stage, it definitely seems that the Russian media are more concerned about the fate of a UK citizen in Ukraine than the UK media or politicians are. Which is hardly a sign that bodes well for the future of journalism in the UK.
At the end of the day, it may not matter much which country Phillips is a citizen of. What matters is that he is a reporter. A reporter doing his job and telling his story the way he sees it. It is folks like Graham who create that plurality of opinions that the UK press used to be so proud of. And as OSCE Representative on Freedom of the Media Dunja Mijatovic declared in a recent statement, "in times of conflict the plurality of voices and opinions are needed more than ever in order for the citizens to be informed."
There is still a lot of hope for everyone in here, really. There is hope that the UK media will finally pick up the story. There is hope that the public in the UK – and around the world – will stay informed, as Phillips and other reporters carry on doing their jobs. And there is hope that Ukraine will get through this crisis and become a place where journalists would not be required to wear a bulletproof vest and a helmet.
RT Editorial
The statements, views and opinions expressed in this column are solely those of the author and do not necessarily represent those of RT.
You can share this story on social media: