'There are faults and cracks in the US Asia Pacific pivot'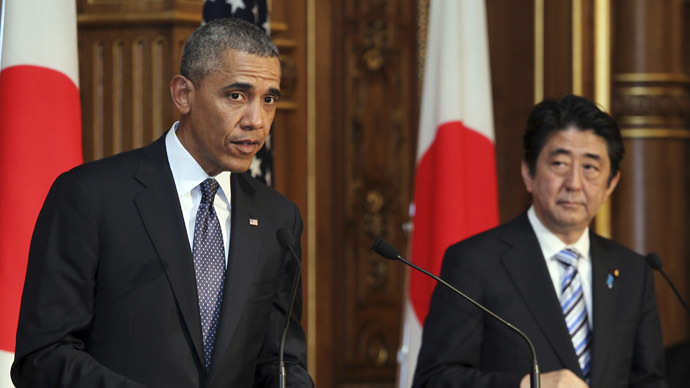 Countries like Russia, China, Iran feel threatened by US economic sanctions, military encirclement by NATO, consequently they've started forming an alliance that seems to be against the Washington's Asia Pacific pivot, journalist James Corbett told RT.
RT:President Obama is on his eight-day tour of the Asia Pacific region. He has recently arrived to Tokyo, where he was 'welcomed' by protests. There have also been protests in the Philippines as well as in Japan. How do you explain this reaction?
James Corbett: The protests in Manila so far have been pinned down to about 100 activists, the protests in Tokyo are down to a few dozen. So it doesn't necessarily represent a wellspring of mainstream popular opinion here, but it does at least show that there are faults and cracks in the so-called alliance or Asia Pacific pivot or whatever it's being called that Obama's visit is supposed to be shoring up. There are people who are upset just generally about the rising military tension in the region that the American involvement is obviously bringing with it. And that's basically what that protesters are representing.
RT:But Washington would definitely back Japan in its territorial disputes with China. Doesn't that alone merit a warm welcome?
JC: I'm sure it has among certain sectors and among the sort of right-wing nationalist and militaristic segments of the society, but there are those who are opposed to it. Certainty there are, for example, the Okinawans who are ethnically, culturally and historically separated from Japanese who are the ones who host the majority of the US military presence here, who do not feel themselves to be particularly benefitting from the American military presence. That's one of the frontlines that exist here in Japan and there are these of course South Korea, Philippines and Malaysia that Obama is also heading to on his trip.
RT:South Korea is the next stop for the US leader. How much is Washington's support for Seoul when it comes to keeping the peninsula stable?
JC: As a matter of fact Seoul is probably the lynch pin of this Asia Pacific pivot in an interesting way. Of course Seoul still prioritizes its relationship with the US above all in the foreign policy sphere but in the last couple of years we have really seen the Park Geun-hye administration shifting secondary policy away from Tokyo towards Beijing which presents an interesting sort of cracking at the lines if the Asia Pacific pivot that the US is engaged in right now really is a type of anti-Chinese alliance, of course we'll never see it that way. But if it is what it represents then Korea could be the lynch pin that can throw that either way. The fact that they are leaning more towards Beijing and away from Tokyo and definitely tensions have been rising between Korea and Japan in the last couple of years, especially under Shinzo Abe, it rose a very interesting monkey wrench in the works and perhaps whether or not Korea decides ultimately to go along with America in its attempts to encircle China, whatever is happening right now militarily and economically, it could represent the difference between the Asia Pacific pivot working or not working.
RT:The 'Asia pivot' policy is obviously Obama's brainchild. Some experts say that when Washington imposes sanction on Iran, it is actually doing it towards China since China is the biggest importer of the Iranian oil. What's your take on it?
JC: I think we are seeing a giant sort of block of resistance to NATO powers generally, and it involves Iran, China and Russia. It's also interesting to see how the conflict in Eastern Ukraine is playing out in the Asian region. We are seeing a sort of Asia pivot from Russia as well, not only represented by a gas deal between Moscow and Beijing that supposedly might be signed as early as next month, but also we just saw the Russian government write off as much as 90 percent of the 10 billion debt that North Korea has with Moscow in order to secure pipeline access to South Korea, which is another indication that Russia is really turning in a heavy way towards the Asian region. So I think we see Russia, China, Iran – all these countries feel threatened by these economic sanctions, military encirclement of NATO, all of them are starting to forming an alliance that seems to be going against the Asia Pacific pivot of the Obama Administration.
The statements, views and opinions expressed in this column are solely those of the author and do not necessarily represent those of RT.