Drawing a hard line: US & Australia open talks to seek common front amid tensions with China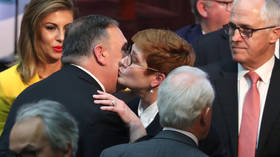 The United States and Australia have opened top-level talks in which they are expected to seek a common front amid tensions between Washington and Beijing. US Secretary of State Mike Pompeo and Defense Secretary Mark Esper welcomed to Washington their Australian counterparts, Marise Payne and Linda Reynolds, for two days of talks.
The annual negotiations that began on Monday come as President Donald Trump's administration takes an increasingly hard line against China on issues ranging from defense to human rights to trade.
Australia recently followed the US in rejecting Beijing's claims in the South China Sea and has backed calls led by Pompeo for an international inquiry into the origins of the coronavirus pandemic.
Payne and Reynolds said before their trip they would self-quarantine for 14 days on their return in line with Australian requirements for all international travelers, AFP reports.