600 asylum-seekers barricaded into detention center await court ruling on water, power
Published time: 6 Nov, 2017 13:35
Edited time: 7 Nov, 2017 08:06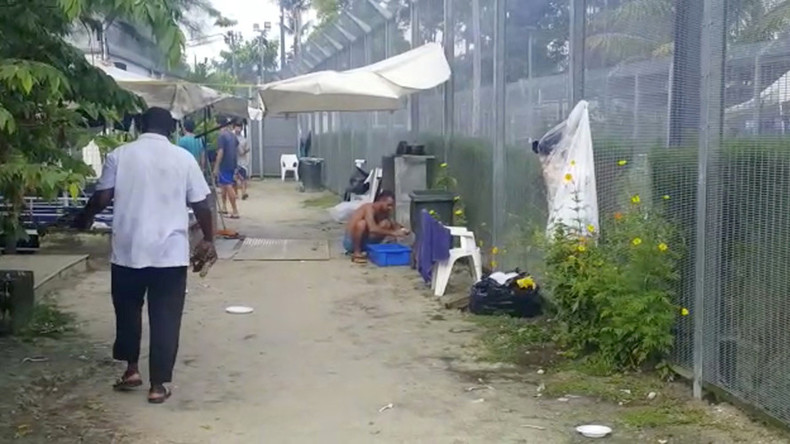 The Supreme Court of Papua New Guinea (PNG) is to decide whether essential services such as power and water should be restored to an Australian-run immigration center.
Some 600 asylum seekers have barricaded themselves into the Manus Island facility for more than a week after the High Court ordered the facility to be closed by October 31. However, the camp's residents have refused to leave, saying they fear attacks from the island's residents if they are moved to other detention centers.
The camp, open since 2001, has seen its supplies of food, water and power dwindle in recent days. Security personnel have withdrawn from the site, while the Royal Australian Navy has reportedly taken up position at the rear of the island to prevent any locals from delivering supplies.
READ MORE: Refugees depart Australian camps for US in deal slammed as 'dumb' by Trump
"The men really need food and water. They are severely dehydrated and a number of them have pretty serious health problems, such as heart issues," Elaine Pearson, director of Human Rights Watch told Reuters.
An application was submitted to the PNG Supreme Court to order the restoration of basic services to the camp, and a hearing is set for Tuesday. Australia blocks asylum-seekers trying to enter the country illegally by boat, and instead authorities take intercepted migrants to camps on Manus Island or the Pacific island of Nauru.
In a meeting on Sunday, Australian Prime Minister Malcolm Turnbull turned down an offer from New Zealand counterpart Jacinda Ardern to resettle some of the would-be refugees, with Ardern saying she could not ignore "the human face" of the situation on Manus.
It's the second time New Zealand has made such an offer, after first saying it would take 150 of the asylum-seekers in 2013.
READ MORE: Trump slammed Turnbull phone call as 'ridiculous,' said Putin was 'pleasant' – leaked transcript
UN High Commissioner for Human Rights spokesman Rupert Colville has decried the conditions on Manus and called for the residents of the camp to be brought to the mainland.
"We urge the Australian government to transfer the men to mainland Australia where their claims can be processed," Mr Colville said on Friday.
Australian officials hope that moving the refugees to other facilities will afford the US more time to complete vetting on nearly 1,400 asylum-seekers being considered for entry as part of a deal agreed under former President Barack Obama.
The deal was criticized by Donald Trump in a now-infamous call between the US president and Malcolm Turnbull in January this year. A transcript of the exchange revealed that an irate Trump called the agreement "a disgusting deal" and lashed out at Turnbull, saying his was "the most unpleasant call all day."