Nerves of steel: Pilots show their mettle in hair-raising Storm Herwart landings (VIDEO)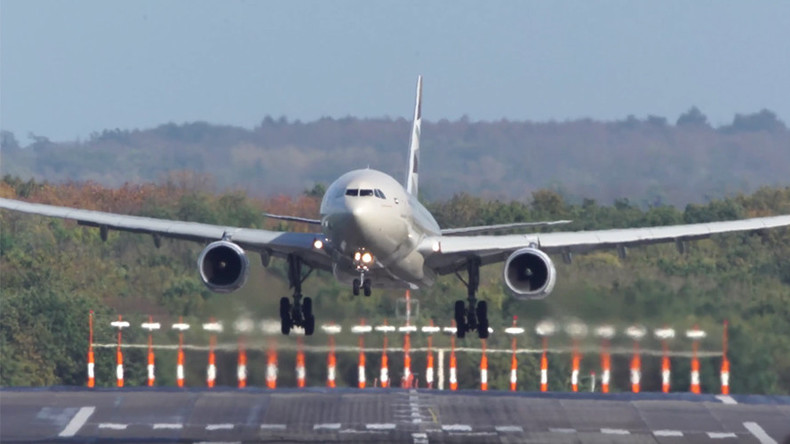 Pilots landing at Dusseldorf airport were tested to their limits by Storm Herwart. All across northern Europe, the storm has wreaked havoc with transport infrastructure.
Hair-raising footage posted online shows airliners jostled by high winds as they come into land at the German airport, with some forced to approach at an oblique angle almost like a helicopter.
Gusts forced the first plane in the footage, an Etihad A330, to abandon its landing attempt, while a 747 is seen skidding as it touches down before eventually righting itself.
Posting the video to the YouTube channel Cargospotter, the channel's administrator and resident plane watcher expressed admiration for what he saw from the pilots.
"A few pilots had to show their skills again and most of them did a great job," the user wrote in the description.
At least six people were killed and thousands left without power as Storm Herwart's 180 kph winds caused chaos across central and northern Europe.
READ MORE: 6 killed, emergency declared as heavy storm Herwart batters Central Europe (VIDEO, PHOTO)
A female holidaymaker was killed when her boat capsized in the German region of Mecklenburg-Vorpommern, while in neighboring Lower Saxony a 63-year-old camper drowned as flooding caught him by surprise.
Meanwhile, four victims in Poland and the Czech Republic were killed by falling trees.
Deutsche Bahn, Germany's major railway company, cancelled inter-city trains, with some commuter train services leading to and from Hamburg canceled or delayed.
You can share this story on social media: