YouTube fights Russian watchdog over blocked Halloween 'suicide' make-up video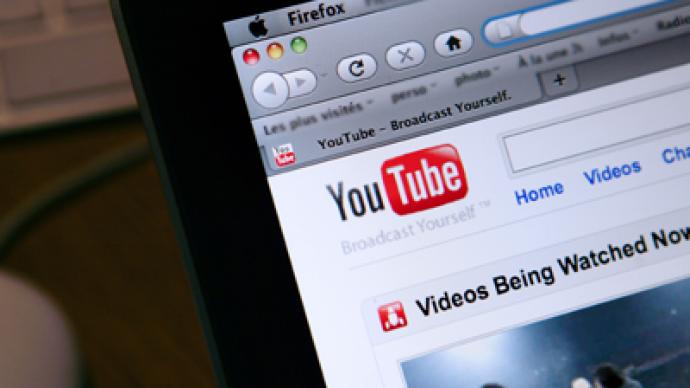 A video guide for Halloween make up has become an apple of discord between YouTube and Russia's consumer rights watchdog. The popular video hosting service has filed a lawsuit after content regulators claimed the video was 'suicidal' and blocked it.
The 'Video lesson on how to cut your veins' shows a young woman giving step-by-step instructions on how to create the most realistic slashed wrist make-up for Halloween. Even though the video published in January 2012 did not contain footage of sharp tools or graphic images – only medical glue, cotton and fake blood – Russian authorities considered it was propagandizing suicide. Under a new law, which came into force back in November 2012, access to it was blocked. However, the video-sharing resource is now fighting the decision, saying it was no more than an entertainment video."In this case, we have appealed the decision of the Russian consumer watchdog because we do not believe that the goal of the law was to limit access to videos that are clearly intended to entertain viewers," Wall Street Journal cited an emailed statement by Google, the owner of YouTube. YouTube's suit appears to be the first legal challenge to Russia's 'internet blacklist' law. It was imposed with a goal to protect children from harmful information. The law authorizes regulators to block access to data considered "harmful to the health and development" of children through promotion of suicide, porn and drugs without any court's ruling. Other reasons to block the content still require court approval. But while Russian authorities insist that the law is working, critics claim it might be used for wider internet censorship.  "This proves once again that there must be clear criteria by which materials are determined as unlawful," a Google representative from the company's office in Russia told Vedomosti newspaper.  The Federal Consumer Protection Service chief Gennady Onishchenko said his agency had not yet received information about the complaint, which reportedly was filed with the Moscow Arbitration Court on Monday.The video, the main evidence in the lawsuit, is just one of 22 YouTube videos added to the 'internet blacklist' which was launched on November 21, 2012. On the same day YouTube.com was briefly blocked from access in Russia. The country's information technology and mass media regulator Roskomnadzor said that YouTube was placed on the list of prohibited online resources due to a technical glitch. Onishchenko also stressed that his agency had only proposed that Roskomnadzor included on the list 22 YouTube 'suicide promotion' videos.The 'internet blacklist' law sparked a wave of criticism among rights advocates and popular Russian websites who stated it was an attack on freedom of speech and could lead to widespread censorship on the web.Internet companies have repeatedly warned that blocking the content of a specific webpage could result in blocking of the whole resource since for providers it's more convenient to block the entire site by IP-address, not just a single page.
You can share this story on social media: