Youth activists rally at Estonian embassy in Moscow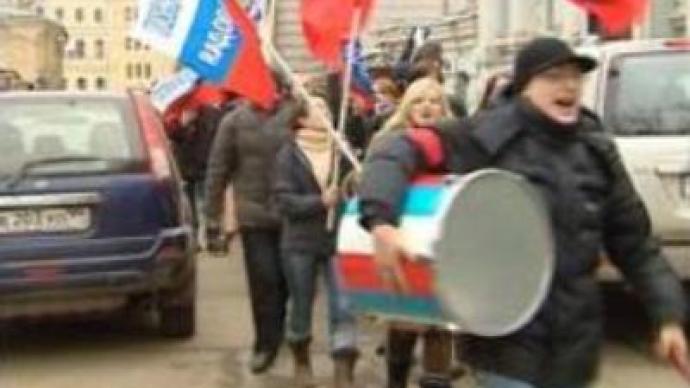 There were angry demonstrations outside the Estonian embassy in Moscow, as dozens of youth activists, mainly from the United Russia party, protested against the prospect of Soviet war memorials being taken down in Tallinn.
The rain didn't stop people from rolling out their banners in front of the Estonian embassy. The "Bronze Soldier" monument in the Estonian capital, Tallinn, could be dismantled. Recently the Estonian parliament adopted The War Graves Protection Bill. This allows the authorities to move soldiers' remains to places where they can be looked after and viewed with due respect. The legislation applies to all graves from all wars anywhere on the territory of Estonia, but critics claim it is aimed at one in particular.
"Young people in Russia are against the politics of the Estonian government in passing the law that basically supports the fascist and the Russophobic part of Estonian society that attacked the liberator monuments in the summer,"
Dmitriy Biryukov, Russian activist, stated.Some Estonians want the Soviet Liberator statue removed as they see the monument as a glorification of what they call the Russian occupation during the Second World War.
"The occupation continues, and we have to resist,"
Kalev Rebane, Estonian activist, said.
"Hands off the Russian soldier"
retort members of the Russian youth movement. Russians living in Estonia also say the monument is a symbol of a common Soviet struggle against fascism, when Russians and Estonians fought side-by-side. They see the War Graves Protection Bill as an attempt to rewrite history.
"I was born in the USSR, and I'm outraged that the memory of those heroes, who were defending our soviet motherland, including Estonia, is shattered by this disgraceful plan,"
Andrey Minaev, Russian activist, believes.The protest came a day after Moscow issued an official warning to Estonia. Estonia's parliament is now considering an amendment which would allow courts to decide the fate of each individual monument.
You can share this story on social media: