Young Egyptians believe old regime still in place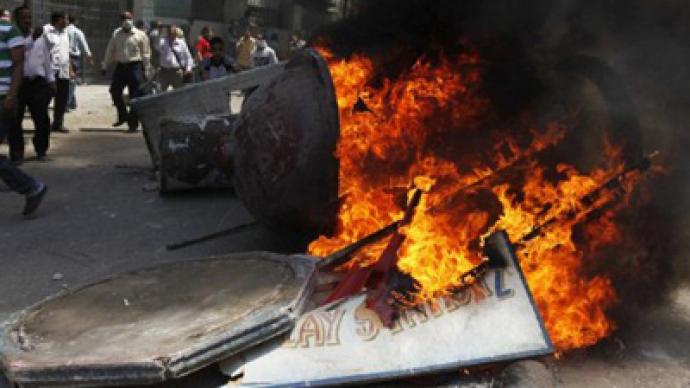 More than 1,000 people have been injured in two days of violent demonstrations in Egypt, where police dispersed protesters with tear gas. The rally in Tahrir Square in Cairo was assembled to commemorate the victims of the February uprising.
Protesters claim the prosecution of police officers accused of brutality during the revolution against Hosni Mubarak's regime is too slow. Back then some 850 people were killed and thousands injured.The demonstrators also demanded the resignations of officials in the current government who had ties with the previous one, and the hastening of reforms in the country.The rally started on Tuesday evening and continued into Wednesday, culminating in violent clashes with police. The protesters threw rocks and Molotov cocktails, while the law enforcers used tear gas. Some three dozen demonstrators have been arrested.Egypt's Prosecutor General Abdel Meguid Mahmoud has gathered a special commission to investigate the clashes.February's uprising that put an end to Mubarak's 30-year rule has left the country in the hands of a military council. However, the Egyptians are disillusioned after a rapid change they hoped for did not eventuate. The situation is aggravated by economic hardships arousing from the slowdown of the tourist industry and the inflow of guest workers, who used to work in neighboring Libya, but fled after a civil war started there.Tuesday's unrest has broken out again because the political parties do not care about truly changing the regime and think only about who is going to grab power later, believes Pepe Escobar, correspondent for the Asia Times."Now the chant in Tahrir Square is very similar to the chant in mid-February. So now it's 'The people want the downfall of the Field Marshal'," he told RT.The young people are on the streets again, because essentially they see that nothing has changed, the journalist added."The problem is that these new forces in Egypt – the young intellectuals, the unemployed, 'the connected', 'the Facebook generation', 'the Twitter generation' – they still don't have political participation organized," he said.The young Egyptians are coming back to the Tahrir Square to show that, despite their disorganization, they are alert and still want to fight for their basic rights."If by any chance – we'll be very hopeful here – in three months we have a new political party, with brand new faces, the young Egyptian generation, obviously the whole situation in Egypt will be turned upside down," Escobar told RT.