Amnesty slams US for 'blatant attempt' to influence journalist case in Yemen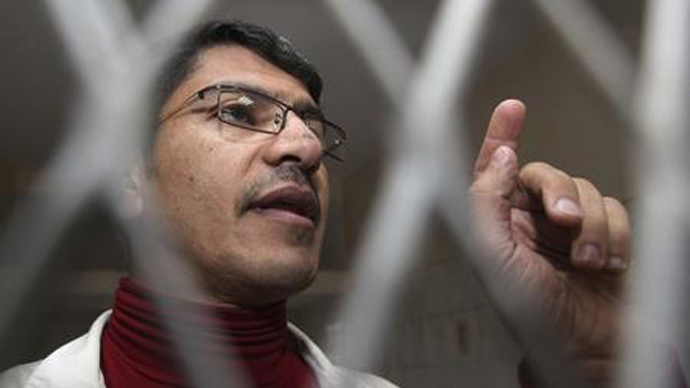 Amnesty International has condemned the White House for its role in detention of a Yemeni journalist who exposed US involvement in a deadly 2009 cluster bombing.
The human rights group is urging the Yemeni authorities to investigate allegations that Abdulelah Shaye, a journalist recently released from jail, could have been put behind bars arbitrarily. The actual reason for his detention is arguably his reports revealing that a 2009 missile attack in Yemen's Abyan area which killed 41 local residents - including 21 children - was carried out by the US and not by Yemen, as officially presented.

Shaye was arrested in August 2010 on charges of helping Al-Qaeda and militant US-born cleric Anwar al-Awlaki, and was found guilty six months later and convicted to five years in jail. The journalist has always denied charges of his cooperating with the terrorist group, insisting he only did interviews with some of its members as part of his professional activity.

"Abdulelah Shaye appeared to be a prisoner of conscience, imprisoned solely for his legitimate work as a journalist," said Philip Luther, Middle East and North Africa program director at Amnesty International.

Shaye was pardoned by the Yemeni president on Tuesday after three years in prison. The decision, hailed by human rights groups, was however disapproved of by the White House.

"We are concerned and disappointed by his early release," State Department spokeswoman Jen Psaki is cited by AP.

It's Shaye's second presidential pardon. The first one came within weeks of his conviction and was granted by former Yemeni President Ali Abdullah Saleh, who was subsequently convinced to reverse his decision by a phone call from Barack Obama. 

"President Obama expressed concern over the release of Abdulelah Shaye, who had been sentenced to five years in prison for his association with AQAP," the readout of Obama's 2011 call with President Saleh says, as posted on the official White House website.

Referring to that incident, among other things, Amnesty International said that "intense political pressure applied by the USA appeared to be a blatant attempt to override the judicial process in another country."

Another human rights group to have spoken out in support of Shaye is the New York-based Committee to Protect Journalists.

"His reporting on Al-Qaeda was unjustly conflated with working for Al-Qaeda. Shaye should be allowed to continue working as a journalist without fear of harassment or imprisonment," the group's statement says.

Amnesty International points at photographs it managed to obtain which suggest that the 2009 attack Shaye was investigating actually deployed a US-manufactured cruise missile that carried internationally-banned cluster munitions. The group also said it was still waiting for a response from the US Department of Defense to a 2010 request to comment on the photos.

"We reiterate our calls on the Yemeni and US governments to reveal the truth about the incident that is at the heart of the actions taken against this investigative journalist – namely who was responsible for the deaths of dozens of residents in the cluster bomb attack," said Luther.

Amnesty International is also urging an investigation into Shaye's incarceration, during which the journalist was allegedly ill-treated. The human rights group also believes that if confirmed that Shaye was imprisoned without sufficient grounds, he should be compensated and his current two-year travel ban should be lifted.