Yemen's power struggle intensifies as president treated abroad
Published time: 5 Jun, 2011 08:28
Edited time: 6 Jun, 2011 01:16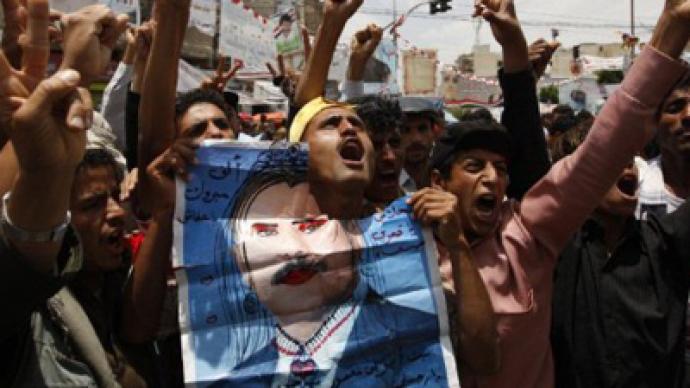 Yemeni President Ali Abdullah Saleh has reportedly undergone surgery in Saudi Arabia. The news comes as demonstrators celebrate his departure from Yemen.
­Ali Abdullah Saleh was flown to Saudi Arabia on Saturday to receive urgent medical care and, according to the latest reports, has undergone successful chest surgery. AP news agency quoted medical sources as saying that surgeons had removed jagged pieces of wood from his body.

The wood had splintered from a mosque pulpit after Saleh's compound was hit by a rocket attack on Friday. In the strike Ali Abdullah Saleh also sustained burns.
"He suffered burns, but they were not serious. He was burned on both hands, his face and head," Sheik Mohammed Nagi al-Shayef, a tribal ally told AP.
In a statement issued on Sunday five European countries – Britain, France, Germany, Italy and Spain – thanked Saudi Arabia for accepting the Yemeni president onto its territory for medical treatment. The statement also urged "the Yemeni people to find the way to reconciliation in a spirit of dialogue and national unity", the AP news agency reported.

On Sunday the country was gripped by a celebratory mood. Demonstrators, who have been demanding Ali Abdullah Saleh's resignation for almost four months of popular uprising, believe that his departure signifies the end of the regime. "This is it, the regime has fallen," chanted the protesters, as quoted by Al Jazeera television.

According to AP, the demonstrators danced, sang, slaughtered cows and waved national flags in the central square of the Yemeni capital, Sanaa. Some uniformed soldiers reportedly joined in the celebrations and were hoisted onto the shoulders of the crowd.
Vice-President Abd-Rabbu Mansour Hadi has taken over as acting president and supreme commander of the armed forces in Saleh's absence. However, Hadi announced that Ali Abdullah Saleh is due to return to the country as president following his treatment.
When the rocket struck the mosque in the presidential compound on Friday there were approximately 200 people inside. As a result, 11 guards were killed and five officials were seriously wounded and taken to Saudi Arabia.
After the attack officials promised repeatedly that Saleh would appear in public soon, but eight hours later state TV aired only an audio message from the president, showing an old photo of him on screen. 
"If you are well, I am well," Saleh said in a brief message to the Yemeni people.
The sudden departure of the country's leader threatens to deepen the crisis in Yemen, which has been shaken by protests for the past months.
Saleh had agreed three times to sign a US-backed, Gulf Arab-mediated agreement to leave power in 30 days, but each time he backed out of signing at the last minute.
The ongoing unrest has already cost the government control of some remote provinces. More than three months of generally peaceful protests gave way to vicious street fighting when tribal militias took up arms two weeks ago.

For months, the protesters have tried to drive Saleh out peacefully. But their campaign has been overtaken and transformed into an armed clash between Yemen's two most powerful families, the president's and the al-Ahmar clan. The al-Ahmar family heads the country's strongest tribal confederation, which has vowed to overthrow Saleh after 33 years in power.
Fighting between rebellious tribesmen and government forces has left more than 160 people dead over the last two weeks.
Russian foreign minister Sergey Lavrov said on Saturday that Russia is concerned about the development of the situation in Yemen and is calling for further dialogue. 
"The things taking place there are horrible. It's a civil war, a real civil war," said Lavrov. According to Interfax news agency the foreign minister also expressed regrets about the fact that the peace initiative proposed by the Persian Gulf countries had not been accepted by President Ali Abdullah Saleh.