Yanukovich says he's still president, asks Russia to ensure his safety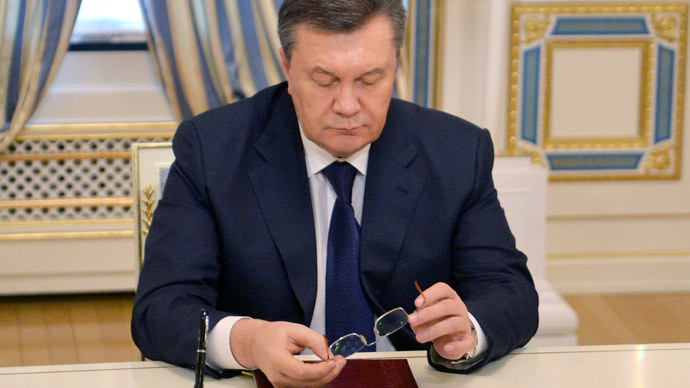 Viktor Yanukovich still considers himself the legitimate leader of Ukraine and warns against an internal military conflict, according to a statement. He also asks Russia to ensure his safety against the actions of "extremists" that took power in Ukraine.
"On the streets of many cities of our country, extremism thrives. Threats of bodily harm are thrown at me and my collaborators. I'm forced to ask the Russian authorities to ensure my personal security against the actions of extremists," Yanukovich said.
Yanukovich's security has reportedly been ensured on Russian territory "in connection with the fact that President Yanukovich appealed to the Russian authorities to ensure his personal safety," a source inside the Russian authorities told Itar-Tass news agency.
The southeast of the country and the Crimea don't acknowledge the mayhem in Ukraine under which "leaders are chosen by the crowd," news agencies quote Yanukovich's statement.
Yanukovich also said that he hadn't ordered the Ukrainian army to interfere in the internal political events, and he doesn't order it now, the statement reads.
"If someone gave such orders to the armed or security forces, these orders would be illegitimate, criminal," Yanukovich stated.
However, the leader of the Batkivshina (Fatherland) party, Arseny Yatsenyuk, has said that Yanukovich is no longer the country's president and that he has been put on an international wanted list.
Yanukovich's former Interior Minister, Vitaly Zakharchenko, has also been put on an international wanted list.
Yanukovich also declared that the earlier deal with the opposition about the solution to the crisis, signed on February 21, hasn't been fulfilled.
On Sunday the new parliament voted to appoint its freshly-elected Speaker Aleksandr Turchinov as acting president of Ukraine.
The new regime immediately voted to strip Yanukovich of his powers, capitalizing on his absence from the capital, and voted for snap elections which are to be held on May 25.
Ousted President Viktor Yanukovich, whose whereabouts remain unknown, earlier decried the decisions of the interim government as "illegal" and said the unrest in the Ukrainian capital bears all the hallmarks of a coup d'état.
On Tuesday the Ukrainian parliament Verkhovna Rada voted in favor of fugitive President Yanukovich being tried in the International Criminal Court (ICC) in The Hague for alleged "crimes against humanity during the recent peaceful protests."
You can share this story on social media: