Bundle of 280 WWII documents found by accident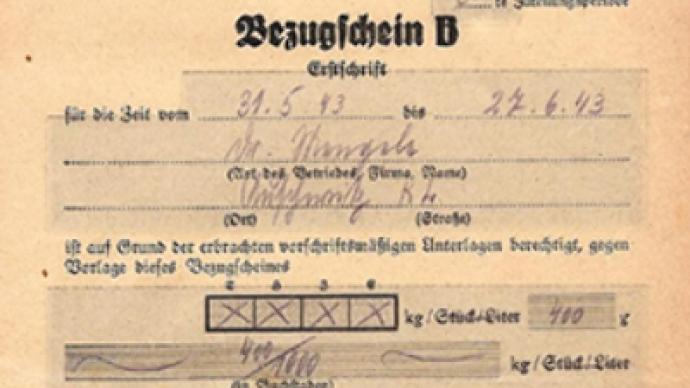 Food coupons, along with other documents, death certificates, maps, designated and written by infamous Nazi doctors at the Auschwitz death camp have been found in the attic of a nearby house after decades.
The house was used by an SS officer, who had left the documents lying in the attic, where they lay until last Friday, when the current homeowner sent them to scientists.
Historians have checked some of the documents, but have more to pore over, museum spokesman Pawel Sawicki is quoted by AP as saying.
Auschwitz memorial museum's historian Adam Cyra is among those currently browsing through the discovery.
"The sensational value of this discovery is in the fact that these original documents, bearing the names of main murderers from Auschwitz, were found so many years after the war," Cyra told AP.
Cyra believes a February, 1944 coupon for a small amount of sugar probably was assigned to Dr. Joseph Mengele, known for his sadistic experiments, though the clerks made a spelling mistake in the recipient's name.
Other coupons belonged to the likes of Horst Fischer and Fritz Klein – doctors executed for their crimes against humanity. Mengele, on the other hand, was among those who evaded capture.
Auschwitz-Birkenau – the biggest concentration camp – was built in 1940 in Nazi-occupied Poland to detain and kill prisoners and Jewish deportees from Poland, the USSR, Austria, Belgium, Denmark, France, Greece, Czechoslovakia, the Netherlands, Yugoslavia, Norway, Romania, Italy and Hungary.
The camp was responsible for up to 1.5 million deaths between 1940 and 1945.
You can share this story on social media: