World War II children get German citizenship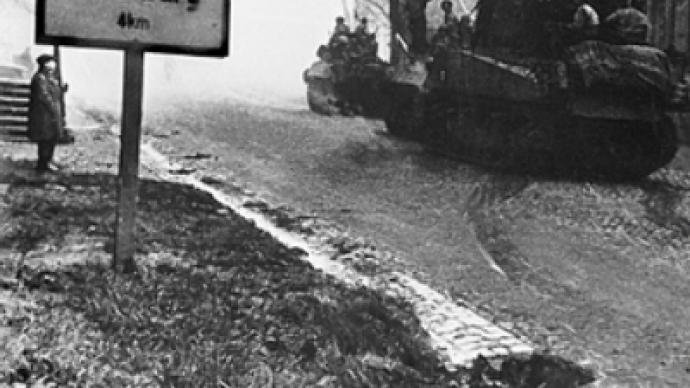 One of the last lingering vestiges of WW2 is to be lifted as German officials said they would allow thousands of children fathered in France by German soldiers to apply for citizenship - a right denied for 60 years.
In all, it is estimated that as many as 200,000 children were born out of illicit liaisons during the German occupation of France between May 1940 and December 1944. The exact figure, however, is impossible to verify.
At the time, the so-called Vichy regime provided the right to anonymous birth as a way of encouraging French women to conceal their 'misconduct' with the occupying German soldiers. In many cases, the babies were given up for adoption immediately after birth, thus, most grew up never to learn the identity of their birth parents.
After the war, anger over the occupation grew in France and the 'collaborators' became targets of revenge, including those French women who had had relationships with Germans. They were bullied, their hair was cut short, and they were even driven naked through villages and forced to turn their children over to orphanages.
The term 'Boche babies' (Boche is a derogatory French word for a German) was given to their illegitimate children.
Out of the shadows
Now, speaking openly about their family secrets and hunting for their long-lost German fathers, these war children will be awarded German citizenship as a symbolic gesture to make up for past wrongs.
Josiane Kruger, the author of 'Born of forbidden Love,' is one of those children. "I was born in the Somme in 1942. My mother was French, my father a German soldier. I spent my childhood in the village where my father and my mother met and fell in love."
In her youth, Kruger says she always felt different from the other children. She didn't have a father at home, only a mother and grandmother. Eventually, Kruger's grandmother told her that her father had been a German soldier. Before her birth, he was transferred from France to the Russian front and had not been heard from since.
Kruger remembers the mistreatment she received as a 'Boche baby'.
"Like most of the 200,000 children of war, I suffered rejection and insults. This trauma has affected my adult life. Having never been politically recognized, we were forced to live with a sense of shame and guilt."
The sense of shame was hard to understand for the young girl.
"My grandmother often told me what a lovely couple my parents were and how nice and good-looking my father was," said Kruger. "I couldn't understand why I should be ashamed of him."
Living a half life
There are many others like Kruger. "Everyone tells the same tale. They say: 'There's a hole in my life. Half of me is missing," says Jeanine Nivoix-Sevestre, who heads the French National Association of War Children.
Nivoix-Sevestre herself is a war child. Her father, Werner, was a German soldier who was part of a regiment that was occupying a village near Caen. "It was in a village cafe that my father saw and fell in love with my mother. I do not know if he knew of my birth, it seems he left on the Russian front at the end of 1941 and we do not know what became of him."
Like Kruger, Nivoix-Sevestre suffered because of her heritage. But her story is even more tragic: "My mother was killed in June 1944 under the bombardment of the city of Caen; I do not remember her, I was only two and a half years old, but my neighbors told me that she loved me a lot."
Still unaware of her own history, Nivoix-Sevestre was taken in by her grandfather on her mother's side. Again, like Kruger, she suffered mistreatment because of who her father was. However, it was her own grandfather who was the main culprit.
"He regarded me as a child of the enemy. He often beat me, insulted me and did not want to educate me," she laments. "For all those years I lived with the pain of not knowing the other half of me. I desperately wanted to know what happened to my father."

It was that drive to find out more information that led to the establishment of the French National Association of War Children (ANEG). Formed in 2005, the organization currently has over 247 members or 'Children of War'. The organisation provides assistance and moral support to people in distress. They also help people who want to find their biological families in Germany or Austria.
Recognition at last
The organization has enjoyed some success in matching war children to their German families. "Of our 247 members, 123 have found family members. Very often the father is deceased but the people can meet their half sisters and brothers."
But finding lost family members was only half of the struggle. Until now, these people were forced to live with the stigma that they did not belong to any country. They were forced to live with a sense of shame and guilt. Now, thanks to the work of the German government, people like Nivoix-Sevestre and Kruger have hope for the future.
"With Germany's decision to give us dual citizenship, our story is finally history," says Jeanine Nivoix-Sevestre. "We are no longer ashamed of our origins."
With Germany's decision to offer passports to these once forgotten children, another sad chapter of World War II is closed and these children of war can finally come out of the shadows. The only lamentable thing is that they had to wait over 60 years to achieve their dream.

Ciaran Walsh for RT

You can share this story on social media: