Woolwich victim identified as drummer, machine gunner Lee Rigby
The UK Ministry of Defense has announced that the victim killed in brutal attack in South London was 25-year-old Lee Rigby, a drummer in the 2nd Battalion and posted to The Royal Regiment of Fusiliers.
Follow RT's live updates on the Woolwich attack
Rigby was described as an "extremely popular and witty soldier" with a "larger than life personality who was also a "loving father to his son Jack, aged 2 years."

He joined the Army in 2006 and upon completion of his infantry training course, was selected to be a member of the Corps of Drums and posted to 2nd Battalion the Royal Regiment of Fusiliers – an infantry regiment of the British Army.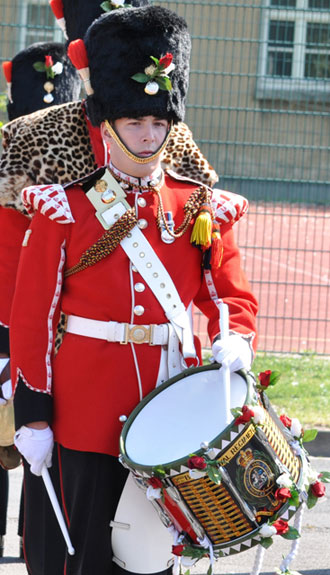 Rigby was first deployed on Operations to Helmand province, Afghanistan in April 2009, where he served as a member of the Fire Support Group in Patrol Base Woqab.
Lieutenant Colonel Jim Taylor MBE, Commanding Officer Second Fusiliers, described Rigby as "an experienced and talented side drummer and machine gunner, he was a true warrior and served with distinction in Afghanistan, Germany and Cyprus."

Rigby took up a recruiting post in London in 2011, where he also assisted with duties at Regimental Headquarters in the Tower of London.
Taylor said his "ability, talent and personality made him a natural choice to work in the recruiting group." On Wednesday afternoon in Woolwich, South London, two men drove onto the sidewalk and hit Rigby with their car before getting out and hacking away at his body with knives and meat cleavers while shouting
"Allahu Akbar!" The suspects, one of them identified as British born 28-year-old Michael Adebolajo, spoke at length to bystanders and made politically charged statements before the Metropolitian Police's armed response team finally arrived, shooting them both.
Rigby died at the scene, while the attackers were detained and are currently hospitalized under armed guard.
It was reported on Thursday that both of the alleged assailants were part of earlier investigations carried out by MI5 – Britain's internal security service. However, intelligence services assessed that neither suspect posed a threat to life.
British Prime Minister David Cameron said the Intelligence and Security Committee would carry out a full probe to determine whether or not there were any failings in the run-up to the attack.
The brutal killing of Rigby has had a powerful psychological effect on Britain, damaging the perception that the army is able to provide for the security of the country, a British officer told RT on condition of anonymity.
Apart from the public, it has also created doubts for those serving in the armed forces that they are completely safe on British soil, the officer argued.
"It makes it feel a lot closer to home. It makes you feel like you'll think twice now about going out in public in your uniform. That's definitely something the guys will be thinking about," he said.

"You also think this is going to be happening to soldiers abroad you don't think you'll be targeted at home which is obviously something that's now going to have to be thought about in terms of security for the armed forces here."