Women become breadwinners in post-war Gaza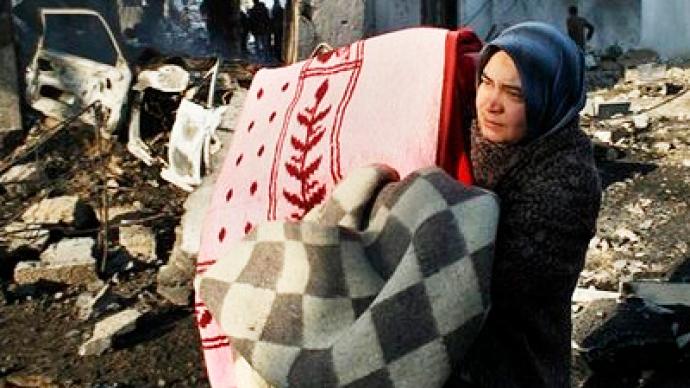 Faced with a sluggish economy and scarce employment opportunities, the women of Gaza take on hard labor in an effort to earn a living and provide for their families.
One group has signed up to work as ditch-diggers to help support their families. "The work is very hard," says Umm Ahmed. "But life is even harder."These women are their families' breadwinners. And with two out of three people unemployed in Gaza the burden of responsibility on their shoulders is heavier than the shovels in their hands."My family has no one to take care of us," says Aliya, who works at the ditch. "And we need money. That is why I am forced to dig ponds."Three hundred women have signed up to dig holes for water reservoirs on farms in Gaza. Their pay is little more than US$15 a day. "My husband has to provide for two families, 13 people," Ms. Ahmed says. "If I don't do this work, then what will I be left with?"Such tough questions are what thousands of Gazans are currently faced with. Even those who were left physically disabled by Israeli operations, have no choice but to seek whatever employment they can find to survive.  "I have a family of 12 to feed and there is no other way for me to make a living besides using this wheelchair with a mounted refrigerator to sell ice-cream," says Abu Balsam. Disabled Gazans like Mr. Balsam survive by selling cigarettes, sweets and mobile phones using their mobility devices. "With God's help I found this job," says Mahew Abu Warda, who makes a living repairing watches. "I prayed for it and it feeds me. Even able-bodied people have trouble finding a job in Gaza today."The end of December saw the two-year anniversary since the last Israel-Gaza war.Border controls in and out of Gaza have been eased and more goods are allowed to pass through. However, many Gazans complain it has done little to improve their lives.In the next few months the number of trucks going daily into Gaza is expected to reach 400, four times what it was two years ago. But the blockade still prevents Gazans from crossing into Israel in search of employment.
You can share this story on social media: