US bribing Israel with war planes to freeze West Bank construction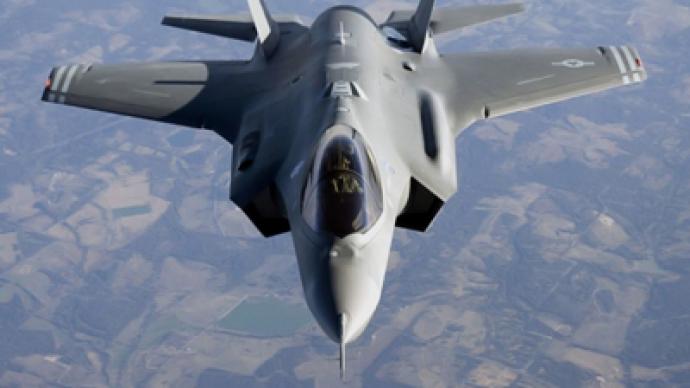 The US is desperately trying to revive the stalled Middle East peace talks by enticing Israel to extend its construction moratorium in the occupied Palestinian territories.
Washington has put 20 stealth fighter jets worth $3 billion on the table, as well as a pledge to fight any international resolutions against Israel. In exchange, it wants Israel to halt construction in the West Bank for three months, with a US promise not to ask to prolong it further. Palestinians are criticizing the plan, saying the proposed freeze will not apply to East Jerusalem. The recent round of US-brokered peace talks became stuck three weeks after they began, after Israel reaffirmed its commitment to continue building settlements in Palestinian areas. Israel and America are blackmailing the world over the Israeli settlement activities on the Palestinian Territory, which have been characterized by the world as illegal, insists Dr. Hassan Abu Libdeh, Palestinian Autonomy Economics Minister and Chairman of the Palestinian campaign against settlements products."This three month moratorium is a very serious breach of the neutrality of the American government and very serious breach to the international community," he said, adding that "Even if they have this moratorium it will not be for the whole Palestinian territory and nobody knows what will happen at the end of the three months."Russia and the EU have equal stakes in the Middle East peace process and they should not accept being continuously sidelined by Americans and Israelis.Commenting on the US promise to veto any UN resolutions against Israel, Hassan Abu Libdeh said that "With all of these guarantees, with all these goodies and promises from the American administration why should Israel should come to any terms concerning peace and why should Israel feel that they are obligated to the international community if they cannot be punished or prosecuted, or cannot be held accountable in the House of Nations?"Eva Harow from the Yesha Council, which represents Jewish settlements, says Obama is just trying to mend his reputation after losing the midterm elections. "After Obama's midterm loss, where he sees that Americans are very upset with his domestic policy and it does not look like it is going to get better any time soon, then he is going to go offshore, as it were, and figure out how to make some kind of success of his regime, of his presidency somewhere else," she told RT.
The whole idea of exchanging fighter jets for a freeze in construction on the West Bank is unjustifiable, believes political analyst Patricia Degennaro. "In fact, it is astounding that we are talking about freezing settlements or giving Israel more reasons to freeze settlements," she said. "They should be frozen and we should know that they are committed to this two-state solution. It should not be 'to freeze or not to freeze.' They should have been stopped a long time ago."
Phyllis Bennis, director of the New Internationalism Project at the Institute for Policy Studies, claims that the situation with the money provided by the US is very unclear."The $3 billion, we still don't know if that will be included within the existing $30 billion that the US has agreed to give to Israel in military aid over 10 years," Bennis said. "This was negotiated by George Bush and it's being implemented now by President Obama.""They are also getting something that the US has given all the time to Israel, anyway, which is complete protection in the United Nations," she added. "That means vetoing any effort by the Palestinians to get the Security Council to recognize a new Palestinian state, that means protecting Israel from being held accountable for war crimes that may have been committed in the Gaza war, including preventing the Goldstone report from being sent through to the International Criminal Court, and it means continuing what the US has done in the past of making sure that Israel is never even requested to join the Non-Proliferation Treaty and make public its well-known but officially secret nuclear arsenal.""All of these are things that the US has provided to Israel anyway," Bennis concluded. "So what they are adding to it now is saying that after this three-month partial slowdown of settlement construction – because it will not apply in East Jerusalem, which is crucial, that's where there is a big settlement expansion – they will never ask again for a settlement freeze."
You can share this story on social media: