Wiki founder fights against British student's extradition over piracy
Published time: 27 Jun, 2012 14:29
Edited time: 28 Jun, 2012 02:35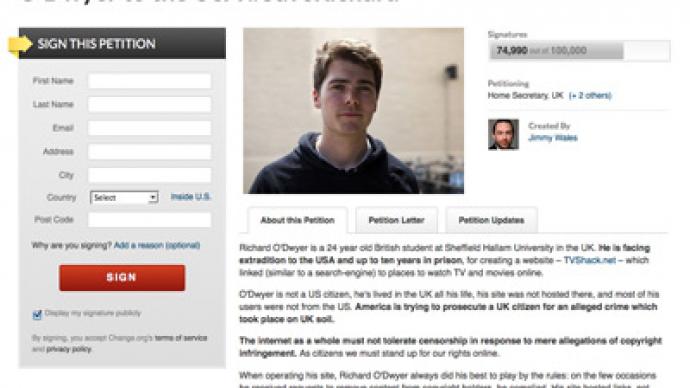 Wikipedia founder Jimmy Wales has got over 70,000 signatures on a petition to save a British student from extradition to the US over copyright infringement charges. British MPs say the treaty as a whole is unfair and demand it be overhauled.
­Sheffield student Richard O'Dwyer, 24, faces extradition to America and up to 10 years in prison for alleged copyright offences after setting up a website with links to TV shows called TVShack.com.

Jimmy Wales wants UK Home Secretary Theresa May to step in and save O'Dwyer and sees his plight as a test case for copyright censorship laws.

Once a petition gets 100,000 signatures, they are considered for parliamentary debate.

"O'Dwyer is not a US citizen, he's lived in the UK all his life, his site was not hosted there, and most of his users were not from the US. America is trying to prosecute a UK citizen for an alleged crime which took place on UK soil," Wales wrote in the petition.

He added that "copyright is an important institution, serving a beneficial moral and economic purpose" – but it does not mean that "we should abandon time-honored moral and legal principles to allow endless encroachments on our civil liberties in the interests of the moguls of Hollywood."

The extradition law in question has recently come under fire, again. The Tory MP Dominic Raab has unearthed damning evidence that the extradition agreement between the UK and the US is lopsided.

The MP found Britain has sent more nationals to the US in the past six months than the Americans have handed over to Britain in the last seven years.

Since 2004 35 British nationals have been extradited to America while only seven US citizens have been extradited to the UK.

This is despite the massive population disparity between the countries; the US has a population of 311 million, 5 times greater than that of the UK's 62 million.

Critics of the Act argue that extraditing British nationals to the US is easier than getting the US to send people to the UK because American authorities have to produce less evidence than their British counterparts.

The UK has to provide US authorities with "such information as would provide a reasonable basis to believe that the person sought committed the offence for which extradition is requested."

However, if US authorities want to extradite a UK citizen authorities only need to sate the offence, provide an accurate description of the suspect and specify the punishment as set out in US statute.

The lopsided act was passed by Labour in 2003 and is currently being reviewed by the Home Secretary.    

As well as O'Dwyer, there have been a number of recent high profile and emotive cases of UK nationals who have tried to fight extradition to the US.

Gary Mckinnon has been doing it for the last 10 years. Mr Mckinnon who has Asperger's syndrome, allegedly hacked into NASA and

Pentagon computers while looking for UFO's from his bedroom computer. Medical experts have said that because of his condition it is likely he'll kill himself if moved to the US. 

Sixty-five year old pensioner Christopher Tappin was extradited to the US in February for allegedly supplying Iran with batteries for Hawk missiles.

He claims the FBI deliberately fabricated a case to entrap him in a carefully planned sting operation.

Mr Tappin, who used to run a freight business, says he had no idea that the batteries were destined for Iran or were for Hawk Missiles.

The Briton has used his car and house to cover huge legal fees and was held in solitary confinement in a Texas jail before being held in a cell with six other inmates.  

He was released on bail in April for $1 million; the case is on-going.

The United States maintains that extradition requests between the two countries must meet the same standard of evidence. The US Ambassador to London Louis Susman said in a statement earlier in the year, that the treaty was fair and balanced and promotes the interests of "justice in both our countries."