WikiLeaks: Manning's sentence a 'tactical victory'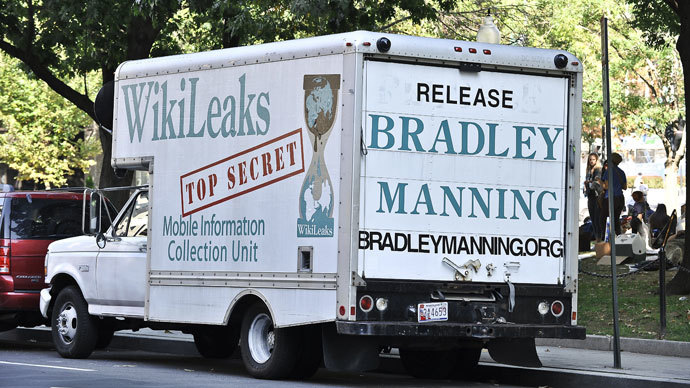 The trial and conviction of US Army Private Bradley Manning flies in the face of the principles of Western justice systems, Julian Assange said in a statement posted on WikiLeaks. But the relatively low sentence term shows the defense has won, he argued.
For reaction and more details follow RT's LIVE UPDATES

"This hard-won minimum term represents a significant tactical victory for Bradley Manning's defense, campaign team and supporters," a statement on the WikiLeaks site claimed, reminding that at the start of the proceedings Bradley Manning was charged with a capital offense and other charges liable for a potential 135 years of incarceration. The prosecutors had been insisting on at least 60 years in jail. However, the private was sentenced to 35 years behind bars.
"His defense team is now appealing to the US Army Court of Criminal Appeals in relation to this sentence and also for due process violations during the trial," the statement added.

"Manning's trial and conviction is an affront to basic concepts of Western justice," stated Assange, the founder of the whistle-blowing website on Wednesday, following the sentencing in Fort George G. Meade, Maryland. 

The WikiLeaks frontman said that from the very start of the trial the private was subject to "cruel, inhumane and degrading" treatment, according to the UN Special Rapporteur on Torture.
According to Assange, Manning's treatment "has been intended to send a signal to people of conscience in the US government who might seek to bring wrongdoing to light," but instead, this strategy has "spectacularly backfired."
"There will be a thousand more Bradley Mannings," the whistleblower remarked. 
The only just outcome in this case would have been his "unconditional release, compensation for the unlawful treatment he has undergone, and a serious commitment to investigating the wrongdoing his alleged disclosures have brought to light," Assange stressed, urging the supporters of Bradley Manning not to give up their efforts.

You can share this story on social media: