What's On in Moscow this weekend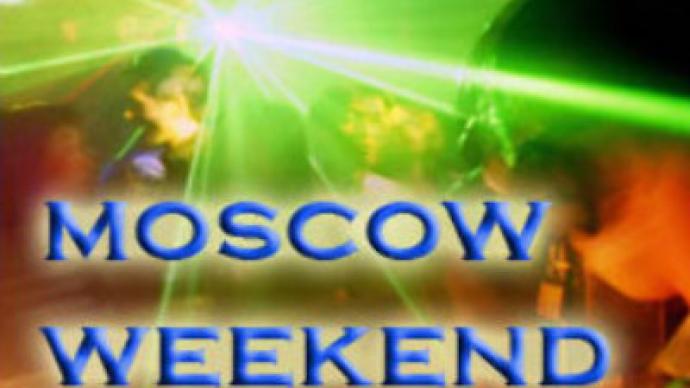 There is always something interesting going on in Moscow. The problem is choosing from the long list of entertainments on offer. This weekend is no exception, with most tastes catered for in the wide range of scheduled events.
Exhibitions
There is hardly a person in the multilingual world who, if Russia is mentioned, will not think of vodka – one of the symbols of the country along with nestling dolls, caviar and the brown bear. And the Vodka museum is definitely a must-visit for all those coming to Moscow. There you can find out numerous interesting facts about the history of the drink, and, of course, taste the best kinds of it with traditional Russian food in a tavern on a territory of the museum.
Vodka has long been a vital part of Russian life; a necessary element of the most important events in our life, for example, weddings, departures on a long trip, birth of a human being, or a funeral repast. In late modern Russian history, there was a period of time when a bottle of vodka became a kind of national currency, which was used to pay for all sorts of small services, and this way of payment was preferable to cash payments. Also, in the beginning of the 1920's during a serious financial crisis when there was a shortage of monetary units, vodka labels served as cash in Siberia! The drink also plays a significant role in Russian language and folklore. In other words, vodka is an important component of Russian life, an element of national identity and everyday culture.
Address: Izmailovskoye Shosse, 73G, Izmailovskaya metro station. For tour reservations and vodka tasting sessions, TEL: 166-69-58
"Three Centuries of American Art" – the most significant exhibition of American art that has ever been presented in Russia – is on display at Pushkin Museum of Fine Arts from July 24 to Sept 9, 2007. The exhibition commemorates the 200th Anniversary of the establishment of diplomatic relations between Russia and the U.S. More than 100 canvases from the leading U.S. museums and private collections are presented. The show is organised by the Solomon Guggenheim Fund and has already taken place to Beijing and Shanghai. It can be regarded as a complete guide to American art. Portraits, landscapes, avant-garde and abstract works are presented. All schools of fine art can be found at the exhibition. And of course the exhibition of U.S. art wouldn't be complete without Pop Art paintings.
Address: Volkhonka st., 12, Kropotkinskaya metro station, TEL: 203-9578, 203-7412 (excursions)
Concerts
The Red Elvises, probably the only post-USSR group that managed to win fame in North America, are in Moscow on August 4.
Blending good old rock'n'roll with ethnic music from their homeland, Siberia, these post fab-four developed the ideal music for beer guzzling and dancing 'til you drop. Strong musical influences include Elvis Presley and his wife Priscilla, Chuck Berry, Spice Girls and speeches by Comrade Fidel Castro. The Red Elvises were founded in 1995 by two Russian political refugees, singer/songwriter Igor Yuzov and actor/bass-balalaika player Oleg Bernov in Los Angeles, California. Igor and Oleg met during Russia's Peace Walk and subsequently played together in a Russian folk-rock band called Limpopo. Believing that one can't go wrong with "The King" Elvis Presley as an inspiration and with "red" being not only Oleg's favorite colour but the national colour of their native country, the band name Red Elvises was created.
Address: Zhest Club, Bolshaya Lubyanka 13/16, Lubyanska or Kuznetsky Most metro station, TEL: 628- 48-83. The gig starts at 2200.
Good news for 'Splean' fans! A rock band from St. Petersburg will gig this week at Moscow's B2 Club. They were formed in 1993 and released their first album in 1994. For nearly twelve years, Splean have remained one of the most popular rock bands in Russia.
Address:B2 club, Bolshaya Sadovaya street, 8, bld. 1, Mayakovskaya metro station, TEL: 650-99-18/09. Splean will play here on August 3,4 at 2300.
Another Russian pop rock band formed in the 90s, 'Masha i Medvedi' (Masha and the Bears) came back with a new album in 2006 after 5 years of silence. In 1998, their hit 'Lyubochka' topped Russian charts and Maria Makarova, the lead singer, was named the Singer of the Year by Moskovsky Komsomolets paper. Their style varies from rock to experimental music with slightly depressive folk themes. The band will perform both their new songs and old hits at 16 Tons club on Friday at 2300.
Address: 16 Tons, Presnensky Val 6, bldg. 1, Ulitsa 1905 Goda metro station, TEL: 253 53 00, 253 05 30
Jazz lovers should not miss a prominent American saxophonists Kenny Garrett's concert at Baget club. Here, on Friday and Saturday at 2000, the multi-Grammy nominee and his quartet will perform tunes from his 'Beyond the Wall' album, which Garret prepared inspired by his visit to China in 2005.
Address: Baget club, Prospekt 60 Letiya Oktyabrya, 9/2, Akademicheskaya subway station, TEL: 221-36-59
Those into classical music might enjoy 'Bravissimo' at Durasov Palace at the Lyublino Estate. Concertino Ensemble of Yaroslav Krasnikov (violin), Sofia Krasnikova (violin), Olga Zhmayeva (viola) and Viktor Kozodov (cello) will perform classic pops by Vivaldi, Mozart, Brahms, Weber, Elgar, Wagner, Shostakovich and Piazzolla. the concert starts at 1900 on Saturday, August 4.
Address: Letnyaya Ulitsa,1, Volzhskaya metro station. TEL: 350-1553, 364-5852
Cinema
A great weekend for English-speaking cinema lovers, as there are six movies with original sound in Moscow's cinemas, including this summer's biggest blockbusters.
It is still Harry Potter time both in bookshops and in cinemas, as its just two weeks since the latest book and film about the little wizard in round glasses was simultaneously. 'Harry Potter and the Deathly Harrows' novel is available in all of the Moscow's bookshops and 'Harry Potter and the Order of Phoenix' movie is shown throughout the whole weekend on the English-speaking eleventh screen ('Zal 11') of the "Oktyabr" multiplex, situated in the very heart of Moscow on Novy Arbat street. The film has already earned $US 692 MLN and looking forward to earn more. So you just have to experience what the world is so crazy about. And it won't be too expensive. The ticket prices at 'Oktyabr' range from 150 to 250 rubles.
Address: Novy Arbat Street, 24, Metro 'Smolenskaya', tel. 545-05-05

And it's 'Nausicaa of the Valley of the Wind' in 35 MM. A beautiful and terrifying animated fairytale about the post apocalyptic world from the genius Japanese director Hayao Miyazaki was premiered back in 1984. But in 2005 it was re-dubbed by Hollywood stars, Alison Lohman, Uma Thurman, Shia LaBeouf and Mark Hamill, and re-released on DVD in the U.S. And the Russian distributors decided to show this version of the movie on big screens, which is very good news, because 'Nausicaa' is an absolute classic. It's ranked among the fifty greatest science fiction movies of all times by the Internet Movie Database. You don't have to be a hardcore anime fan to enjoy it.
Address: Pokrovka street, 47/24, Metro 'Kurskaya' or 'Krasnye Vorota', tel. 917-18-83
Dome Cinema has finally changed its repertory. If you, by any chance, have not seen it yet, you can still watch the 'Transformers' movie from director Michael Bay and producer Steven Spielberg. Giant robots turn into vehicles and fight each other. There's loads of explosions and very little cense – a great addition to a bucket of popcorn. For elder audience there is 'Knocked up', a quite shocking comedy about the hardships of pregnancy from director Judd Apatow, famous for 'The 40-year-old virgin'. And you can also watch animated masterpiece 'Shrek the Third' and Steve Carell's benefit performance 'Evan Almighty, which is a sequel to the 2003 'Bruce Almighty'.
Address: Olimpisky Prospect 18/1 (The Renaissance Hotel), 'Prospect mira' metro station, TEL: 931-98-73
Festivals and open air events
Arkhangelskoe Estate hosts Korni i Krona (Roots and Crown) festival. "Dante Meets Joan of Arc" – Ivan Shumilov's musical composition performed by the Ingela Karlsson Theatre – is on the stage of Arkhangelskoe's Gonzaga Theatre on August 4 at 1900. On Sunday, "The Birth of Clarinet" is at the Oval Hall. Nikolai Tarasov (clarinet) and The Pocket Symphony Ensemble perform Molter, Fasch, Telemann and Handel. Nazar Kozhukhar conducts.
Address: Arkhangelskoe Estate, 5th kilometre of Ilinskoye Shosse, then bus 151 or 549, Tushinskaya metro station, TEL: 797-5409, 561-9660, 363-1375, 8-901-782-6133, reservations 8-501-453-8229
Light, classical music and water unite in a unique performance named 'Dancing fountains – Aquatic Show', which you can visit at the All-Russian Exhibition Center, or VVC. The Dancing Fountains Show will continue from July 13 till September 30 and will be held four days a week - from Thursday to Sunday. The daytime programmes start at 1200, 1330, 1500, 1630 and 1830 (on Friday, Saturday and Sunday). The evening show will start at 2200. The tickets will be available in box-offices and at the VVC for price from 500 to 2500 rubles. Also, the centre always holds a number of exhibitions, so you might find something else that would draw your attention.
Address: VDNH metro station, TEL: 987 3952.
Ballet
The annual Summer Ballet Festival takes place at the stage of Moscow "New Opera" theatre from June, 17 till August, 28. This Russian unique mega-project is dedicated to make classical ballet popular to the masses. Four world-known ballet groups are taking part in this year's fest.
This week, the Russian State Ballet theatre, which has remained one of the leading Russian ballet companies for over 20 years, will perform on the stage of 'New Opera'. Their repertoire includes masterpieces of the world ballet classical repertoire and the best samples of modern choreography. The primary task of the Russian State Ballet is to preserve the heritage of the Russian and West-European choreography, alongside newer forms of dancing. Under the "Bolshoi" star-soloist and choreographer Viatcheslav Gordeev's leadership the Russian State Ballet was shaped into the high degree of artistic expression, gracefulness and body control we can enjoy today.
On August 3 and 4 you can watch The Sleeping Beauty, a ballet by Pyotr Tchaikovsky based on a classical fairy tale. The work is widely regarded as the finest ballet score of the outstanding Russian composer, and has become one of the classical repertoire's most famous ballets.
Chopiniana , ballet suite set to Chopin's "Les Sylphides", and Don Quixote, based on the famous Miguel de Cervantes novel Don Quixote de la Mancha, by the choreographer Marius Petipa to the music of Leon Minkus are at the New Opera on August 5.
Address: The Kolobov Novaya Opera Theatre, Karetny Ryad 3/2 (Hermitage Garden), Pushkinskaya, Tverskaya or Mayakovskaya mestro stations. Trolley buses: B or 10 to Karetny Ryad. Booking information: 505-68-03, 784-56-35. The performances start at 1900.
Sports
The sports weekend is fully occupied by football.
Russian Railway Cup is about to become obviously the biggest commercial soccer tournament ever held in Russia. The hosts, Locomotive Moscow, have invited three European super clubs to join them in the competition: Champions League winners AC Milan, Spanish champions Real Madrid and Dutch crown holders PSV Eindhoven. All the matches will be held at the Locomotive stadium in Cherkizovo. The semis will be played on Friday, as AC Milan plays PSV and Locomotive takes on Real Madrid. And the final match is planned for 2030 on Sunday. The game for 3rd place will be held earlier on the day. Kaka, Raul, Van Nistelrooy, Fabio Cannavaro, Andrea Pirlo, all the other stars and football of the highest European level are expected. An event a real football fan just can't miss!
Address: Bolshaya Cherkizovskaya, 125, 'Cherkizovskaya' metro station.
But if you are looking for more competitive stuff, there are no derbies in the 19th round of Russia's Premier League, but still a lot to watch. On Friday Saturn from Moscow region will play Kuban at a home stadium in Ramenskoye not very far from the capital. Dinamo is getting ready for the Saturday's match with Zenit Saint Petersburg at Dinamo stadium. And on Sunday FC Moscow will face Rubin from Kazan. And, of course, the league leaders from Spartak Moscow will try to keep the top spot after a match with Tom as usual at the Luzhniki Olympic stadium. And if eight games are not enough, you can visit the match between Torpedo Moscow and Nosta in the First League, also at Luzhniki. Torpedo is one of the oldest Russian teams and three times USSR champions relegated to lover division just last season and now trying hard to regain its position Premier League.
Have a great weekend!!
You can share this story on social media: