Undercover IDF raid ignites mass clashes, injuries in West Bank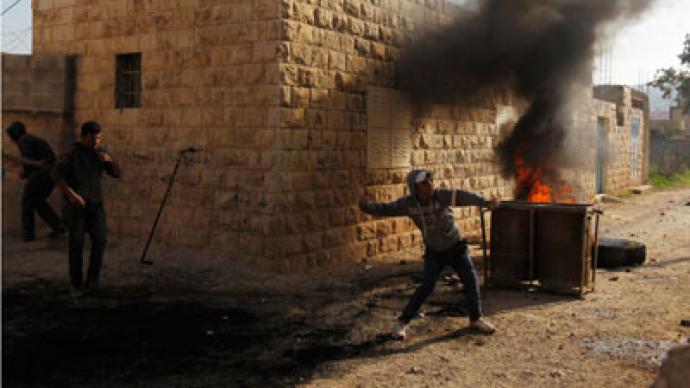 Dozens of Palestinians have been wounded in clashes with undercover Israeli troops disguised as vegetable vendors. The discovery of a small commando unit conducting arrests in the West Bank outraged locals forcing the regular army to use tear gas.
Over 30 Palestinians have been wounded along with two IDF soldiers after unrest broke out in the West Bank village of Tamaun.  Dozens more suffered from tear gas inhalation.Witnesses report that IDF troops were disguised as Arab vegetable vendors to apprehend a number of wanted militants. The mission, by the Mistaarvim ("Arabized") Unit, an elite counter-terrorism force, was then tactically changed from a covert operation to an overt one.Dozens of masked youths hid behind barricades hurling rocks and firebombs at the disguised soldiers. IDF regular units then scrambled to the scene firing rubber bullets and tear gas to quell the crowd. Reports that lethal ammunition was used were brushed aside by an Israeli military spokeswoman. The military said it arrested a "terrorist affiliated with the Islamic Jihad terror group.""A special forces squad went in on an arrest operation," military radio reported. "It seems that a family or local residents spotted the force and then a big disturbances started… some soldiers received superficial injuries from stone that were thrown," ynetnews quoted.The incident comes as tensions continue to simmer following the Israel's eight-day mission in mid-November to destroy rocket launching sites in Gaza. Shortly after the military operation that killed 168 Palestinians, most them civilians, including women and children, the UN General Assembly voted to upgrade the Palestinians' diplomatic status to 'non-member observer state'.In a move widely considered to be retaliation for the upgraded UN status, the Israeli prime minister unfroze the building projects across the West Bank and East Jerusalem and vowed to continue building settlements in the "Israeli capital," defying near-unanimous international criticism of the action.
You can share this story on social media: