Hebron brawl: IDF soldiers clash with Palestinian police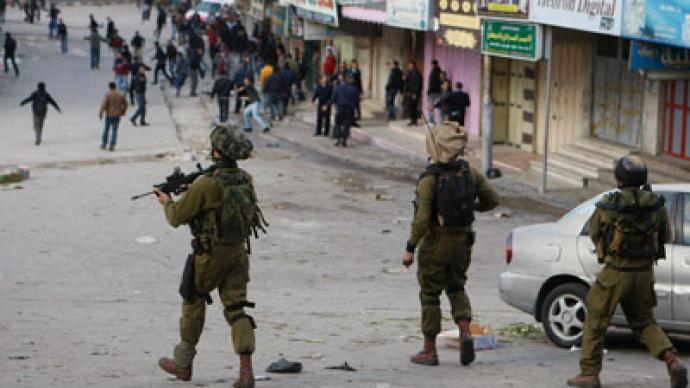 The Israel Defense Forces used stun grenades and tear gas to disperse over 250 angry Palestinians in the West Bank city of Hebron after an Israeli patrol was dragged into a fight with Palestinian Authority police.
On Thursday, Palestinian police "got into a pushing match" with an IDF patrol in Hebron, RT's Middle East correspondent Paula Slier reported via Twitter, after Israeli soldiers attempted to detain an on-duty Palestinian police officer.The clash was quickly followed by a protest, when over 250 Palestinians began throwing stones at Israeli soldiers, the IDF said. Israeli troops responded with stun grenades, tear gas and rubber bullets.At least five Palestinians were injured in the clash, report Palestinian media. Israeli authorities are investigating the conflict."This is a serious incident. It is being investigated by the army," an IDF spokeswoman said as quoted by the Jerusalem Post.Hebron is a city in the Palestinian Authority 19 miles (30 km) south of Jerusalem. Following the 1995 Oslo Agreement and 1997 Hebron Agreement, the ancient city is split into two sectors – one controlled by the PA, while the other is under Israeli rule. Palestinians cannot approach areas where Israeli settlers live without special permits from the IDF.
You can share this story on social media: