War crime suspect Ratko Mladic arrested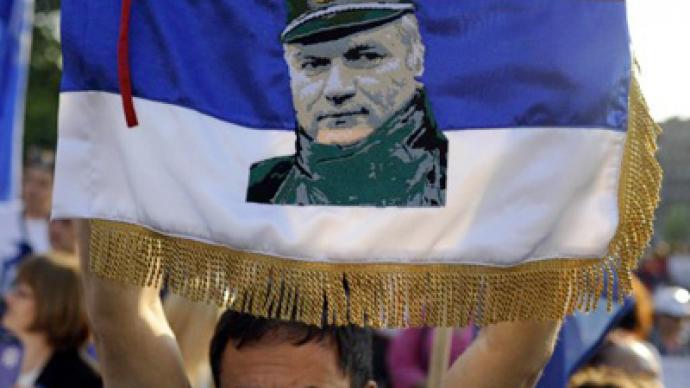 Ratko Mladic, former Yugoslav general, who is suspected of war crimes during the 1992–1995 Bosnian war, has been arrested in Serbia. Mladic, who served as the chief-of-staff of the Army of the Republika of Srpska, was detained on Thursday.
The report was confirmed by Serbian President Boris Tadic during a media conference. The arrest "ends a difficult periodin Serbia's history and proves the country's adherence to the supremacy of law," he said.Belgrade is now undergoing legal procedures to extradite Mladic to the Netherlands, where he is to be tried, the president said. He added that several people suspected of hiding the fugitive are now under investigation, which bars the police from releasing details of the arrest.President Barack Obama issued a statement saying that the arrest of Ratko Mladic, Europe's most wanted war crimes suspect, is an important day for the families of his victims. The statement was released from France, where Obama is attending an international summit. The US president said Mladic now must answer to his victims and the world in a court of law."This is very big news. This is a very courageous decision by the Serbian president [Boris Tadic]," stated French President Nicolas Sarkozy. "This is one additional step for the integration of Serbia into the EU one day."NATO Secretary-General Anders Fogh Rasmussen hailed the arrest, saying that after almost 16 years since Mladic was originally indicted for genocide, "his arrest finally offers a chance for justice to be served"."The arrest of Ratko Mladic is a very important step toward full integration of the entire region into our Euro-Atlantic community," agreed NATO Secretary General Anders Fogh Rasmussen.EU's foreign policy chief Catherine Ashton, who is now visiting Belgrade, welcomed the news, calling the arrest "an important step forward for Serbia and for international justice.""I know that people would also be thinking about Serbia and its future in the EU," declared Catherine Ashton. "What I know is that we will approach this with renewed energy because of today."The former chief prosecutor of the Hague tribunal Carla del Ponte told the Serbian newspaper Blic that "Ratko Mladic has been arrested and there are no more obstacles to Serbia on its path to the EU" ."The European door is opened to you. This is excellent news for the citizens of Serbia," Del Ponte said shortly after Serbia President Boris Tadic announced Mladic's capture.She also said she hoped Mladic's trial would be connected to that of Radovan Karadzic, in order to accelerate the court process.
Mladic was arrested in a village called Lazarevo, which is only 60 kilometers away from Belgrade.A top Serbian official says war crimes fugitive Ratko Mladic had two pistols, but offered no resistance when he was arrested by intelligence agents. He had gone by an assumed name, which is how he identified himself to agents when he was detained.Rasim Ljajic, a minister working with the UN war crimes tribunal, told state television that "Mladic looked like an old man'' when he was arrested, reported the Associated Press. One of his arms was paralyzed, a possible result of a stroke. "He was pale, which could mean he rarely ventured out of the house – a probable reason why he went unnoticed," said Ljajic. "One could pass by him without recognizing him."Of course, there are different opinions on why it took so long to find Mladic. Some say that it is as simple as him being very good at hiding himself. Others say that perhaps Serbian authorities were not looking for him as hard as they could have done.On the other hand, other experts are questioning the objectivity of the Hague tribunal, pointing out that although it purports to represent all who suffered during the Bosnian conflict, so far only Serbs have been prosecuted, and no Albanians who participated in the war have made it onto the wanted list.
The Serbian people have long been divided in their attitude towards Ratko Mladic.RT correspondent Yelena Milincic, who was born in Serbia and has spent most of her life there, says the arrest of Mladic could make this division even greater.
Europe's most wanted
Mladic has been indicted by the International Criminal Tribunal for the former Yugoslavia with a number of crimes, including genocide, crimes against humanity, and additional war crimes.He is believed to have been behind the four year siege of Sarajevo when the city was heavily shelled and many streets turned into snipers' alleys. More than 10,000 people are thought to have been killed there.Mladic is reported to have taken some 200 UN observers and peacekeepers hostage, who were then used as human shields in  response to the NATO air raids.He is also wanted for his role in the Srebrenica massacre, the attack on the United Nations safe zone in July 1995. UN tribunal says that Mladic expelled thousands of Muslim women and children and ordered the execution of more than 7,000 men and boys. It's considered the worst massacre in post WWII Europe.At the end of the Bosnian war, Mladic went to Serbia and lived under military protection until 2002, when the EU demanded the country give him up if they wanted to further integrate into the union.
Earlier in 2008 Serbian police arrested another high-profile fugitive suspected of crimes during the Balkan wars, Former Bosnian President Radovan Karadzic. He is now tried by the Hague Tribunal.
You can share this story on social media: