Militant's wife behind Volgograd suicide blast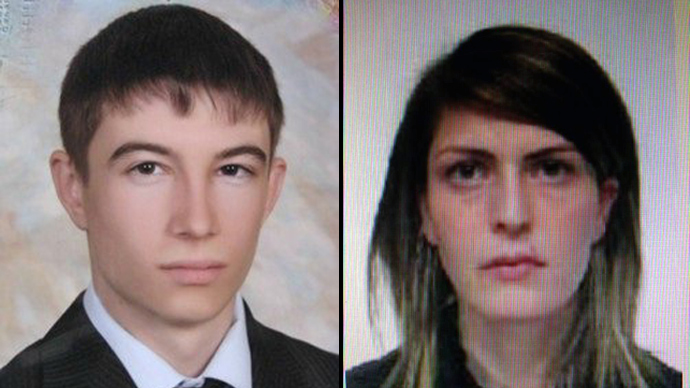 The 30-year-old female suicide bomber responsible for the deadly blast in Volgograd, central Russia, was a Dagestani national and allegedly the wife of a militant. She reportedly converted her husband to radical Islam to join the Dagestan rebels.
Naida Asiyalova, also known as 'Amaturahman,' blew herself up on a bus at around 2:05 p.m. Moscow time (10:05 GMT) on Monday, killing six people and injuring 37 - including a 20-month-old child.

The bomb detonated "almost immediately" after she entered the bus, which was heading away from the heart of the city, Investigative Committee spokesman Vladimir Markin said.
According to Dagestan security sources, Asiyalova was the alleged wife of Dmitry Sokolov – a militant in Makhachkala.
The couple and two other militants, Ruslan Kazanbiyev and Kurban Omarov, both 25, conspired to carry out a terrorist attack in the Russian capital. However, for some reason, the woman detonated her explosive device in Volgograd. 
Asiyalova and Sokolov met in Moscow, where she recruited him to radical Islam. They later left the capital to join rebel groups in the southern Russian republic of Dagestan.
The fact that a young man from the Moscow suburbs was recruited by rebels indicates the rapid expansion of the social base of terrorism, Artur Ataev, senior researcher at the Russian Institute of Strategic Research, told RT.
Sokolov was reported missing in July 2012 after he failed to return home from Arabic language courses that he attended at one of the capital's mosques, according to Liza Alert, the search team that tried to locate him two years ago.
Sokolov, 21, is wanted in Dagestan for taking part in two terrorist explosions in which at least 29 people were injured. Sokolov is also known as 'Abdul Jabbar.'
An unconfirmed report cited by Russian media said that Asiyalova had a serious disease which caused her to take tranquilizers and painkillers. A fundraiser was previously organized on social network VKontakte for her treatment. It stated that she had a disease which caused her jawbone to recede.
Asiyalova constantly changed her place of residence. She was reportedly staying for some time in the Dagestani capital of Makhachkala and other Dagestani cities, where she met with the widows and wives of militants. Because of her ardent commitment to radical Islam, she was very popular and had access to money collected to support the so-called "Jamias" - Muslim gatherings aimed at preaching Islam. 
The spread of politically motivated terrorism in Russia
The Monday terrorist attack in Volgograd fits into the overall picture of the terrorist policy pursued by the Caucasus Emirate - a terrorist organization based in southern Russia's Caucasus region and associated with Al-Qaeda, Ataev told RT.
Anti-terrorism operations in the North Caucasus region have forced separatist groups to go into hiding, Ataev added. While major groups estimating from 400 to 500 people - like the ones in the mid-90s - have disappeared, new kinds of groups consisting of 3 to 4 people have come into being, he noted. 
"Parts of the militant groups are moving northward. This fact is confirmed by the so-called "Jamias" - the activities of which security forces have recently been disclosing in the Moscow suburbs," Ataev added.
According to Ataev, we are witnessing fundamental changes. There used to be national terrorism which concentrated on the separatist part of the Russian Federation on the territory of an independent Chechen Republic of Ichkeria. However, this has now transformed into a religious terrorism carried out by rebels, he noted. 
"Now we are witnessing an attempt to organize the so-called social or politically motivated terrorism, which has already taken place in the history of Russia in the 19th century, one of the reasons of the fall of the Great Russian Empire."
Despite all the efforts to develop a preventive map of terror threats, it is an extremely hard and "lowly craft," Ataev said. 
"Definitely it can and should be said that the terror resistance is driven into the underground. But there is a potential, unfortunately, for its growth, because it has a too strong ideology of Wahhabism and radicalism. Its roots are too large not only in the Russian Caucasus, but also in Moscow, and in the Stavropol Region."
In one of his latest addresses, Russia's most-wanted terrorist Doku Umarov claimed that jihad would be waged in every region and country where even a single "real Muslim" lives, Ataev reminded, adding that the expansion of a "social base" for terrorism is a worrying and dangerous sign.
"Today we don't know terrorists by sight, neither the law enforcements nor the community and the civil society which, in principle, also according to the concept of struggle against terrorism approved in Russia, must carry out preventive anti-terror measures as well."
Public transport terror acts in Russia 
Over the last decade, almost 300 people have been killed in terror attacks targeting public transport in Russia. Most of those were carried out by suicide bombers.
September 2003: Two explosions in a passenger train in Stavropol region kill seven and injure 80.
December 2003: A suicide bomber blows herself up in a train arriving to Yessentuki, Stavropol Region, killing 44 people and injuring 156 others.
February 2004: A suicide bomb blast in the Moscow metro kills 42 people and injures 250 others. The train was traveling from Avtozavodskaya station to Paveletskaya station.
August 2004: Two suicide bombers trigger explosive devices in Russian passenger planes Tu-154 and Tu-134, causing them to crash. Ninety people are killed in the terror acts. Chechen warlord Shamil Basayev claims personal responsibility.
August 2004: A suicide bomb blast kills 10 people and injures 90 others near the Moscow underground's Rizhskaya station. 
August 2007: A rail track explosion causes the Nevsky Express to crash. The train was en route from Moscow to St. Petersburg. Sixty people are injured.
October 2007: A bus explosion kills eight and injures over 60 others in the city of Tolyatti, Samara Oblast.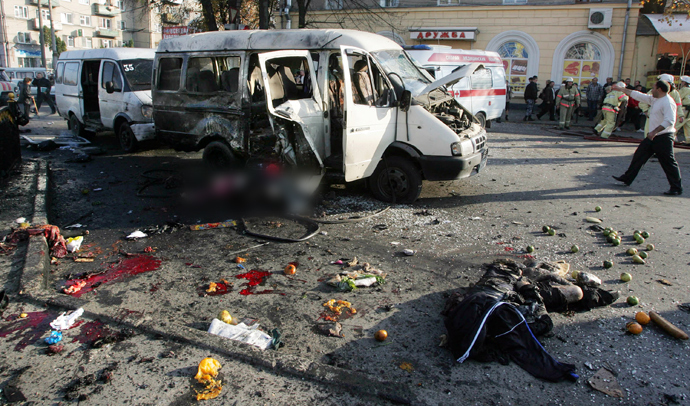 November 2008: A suicide bomber blows herself up near a passenger shuttle bus in Vladikavkaz, killing 12 people and injuring 41 others.
November 2009: A terrorist blast causes the Nesky Express to crash for a second time. Twenty-eight people are killed and 95 others injured.
March 2010: Forty-one people are killed and 85 others injured in two suicide bomb blasts in Moscow metro stations Park Kultury and Lubyanka. Chechen Islamist militant boss Doku Umarov claims responsibility for the terror acts.

January 2011: The suicide attack on the arrivals area at Domodedovo International Airport kills 36 people and injured 180 others. Umarov also says he ordered the deadly bomb attack.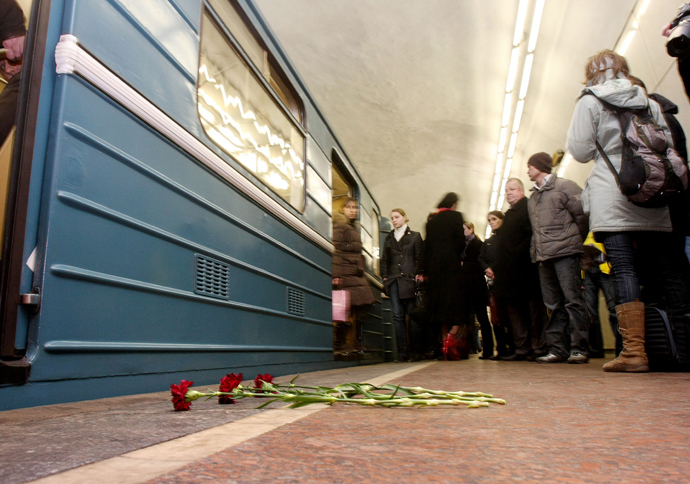 You can share this story on social media: