3 dead, 16 injured incl civilians in car bomb attack on police station in Russia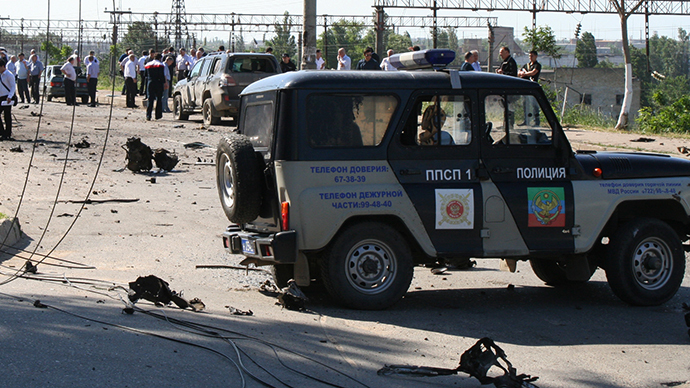 An apparent suicide car bombing attack on a police station in Russia's southern Dagestan Republic killed three people, including the bomber, and injured 16 others, among them civilians.
The attack on Monday morning in Tabasaransky district targeted a morning roll call of the policemen, which was conducted in the police station yard.
The explosives in the vehicle were detonated just outside the territory of the station. Still the blast was strong enough to kill one police officer and injure 16 more people, two of them critically. A staffer from a nearby office of the Federal Migration Service was also killed.

The explosion also caused heavy damage to a nearby building, which was under construction, resulting in its collapse, local police told RT. Four civilians sustained injuries. 
The power of the explosion is estimated to be equivalent to 70 kg of TNT, said a spokesman of the operational headquarters in Dagestan as cited by the Itar-Tass news agency. 

The identity of the suicide bomber is being investigated.

The Dagestan attack came a week after two car bombings killed three policemen and injured six others in Chechnya and neighboring Ingushetia, in a suspected string of coordinated attacks in Russia's North Caucasus.
You can share this story on social media: