320,000 new viruses found in mammals could trigger pandemics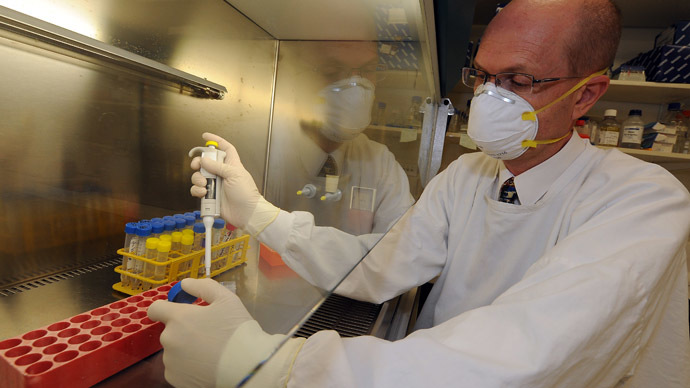 At least 320,000 undiscovered viruses can be found in mammals, according to a study. Unless scientists discover more about these viruses now, humanity will be threatened with pandemics.
Around 70 per cent of viruses that infect humans originate in wildlife – and HIV, along with the infamous Ebola virus, are no exceptions.
To investigate the new viruses, scientists examined a species of bat called the flying fox, which carries the Nipah virus – deadly if it spreads to humans.
Specialists studied 1,897 samples collected from bats and found out how many new pathogens the animals created. The number turned out to be 60, and extrapolated to all mammals, the figure topped 320,000 previously undetected viruses.
"What we're really talking about is defining the full range of diversity of viruses within mammals, and our intent is that as we get more information we will be able to understand the principles that underlie determinants of risks," Professor Ian Lipkin, director of the Center stressed.
The cost of the research may top $6 billion, and the program may take 10 years, scientists from the Center for Infection and Immunity at Columbia University's Mailman School of Public Health in the US pointed out.
However, the specialists also indicated that the sum was just a small part of the potential amount governments would have to spend if pandemics start.
"Despite what looks like an extraordinary expense to pursue this kind of work, it really pales in comparison with what one might learn that could lead to very rapid recognition and intervention that could come to the fore with a pandemic risk. The idea is to develop an early warning system," Professor Lipkin said.
As for the method of the research, he indicated that scientists could not survey every animal on the planet, but they will "try and map as best as we can using a concept referred to as hotspots" and "look at areas where we know, based on previous experience, there is a high likelihood that new infectious agents will emerge or will pose considerable threat to human health."
And the new research published in the journal mBio is in fact groundbreaking, the study's corresponding author Peter Daszak, president of EcoHealth Alliance, told the Health24 website.
"For decades, we've faced the threat of future pandemics without knowing how many viruses are lurking in the environment, in wildlife, waiting to emerge. Finally we have a breakthrough - there aren't millions of unknown virus, just a few hundred thousand, and given the technology we have it's possible that in my lifetime, we'll know the identity of every unknown virus on the planet," Daszak underlined.
It's not the first attempt scientists have made to avert the threats of undetected viruses to humanity. 240 viruses have been discovered so far in the framework of a similar project called PREDICT.
You can share this story on social media: