American war drones on despite virus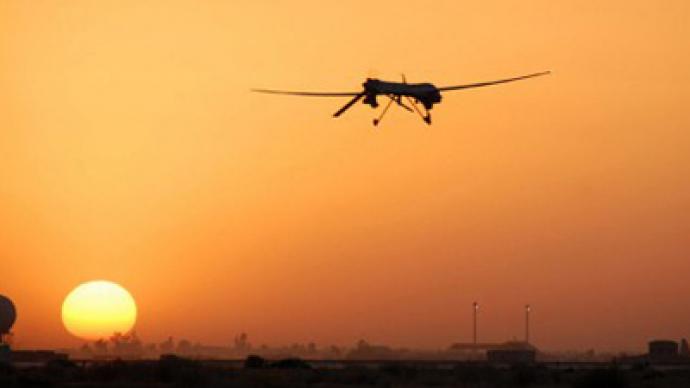 US military officials continue to say unofficially that the cyber attack on assault drones control center in Nevada has not had any impact on the American missions overseas.
At the same time, neither US Air Force, nor the creator of drones, General Atomics Aeronautical Systems, will make any comments on the unfortunate incident that most probably became public due to an insider leak.The first report about computer virus infecting US military networks came on October 8 from Wired magazine. It reported that the virus captured strokes on a keyboard in drones' cockpits at Creech Air Force Base in Nevada, making it tricky for the pilots who remotely fly assault drones like Predator and Reaper.It became known that the problem was detected over two weeks ago, but the spyware proved to be a high-end program and the military IT specialists were unable to erase it from the system or quarantine it."We keep wiping it off, and it keeps coming back," a source told Wired.The US military has shared no information on whether the virus has also been trying to extract any classified data from the military networks.So far it remains unknown how the network became infected – was it an orchestrated attack or did the virus get into the secured network accidentally?
The US Air Force refuses to discuss any details of the virus accident also because this might provide the virus's creator with valuable information on what has been achieved and what has failed, so the hacker could use different tactics and change the virus code to make it even more effective.The US Air Force insists that the media is making a mountain out of a molehill and that the drones themselves have never been in jeopardy.As of today, the US Air Force uses drones in at least five countries: about 150 Predator drones and 50 Reaper drones are used in Afghanistan and Iraq, unknown number is engaged in Libya, Pakistan and Yemen. The American Predator and Reaper drones executing remote missions in Afghanistan and Pakistan are being operated by ordinary PCs, so it is no wonder a virus can be easily created to jam the commands. The real question in this situation is obvious – how has it become possible that the seemingly most secure military network got infected in the first place?Now it appears that it might not just be the Creech Air Force Base network that was infected, but a large-scale military network as well, and in this case the virus would re-write itself back from the larger network – and not only at the Creech Base.However, Sergey Novikov, the head of Kaspersky's EEMEA research center, dismissed the idea of a targeted attack on the US military."This is definitely not a targeted attack. It's a simple Trojan, which infected the network of this military [base] in the US," he told RT. "Any person, any employee of this huge network – it can be military or anybody else – comes with a USB stick or removable hard-drive and [connects] this device [to their] computer, and if that hard-drive was infected by any kind of Trojan or a worm, or any other malware, this malware starts distributing inside the network."
Two years ago there already was a scandal involving US drones, after American servicemen obtained a laptop belonging to Iraqi insurgents, with video footage files from drones on them. It was said Iraqis might have used a Russian or Chinese program to intercept the video signal from a drone and that the program could have cost as little as US$26.
You can share this story on social media: