Moscow killer told of homicidal urges before shooting spree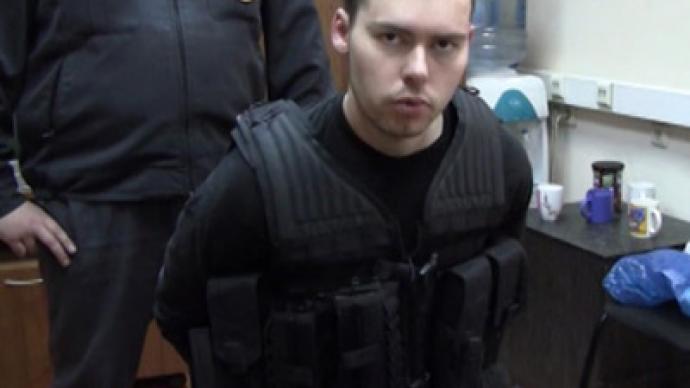 A Moscow lawyer's recent workplace shooting rampage, which killed six, may have been preventable. He reportedly told at least two other people of his homicidal urges before the incident, and posted a foreboding message on a social network.
An investigation by daily newspaper MK revealed that 30-year-old lawyer Dmitry Vinogradov spoke about his homicidal feelings with a female colleague at the Rigla pharmaceutical company, a psychiatrist and even with his ex-girlfriend, Anna Kaznikova.Vinogradov's breakup with Kaznikova reportedly sparked a period of deep depression in which he contemplated suicide. His mother convinced him to visit a psychiatrist; Vinogradov first mentioned his homicidal thoughts to the doctor, and related his suicidal tendencies. The psychiatrist diagnosed Vinogradov with 'masked depression against the background of organic disorder,' and prescribed him numerous antidepressants. The medications apparently had little effect, so he stopped taking them.After the massacre, some psychiatrists speculated that Vinogradov was wrongly diagnosed, and that psychosis and schizophrenia would have been more accurate. They also noted that antidepressants are contraindicated for such diagnoses, since they can trigger serotonin syndrome, which leads to aggressive outburst.A few months after Vinogradov broke up with Kaznikova, he published a photo of an African boy with a machine-gun on his Vkontakte page with the caption, "Off with racism, kill them all." It was allegedly a cry for help directed at his ex-girlfriend, which went unnoticed, but anyone who looked at his page could have seen the disturbing message.Vinogradov then spoke with one of his colleagues. Shortly before the shooting rampage, he reportedly told a woman in the legal department that he fantasized about shooting everyone in the office. 
Lonely and angry"I cannot communicate with people," Dmitry allegedly once told his mother, "Anything could be expected from them, they might laugh at or abase me. I love solitude most."He went to college and received a legal degree, and also studied programming and IT. He began his legal career at Rigla, and soon was promoted to lawyerVinogradov had a handful of workplace romances while working for Rigla. His second girlfriend reportedly left him early this year after he insulted in a text message.
"I got flashes of anger. I started considering self-immolation in front of her eyes in the office, or to buy a gun and do a shootout. Sure, I didn't plan to kill anybody then. I just wanted to do a masculine act in her presence to bolster self-esteem," Vinogradov told police after the rampage. "I thought everyone was set against me."He then illegally bought a medical inspection to obtain a firearms certificate, which allowed him to buy two sporting guns. After obtaining the weapons, he trained with them at various shooting ranges.'I wanted to kill as many people as possible in front of her'
Early in the morning on November 7, Vinogradov published his 'manifesto' on Russian social network Vkontakte ('in contact'), saying that he hated the human race.He then drove to the Rigla office with a backpack containing two guns, hundreds of rounds of ammunition and camouflage fatigues. He changed clothes in the bathroom and called Kaznikova to make sure she was in the office.He then emerged from the bathroom and fired upon his coworkers, killing six. Kaznikova fled the room while he was shooting. A 24-year-old woman was injured during the shooting and remains hospitalized in critical condition."I just wanted to make Anna see what she's made of me. I wanted to kill as many people as possible right in front of her eyes," Vinogradov told police.
"He is a vulnerable, modest and timid boy," Vinogradov's mother told MK, "Probably he is self-contained a little bit but also very kind, calm, mindful and conflict-free. I don't know why he did it."Vinogradov is currently in police custody. He has been charged with mass murder, and is expected to undergo psychiatric evaluation soon.On Monday, the Moscow prosecutor's office demanded that Vkontakte take down Vinogradov's page. His profile is still up, as is his 'manifesto.' Since the Wednesday massacre, it has received around 17,000 'likes.'
You can share this story on social media: