Haiyan landfall in Vietnam as hundreds of thousands flee in fear of devastation
Typhoon Haiyan has made landfall in Vietnam after bashing through the Philippines leaving an estimated 10,000 people dead in the central province of Leyte alone, and devastating over 9.5 million residents.
The Vietnamese national weather forecast agency said the storm descended in northern province of Quang Ninh at around 5 am local time en route to southern China, where it is expected to become weaker later on Monday. So far no casualties or major damage have been reported from the storm with sustained winds of up to 140 km/h.

"We have evacuated more than 174,000 households, which is equivalent to more than 600,000 people," Vietnam's flood and storm control department said on Sunday.

The typhoon "is currently making landfall'' about 160km/h east south-east of the capital Hanoi, the US Joint Typhoon Warning Center (JTWC) said.

The Vietnamese government website said that five people died in preparation for the typhoon, Herald Sun reports.

Vietnam is preparing its defenses after the storm annihilated the Philippines over the weekend, leaving thousands dead and a trail of devastation through Tacloban, the capital of Leyte province.

Haiyan destroyed 70 percent to 80 percent of the area as it ripped through the province Friday, police chief superintendent Elmer Soria told Reuters. Aid workers are only now beginning to gain access to affected areas.

Mass evacuations were taking place in the central Da Nang and Quang Ngai provinces of Vietnam. Numerous schools were closed nationwide as people moved to higher ground, and some shelters were "overloaded," according to state-run VNExpress.

"People must bring enough food and necessities for three days," the report said. All boats have been grounded, with tens of thousands of those directed to take shelter situated in coastal areas. Residents of Hanoi were also preparing themselves for heavy rain and floods.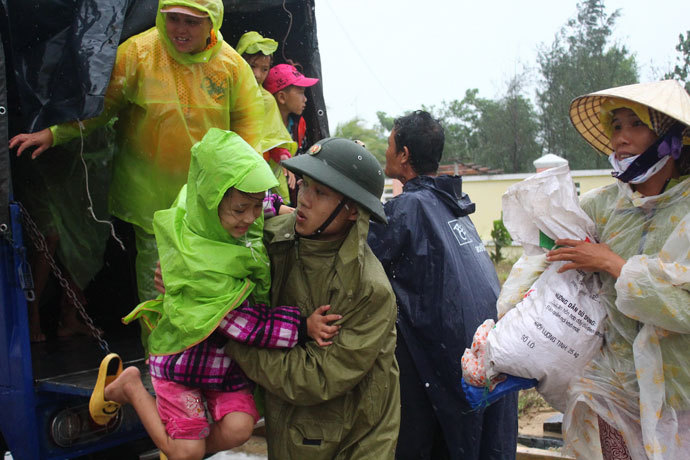 The Red Cross stated that the change of direction meant that the disaster area "could be enlarged from nine provinces to as many as 15," according to a statement released to AFP.

However, some 200,000 people evacuated from the southern central provinces have been permitted to return to their homes as they are no longer at risk, according to a governmental report published on their website.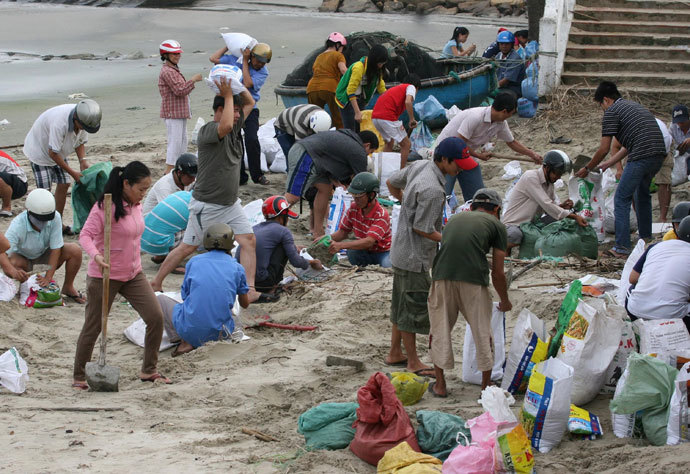 On Sunday afternoon, the typhoon had battered Vietnam's Con Co Island, where its 250 inhabitants were relocated to underground shelters containing food supplies for several days. The storm brought with it three-meter high waves, according to Vietnamese newspaper, Tuoi Tre.

Haiyan is one of the world's most powerful-ever storms, based on its recorded wind speed, which at landfall was 195 miles per hour, with gusts as much as 235 miles per hour. It is thought to have been even stronger than Hurricane Camille, which caused devastation in the US in 1969.

You can share this story on social media: