Victory poses new challenges for Somalia's government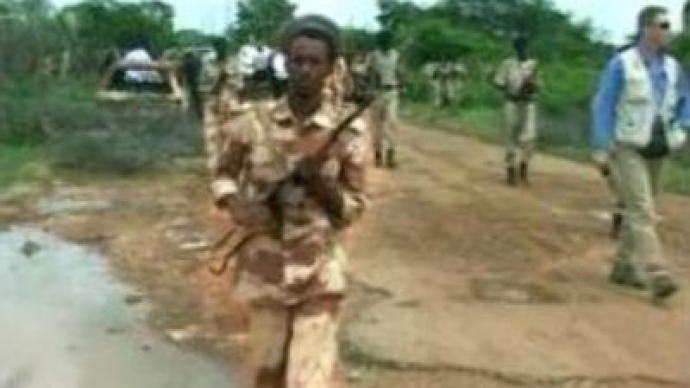 Somali government troops have entered the final city held by armed fighters of the country's militant Islamic movement. It's thought the Islamic fighters fled towards the Kenyan border.
The government says the militants will be granted amnesty, but the leaders and foreigners in their ranks will face justice.Islamist fighters in war-torn Somalia have been forced to flee their final stronghold in the southern town of Kismayu.Several thousand soldiers from the country's hardline Islamic Courts Council were holed up near the town after two weeks of intense fighting against Ethiopian-backed government troops.After two days of concentrated shelling the Islamists have abandoned their frontline in Jilbib. It is not yet clear where they have retreated. They are cornered by the Indian Ocean behind and Kenya in the south. Kenya has increased security along its border to try and prevent them fleeing Somalia, whilst U.S. boats are reported to be patrolling the waters to ensure the militants don't escape.Monday's retreat caps a remarkable advance by the Ethiopian-supported government force, although their enemy may now concentrate on Taliban-style guerrilla tactics.Just two weeks ago government support stretched little further than the provincial trading town of Baidou where the authority had based itself. Ethiopian backing and military muscle has turned the situation around for the government. But the military victory brings in a new challenge. International extremist groups use the government's use of Ethiopia's largely Christian troops as a pretext to call for a jihad to "protect" Somalia from "Christian Crusaders". If their call is answered, it poses the threat of a new religious war on Africa's east coast. Analysts say it is hard to see how they can establish authority and pacify Somalia without the military presence of Ethiopia, which has vowed to leave as soon as it can.But Somalis may resent the presence of Ethiopia, their traditional enemy.Somali Prime Minister Ali Mohamed Gedi has offered an amnesty to the Islamists if they give themselves up, declaring the government will not seek retribution.
You can share this story on social media: