Forget Python's 'Silly Walks' – Venezuela has a Happiness Ministry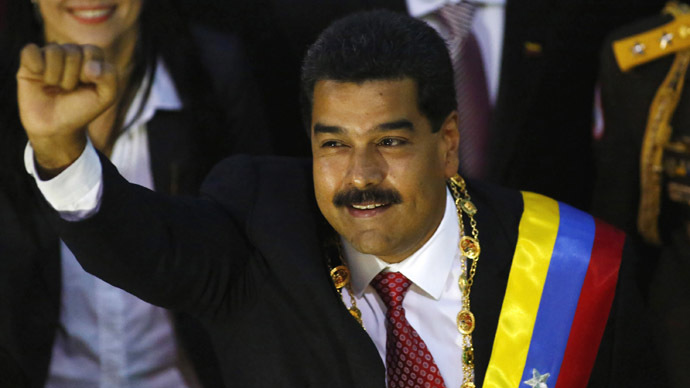 It may sound like a Monty Python comedy sketch, but the Venezuelan government is quite serious. In creating a "Deputy Ministry of Supreme Social Happiness," it aims to boost programs for alleviating poverty, disability and social inequality.
The new mission was devised "with the purpose of ensuring supreme social happiness," Venezuelan President Nicolás Maduro said in a national address from the Miraflores Palace on Friday as he announced the ministry's creation and the appointment of the minister to lead it.

"The supreme happiness office will look after our disabled brothers and sisters, those who are homeless, our old folks, our children, addressing the most sublime, the most sensitive, the most loved for all those who consider themselves Bolivarian revolutionaries," he said.

Almost exactly a year ago, funds were allocated for the happiness ministry; some 38 percent of the budget was put aside for the purpose by the late president, Hugo Chavez, to develop "supreme happiness" programs.

Maduro stated Thursday that under the auspices of the new ministry, 33 social programs devised under Chavez would be coordinated.  

The first Deputy Minister for the Social Happiness of the Supreme People's Happiness is Rafael Rios, a former lawmaker and doctor. "Comrade Rafael Rios will be responsible for implementing and coordinating the famous missions created by our Perpetual Commandant," Maduro said in his announcement Thursday, referring to Chavez in a North Korean-style life-after-death title.

In the UN Sustainable Development Solutions Network's World Happiness Report for 2013, Venezuela was ranked the happiest country in Latin America, and 20th happiest in the world, placing ahead of the UK, France and Germany.

However, the country also has inflation approaching 50 percent, and experiences shortages of a variety of basic household goods. Maduro has blamed speculation and hoarding for the country's economic problems.

The creation of the ministry prompted a wealth of amused and slightly disbelieving reactions.

"It's been 24 hours since the creation of the 'Deputy Ministry of Supreme Happiness' and I'm already happy :)" Venezuelan radio host, Luis Chataing, declared on Twitter.

Victor King, a banana seller in downtown Caracas, said that he would welcome the day that Maduro creates the currently-fictional Deputy Ministry of Beer "so he can make me and all drunks happy," the AP reported.

You can share this story on social media: