'Inherited love': Russia - Venezuela economic ties to remain tight, mutual investment plans estimated at $20 bn
Published time: 2 Jul, 2013 14:58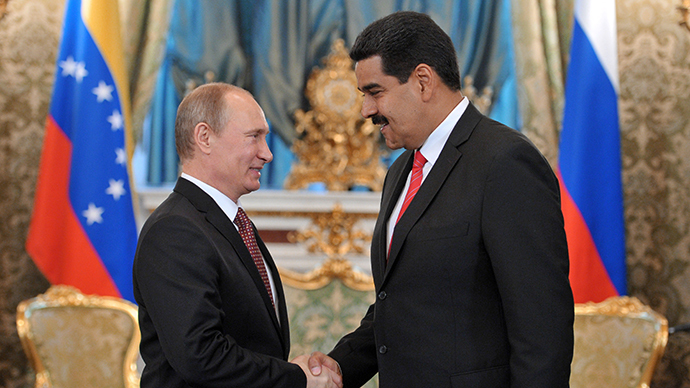 The meeting of President Vladimir Putin and Venezuela's Nicolas Maduro proved that business relations between Russia and Venezuela will remain warm. Investment plans vary from joint energy projects to a Russian-Venezuelan bank.
"Our trade turnover has reached a new level of $2 billion. Our companies have vast investment plans valued at over $20 billion. Each of our plans is being implemented successfully," said President Putin about negotiations with Nicolas Maduro in the Kremlin on Tuesday.
A record high in trade was mostly due to Russian export growth of 211.4%. "This is the result of several large contracts concerning military and industrial hardware supplies," said President Putin.
Putin praised Maduro for taking up the baton from his predecessor Hugo Chavez, "one of the most brilliant leaders of Latin America". "I am very glad to note that you … continue the development of relations between Russia and Venezuela," he added. Maduro responded by saying he had "inherited" a great love for Russia.
"President Chavez always had a great respect and love towards Russia. And we inherited this love for Russia. And we came here to confirm our wish to strengthen and broaden our strategic alliance with Russia," Maduro replied.
Joint energy projects are traditionally high on the agenda. Russian state-owned oil company Rosneft and Venezuelan national company Petróleos de Venezuela, S.A. (PDVSA) have signed a cooperation agreement for offshore projects. On top of that, the Venezuelan energy giant signed an agreement to build a combined heat and power plant in Venezuela that runs on petroleum coke.
PDVSA has a 60% interest in the Petrozamora joint venture (JV) and Gazprombank Latin America Ventures B.V. (GPB Global Resources Group) - 40%. The JV is developing the Lagunillas Tierra and Bachaquero Tierra fields, discovered in 1926 and 1938 respectively, in the state of Zulia near Lake Maracaibo. The project to boost oil recovery at the fields was approved by the parliaments of both countries in February 2012. The agreement is for 25 years.
Russia's third largest bank by assets Gazprombank agreed with PDVSA on $1 billion to finance a scheme for extraction in the South American country, said deputy chief at Gazprombank Alexandr Muranov. This comes under the framework of Gazprombank-PDVSA joint venture Petrozamora – an investment outfit that is already producing.
Joining finance is also in the cooperation pipeline. A Russian-Venezuelan bank and a Russian commercial mission will open in Caracas soon, Maduro said "The Russian-Venezuelan bank will be represented in Beijing. Its Venezuelan office will open shortly," with its money to be invested in Venezuelan development, Maduro explained.